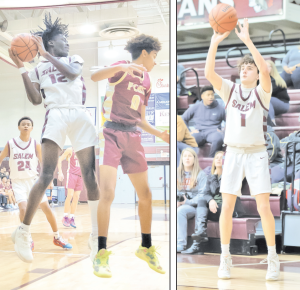 The Salem High boys will be back on the road tonight as they take on Christiansburg in a River Ridge District game. The Spartans are 7-9 overall and 2-5 in the district after dropping a 62-48 decision at Patrick Henry on Tuesday night. Salem trailed by just eight points with three minutes to go against a strong PH team.
The Patriots called time out at that point and came out and hit a three and the Spartans never threatened after that. "We had a shot down the stretch," said Salem coach Kevin Garst. "We were in a zone, and when they hit that three we couldn't quite recover." Kam Brown led the Spartans with 13 points and Josiah Moyer had a dozen. Last Friday at home the Spartans won their second district game when they defeated Pulaski County, 59-52.
The game was tied at the half, 28-28, and knotted at 42-42 after three periods but the Spartans finished strong to pick up the River Ridge win. "I thought our guys showed a lot of poise in the fourth quarter," said Garst. This was an even game all-around. The Spartans held a slight edge in rebounding, 36-34, but Pulaski hit 33 percent from behind the arc compared to 27 for Salem. However, overall the Spartans shot 50 percent to 43 for Pulaski, as Salem hit on 57 percent of their two point tries.
The Spartans had balanced scoring, with six different players scoring seven or more. Clayton Davidson led with 11 points, Ryan Coe had nine, LaMarius Foxx and Brown had eight each and Grant Clemens and Cam Boles had seven each. Brown, Boles and Moyer had five rebounds each. Salem has two more district games next week, hosting Hidden Valley on Tuesday and traveling to Blacksburg on Friday, January 27, for the back end of a doubleheader with the girls.