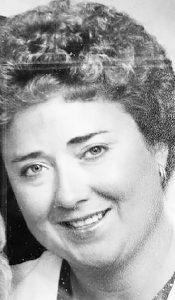 Mary "Penny" Stallins was born to Martha Elizabeth (Black) and Frederick Garland Stallins on Jan. 1, 1951, In Princeton, Kentucky.  She died in her home in Salem, VA, on Dec. 8, 2022, at the age of 71.
Penny attended public schools in Princeton until the fifth grade, at which point her family moved to Salem, Virginia.  She graduated from Andrew Lewis High School, Salem, VA, in 1969; and from Longwood College, Farmville, VA, in 1973, with a degree in Education. 
Following graduation from college, Penny taught Physical Education and Health at Salem High School and Andrew Lewis Middle School. She was granted a disability retirement from her teaching job at Andrew Lewis in 1995.  
Penny was an avid golfer, winning many awards throughout her golfing career.  She won the Roanoke Valley Women's Golf Association City-County Championship in 1973. And in 1985-87, she became the first golfer to win the Roanoke Valley Golf Hall of Fame women's championship three times in a row.
Penny also had an intense love for the city of Salem and for all with whom she came into contact.  She had an endearing and infectious personality that attracted friends and strangers alike.  She took a special interest in young people, because she was forever young herself and could easily relate to them.  She especially treasured her relationship to her niece and nephew and great niece and nephews.
Penny was pre-deceased by her mother, Martha Elizabeth (Black) (Stallins) Moyer; her father, Frederick Garland Stallins; her step-father, Judge James I. Moyer, all of Salem, VA; her sister Judy Black (Stallins) Halstrom, of North Branch, MN; and her aunt and uncle, James and Mary Wadlington, of Princeton, KY.
She is survived by her niece Deborah (Halstrom) Rutledge, of St. Croix Falls, WI; her nephew Michael Halstrom, of Osceola, WI; her great niece Callie Halstrom, of Dresser, WI; and great  nephews Coby Halstrom, of Dresser, WI; Dane Rutledge of St. Croix Falls, WI; and Cole Rutledge, of St. Croix Falls, WI; and her brother-in-law James Halstrom, of Centerville, MN.
Burial was with her sister, Judy, at Harris Covenant Church, Harris, MN.  As an expression of sympathy and in loving memory of Penny, the family suggests that any memorials be made to Salem, VA, High School "24153 Club" or Golf Team programs at https://the24153club.com/about/