By Brian Hoffman
Lydia Taylor, a 2021 graduate of Glenvar High School, had a sensational freshman softball season playing at Emory & Henry College.
Lydia had 15 home runs and 54 runs batted in while playing in 42 games, all as a starter. She had 13 doubles and a triple to finish with 113 total bases and a slugging percentage of .890. She had a .417 batting average with 33 runs scored, breaking the school season record for home runs, total bases and slugging percentage.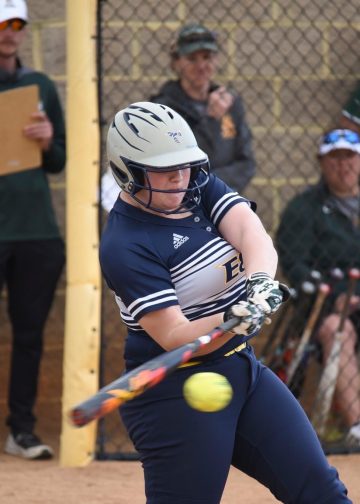 Taylor hit safely in 37 games, starting the year with a 12-game streak and adding a 13-game streak between March 19 and April 7. She posted 15 multi-hit contests and drove in multiple runs on 15 different occasions over the course of the season.
After the season Lydia was named team Most Valuable Player as well as the Offensive Most Valuable Player. Post-season honors poured in for the Glenvar grad as she was named VaSID first team all-state at shortstop, National Fastpitch Coaches Association (NFCA) All-Southeastern Region shortstop, D2CCA All Southeastern Region shortstop, NFCA finalist for the D2 national Freshman of the Year and NFCA Academic All-American. Lydia was one of just eight finalists for the national Freshman of the Year award, and the first ever from E&H.
Emory & Henry finished the season at 26-17 as the Wasps transitioned to the NCAA Division II ranks. As of July 1 Emory & Henry officially joined the South Atlantic Conference.
Two years after leaving the Division III Old Dominion Athletic Conference Emory & Henry College is now officially a member of the Division II South Atlantic Conference. E&H is the 13th school in the SAC, which was founded in 1975 as an eight-member, football-only conference, and has since grown to sponsor 24 sports for the upcoming 2022-23 academic year.