By Brian Hoffman
The Salem High football team will play host to Western Albemarle tonight when the Region 4D playoffs open. The game has been moved from Friday to Saturday at Salem Stadium with inclement weather expected on Friday. Game time is still 7 pm.
Salem comes in as the third seed in the tournament after losing for just the second time this season last Friday night. The Spartans dropped a 17-7 game at Patrick Henry and that cost them the number two seed, which now goes to Louisa County. E.C. Glass retains the top seed, and Salem's loss didn't effect that as the Hilltoppers had a big win over Liberty Christian Academy last weekend to cement their number one seed in the region tournament.Western Albemarle comes to Salem with a 5-5 record but no common opponents with the Spartans. They opened the season 3-1, then lost three in a row to Wilson Memorial, Albemarle and a 56-0 loss to Louisa. They righted the ship with wins over Fluvanna County and Monticello but last week they lost to Orange County, 28-7, dropping them to the sixth seed.
The Spartans saw their eight game win streak come to an end in Roanoke last Friday in front of a standing room only crowd at Patrick Henry's Merrill Gainer Field. The Patriots struck early, connecting on a 53 yard pass play to Jahzae Kimbrough that set up a PH score on their first series.Salem countered with a nice drive, with Jayveon Jones scoring on a two yard run to even the score at 7-7 after one period. However, the Patriots regained the lead on a 27 yard field goal and scored again before the half when a long pass set up a TD to make it 17-7 at intermission. Penn State commit Carmelo Taylor made a spectacular catch inside the five to set up the score.
"That's what a Big 10 football player looks like," said Salem coach Don Holter.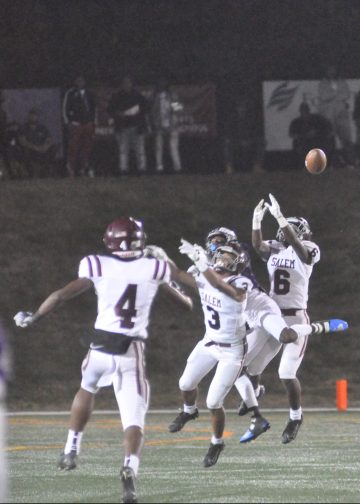 Salem had the ball to open the second half and kept it for over nine minutes befor the drive ended deep in PH territory without a score. Two holding penalties on the drive hurt as PH was able to run off most of the third quarter without giving up a touchdown. That proved to be big when the Spartans needed to score twice in the fourth quarter and couldn't find the end zone.
"If we score in the third quarter it's a whole different ballgame," said Holter. "That's the biggest team we've seen in a while up front. My hat's off to PH."
The Patriots were able to hold the Salem running game in check like no one had done since the season opener in Martinsburg, West Virginia. Peyton Lewis ran for 103 yards but he needed 16 carries and his longest run was for 10 yards. Jones had 55 yards on 15 carries and DaRon Wilson was six for 13 passing for 61 yards, with the longest being a 32 yard hookup to Jaelyn Allen on Salem's first drive of the game.
On defense Allen had 13 tackles and a sack to lead the Spartans. Isaiah Barlow had eight tackles and Chris Cole had seven.
Now 8-2, the Spartans must win tonight to stay alive and take on the winner of a game between Louisa and seventh seeded Jefferson Forest. If JF can pull an upset Salem could be home for the region semifinal. Other first round games find Halifax County at top-seeded Glass and fifth seeded Amherst at fourth seeded Orange County.
"Playing Patrick Henry was good for us prior to the playoffs," said Holter. "Competition makes everyone better, and that was a heck of a high school football game."