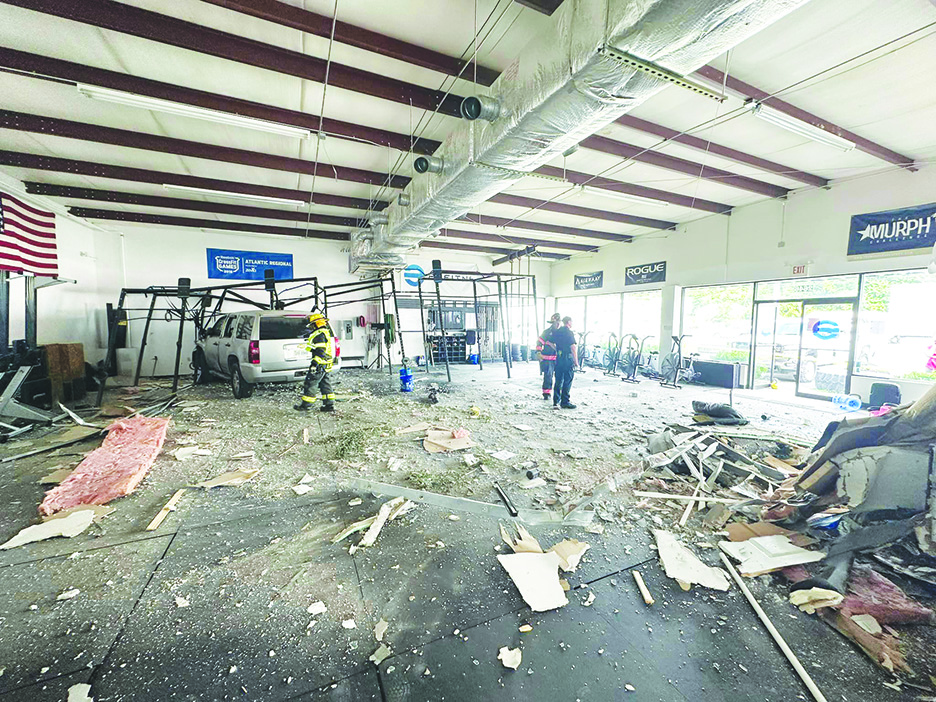 Business is continuing to operate 
Aila Boyd
aboyd@mainstreetnewspapers.com
Late last month, a vehicle crashed into Salem-based E3 Fitness on West Main Street. The driver, the business said, experienced a medical emergency and veered off the main road and into its building. 
The business was started nearly three years by husband-and-wife team Jay and Joy Ezelle.
No one was in the building at the time. "I had just left the gym and went home," Jay Ezelle said. He was informed of the incident by his landlord. He initially thought someone had accidentally backed into the building, but later learned the incident was much more severe. "I really didn't know what to think other than astonishment."
He noted how fortunate he and his family were to have not been there at the time. He explained the vehicle crashed directly into the area where his desk was and where his family would often sit. 
"From both Joy and I, thank you everyone for the outpouring of texts, calls, messages and even driving over to check on us. We are confident in who we are, why Jesus placed on this earth and the continual plans He has for E3 and the #E3FitFam," Ezelle posted to Facebook in an update. It also noted that indoor workouts are closed for the foreseeable future. 
Earlier this month, the business had to postpone its SWVA Family Fit Games due to the incident. 
In the meantime, classes are being held in other locations. Recently, a class was held at Green Hill Park. A gymnastics business has also opened up a corner of its facility for E3 Fitness to use.
"We know that our community is a force to be reckoned with," the Salem-Roanoke County Chamber of Commerce posted on Facebook, urging the community to support the business. "When we come together, amazing things happen. Let's show E3 Fitness that they are not alone in this challenging time." 
The business said earlier this month that it will "remain strong, future focused and will rebuild and restart better than ever to continue serving our people and community." 
It's expected to take six to eight months for E3 Fitness to be able to move back into its building. The estimate, Ezelle said, is dependent on everything going according to plan. 
One of the best ways to support the business in this time, Ezelle said, is to sign up for a class.