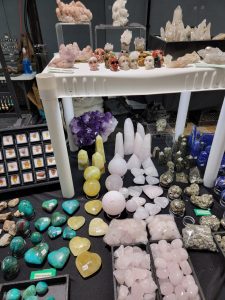 By Alexander Shedd
The Salem Civic Center was shining brightly from Friday, May 27 to Sunday, May 29 as it hosted the American Gem, Mineral and Jewelry Show. Hosted in the Center's auditorium, the show featured dozens of vendors and thousands of precious and semi-precious gems, stones, metals, meteorites, beads and handcrafted jewelry. 
From holistic arts to purely aesthetic tastes, tables were lined up and down the auditorium filled with carved minerals for decoration and wellness. Jewelry tables held stunning rings and necklaces while craft vendors sold tiny and large carved animals and wall decor. Hundreds of geodes lay open on the tables, with gently textured minerals open to the curious touch of customers who would leave with the entrancing rocks later in the day. Shelves of insects encased in ancient amber bubbles delighted children and made excellent ornaments at make-your-own-necklace vendors. Science fans were excited by artisans with blocks of metal carved in the shapes of their periodic table blocks. All comers to the event found themselves unable to look away from the myriad treasures, and many spent much more than they intended to on the expertly carved sculptures and centerpieces. The space was packed with people throughout the weekend.
Vendors at the Salem show included Amber America, Artistic Dynasty, Baron Jewelry, Bary Gems, Beads In Vogue, Bradley Prospecting, CECILIA Gems With A Smile, Dragonfly Jewelry, Higher Self Connection, J&J Jewelry, Jewelry By DeiSign, Lost Cove Minerals, May's Jewelry Gallery, Melded Mind Metaphysical, Momma's Rocks, Parallel, Peace & Laughter, Rock My Soul, Sebastians, Shelly's Travelling Rock Shop, Silver Bridge, Sticks & Stones, The Treasure Gallery of Hawaii, Unique Gems & Lapidary, Unique Jewelry & Gems and Velima Crafts.
The American Gem, Mineral and Jewelry show tours across the nation, arriving next in Indianapolis in October.