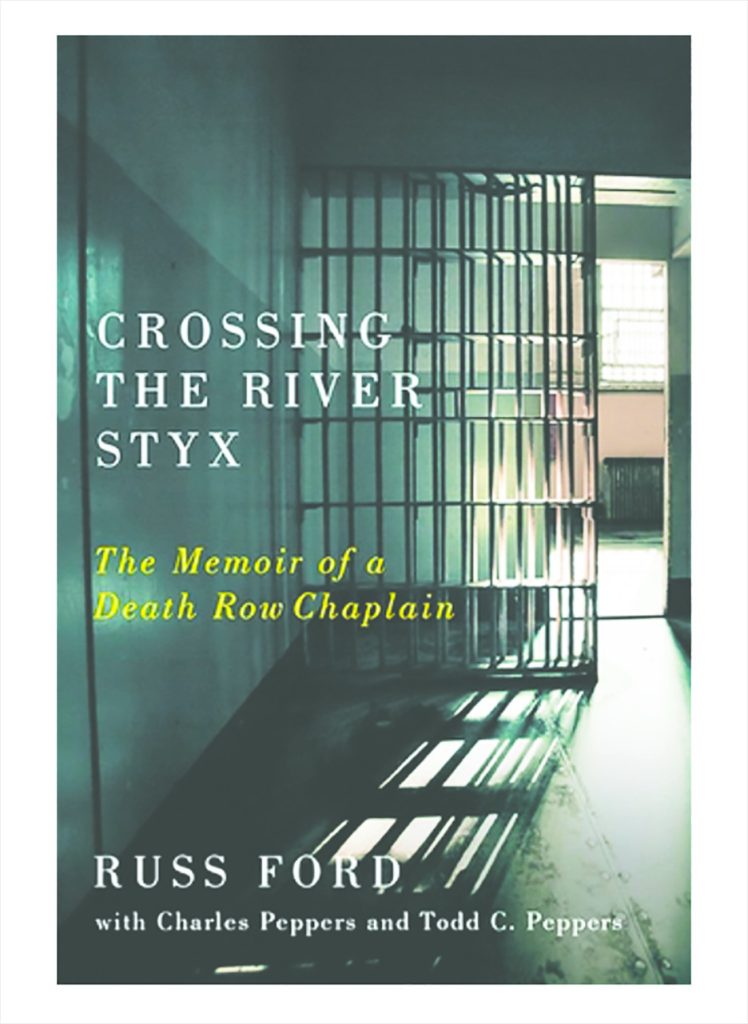 Megan O'Kuly 
Contributing writer
In a haunting new book titled "The River Styx," local author Todd Peppers, together with prison chaplain Russ Ford and his son Charles Peppers, delves into the harrowing experiences of life on death row. With a compassionate but humbling approach, the book presents cautionary tales that challenge many views on capital punishment.
Peppers, who first crossed paths with Russ Ford during his research on Virginia's death penalty, was initially taken aback by the intensity and darkness surrounding Ford's work. Deeply moved by Ford's stories and experiences, Peppers felt compelled to share them with the world.
"There are people in the VA general assembly who have proposed bringing back the death penalty back. Other states in the South continue to execute inmates at an alarming clip, and I thought, maybe, if some folks read about people on death row – the darkness and how it damages everyone it touches – then it might make a difference," Peppers emphasized. 
The book, written in Ford's own voice, takes readers on a journey through the conversations and collaborations between Ford, Peppers and Charles. Ford's copious notes from his time as a prison chaplain for death row serve as the foundation for the book's vivid vignettes. Peppers aimed to carefully frame each story, giving a complete and comprehensive picture of the inmates' lives and the stories of the victims. "Many people look at books like this and want to dismiss you as a bleeding heart, but we are not saying that these men should have been released (except the two men who were innocent)," Peppers said. "Our point is that in many ways, society failed them before they got to the row and that there was absolutely no purpose in killing them to show that killing is wrong."
While "The River Styx" aims to shed light on the flaws of the capital punishment system, it does not shy away from acknowledging the atrocity of the crimes committed by these men. "One thing we wanted to make sure we included was the stories of the crimes. We did not want to diminish or downplay the horror of the crimes committed by these men," Peppers said. "However, we also wanted to tell a full story about these men."
By examining common factors such as drug use during pregnancy, violence in their upbringing, poverty, illiteracy, mental illness, and intellectual disabilities, the book peels back the layers, revealing the failures of society that contributed to their paths to death row, page by page. "Our point is that, in many ways, society failed them before they got to the row and that there was absolutely no purpose in killing them to show that killing is wrong," Peppers explained.
Peppers' dedication to shedding light on pressing social issues doesn't end there. Looking ahead, he is also embarking on a biography of former Supreme Court Chief Justice Warren Burger, as well as collaborative work with Mary Atwell, a longtime criminal justice professor at Radford, and a former student named Jamie Allen, a public defender in Richmond. Their book, "Post Mortem," is an edited volume of essays about the death penalty. The idea behind the book is to look at fallacies with the death penalty, which have contributed to states like Virginia abolishing the death penalty. 
With "The River Styx," it is clear that Todd Peppers, Charles Peppers, along with Russ Ford have tapped into a powerful narrative that resonates with readers on a profound level. By sharing these stories, he encourages us to reevaluate our views on capital punishment and confront the systemic failures that led to these men's executions.
As Peppers embarks on his next literary endeavors, the impact of his work will undoubtedly continue to ripple through society, inspiring meaningful conversations and pushing for positive change.
In the words of Peppers himself, "These are stories that need to be told."