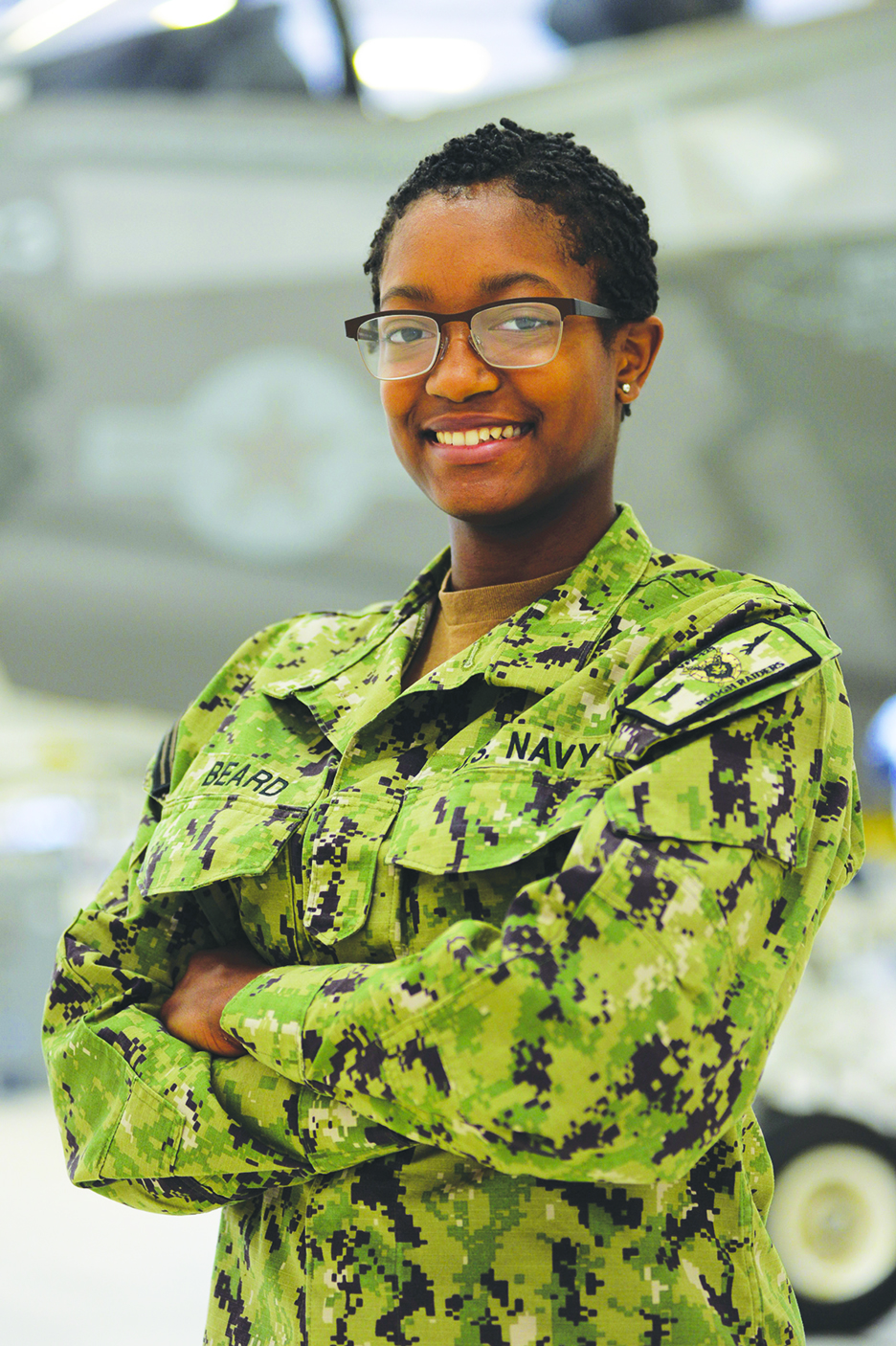 LEMOORE, Calif. – Seaman Apprentice Victoria Beard, a native of Salem, serves the U.S. Navy assigned to Strike Fighter Squadron (VFA) 125. The command is a joint strike fighter squadron located aboard the U.S. Navy's largest master jet base in Lemoore, California.
Beard joined the Navy one year ago. Today, Beard serves as a yeoman.

"I joined the Navy because I wanted to have more strength and discipline," said Beard. "I never lacked those qualities, I just wanted more consistency in them."

Growing up in Salem, Beard attended Salem High School and graduated in 2022. Today, Beard relies upon skills and values similar to those found in Salem to succeed in the military.

"I learned to grow and build connections with everyone," said Beard. "Being able to recognize myself and others for who we are allows me to make NAS Lemoore an even more inclusive place."

These lessons have helped Beard while serving with the Navy.

Members of VFA 125 fly and maintain the F35-C Lightning II, a combat-ready fifth-generation fighter.

According to Navy officials, the F-35C is designed with the entire battlespace in mind, bringing transformational capability to the United States and its allies. Missions traditionally performed by specialized aircraft (air-to-air combat, air-to-ground strikes, electronic attack, intelligence, surveillance and reconnaissance) can now be executed by a squadron of F-35s.

For the first time in U.S. naval aviation history, radar-evading stealth capability comes to the aircraft carrier deck. The F-35C carrier variant sets new standards in weapon system integration, lethality, maintainability, combat radius and payload that bring true multi-mission power projection capability from the sea, according to Navy officials.
This year commemorates 50 years of women flying in the U.S. Navy. In 1973, the first eight women began flight school in Pensacola; one year later six of them, known as "The First Six," earned their "Wings of Gold." Over the past 50 years, the Navy has expanded its roles for women to lead and serve globally and today our women aviators project power from the sea in every type of Navy, Marine Corps, and Coast Guard aircraft. Our Nation and our Navy is stronger because of their service.

With 90 percent of global commerce traveling by sea and access to the internet relying on the security of undersea fiber optic cables, Navy officials continue to emphasize that the prosperity of the United States is directly linked to trained sailors and a strong Navy.

"Our mission remains timeless – to provide our fellow citizens with nothing less than the very best Navy: fully combat ready at all times, focused on warfighting excellence, and committed to superior leadership at every single level," said Adm. Mike Gilday, Chief of Naval Operations. "This is our calling. And I cannot imagine a calling more worthy."

As a member of the Navy, Beard is part of a world-class organization focused on maintaining maritime dominance, strengthening partnerships, increasing competitive warfighting capabilities and sustaining combat-ready forces in support of the National Defense Strategy.

"The Navy is immensely important to national defense," said Beard. "It protects our nation and its surrounding seas."

Beard and the sailors they serve with have many opportunities to achieve accomplishments during their military service.

"My proudest accomplishment was graduating from basic training," said Beard. "I also got the rate that I wanted in being a yeoman, from starting off as a cryptologic technician."

As Beard and other sailors continue to train and perform missions, they take pride in serving their country in the United States Navy.

"Serving in the Navy means I'm protecting my fellow service members, my country and my family," said Beard. Service also gives me a lot of opportunity to progress in life."

"My personal goals are to be a preschool teacher one day," said Beard. My biggest piece of advice is that education is important, learn as much as you can about the task in front of you and always strive to be the best you can be."

Beard is grateful to others for helping make a Navy career possible.

"I would like to take the time to thank my mom, Valerie," added Beard. "I will always keep the lessons she taught me in my heart."
-Navy Office of Community Outreach