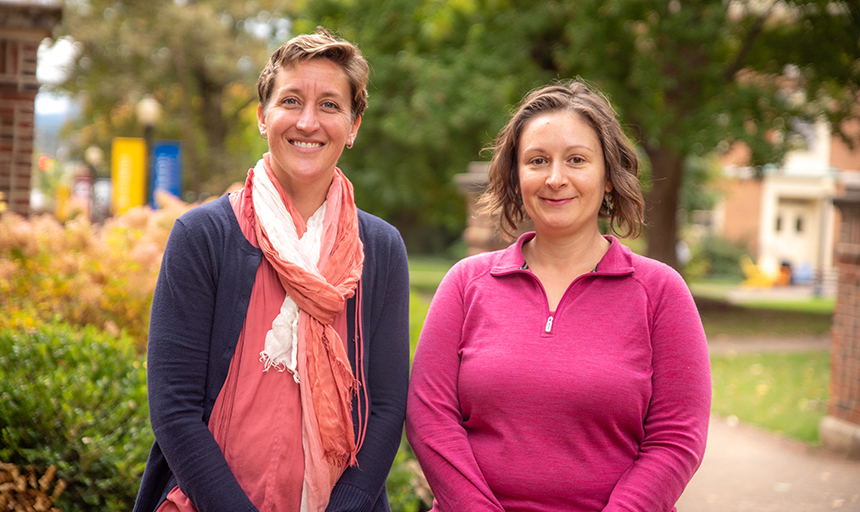 Virginia Foundation for Healthy Youth grant will allow center to support breastfeeding education as a tool to reduce or prevent childhood obesity
Roanoke College's Center for Community Health Innovation is part of a team that has been awarded an $89,000 collaborative grant to combat childhood obesity through initiatives that support breastfeeding education for caregivers in the greater Roanoke Valley. 
The three-year grant, which was awarded by the Virginia Foundation for Healthy Youth, will fund creation of a Healthy Community Action Team (HCAT) that includes Child Health Investment Partnership (CHIP) of Roanoke Valley, Virginia Department of Health, B.R.E.A.S.T. Roanoke, The Birth Nurse and Physicians to Children, in addition to the Center for Community Health Innovation.
The team's project, the Trauma-Informed Community Approach to Breastfeeding, aims to encourage breastfeeding among low-income, expectant and new birth parents through home breastfeeding education, trauma-informed lactation consultation, a custom breastfeeding curriculum, marketing materials, surveys and formal evaluations. Over the course of the project, the HCAT hopes to generate data about infant nutrition choices, as well as perceived challenges to breastfeeding related to racial/ethnic, socioeconomic and demographic characteristics.
"For the center, it is particularly rewarding to participate in a project where the research component is community-driven, community-informed and integral to achieving the goals of the partnership," said Liz Ackley, professor of health and human performance and director of the Center for Community Health Innovation.
The HCAT project dovetails with Ackley's primary research, which seeks to identify and address health disparities at the community level. In 2011, she created a health census, the Roanoke Valley Community Healthy Living Index, that measures citizen health throughout the valley's diverse neighborhoods. She is interested in childhood obesity prevention and hopes that collecting and analyzing data through the HCAT project might illuminate connections between infant diet and childhood obesity.
Also supporting the project is Associate Professor Andreea Mihalache-O'Keef, who chairs the Public Affairs Department at Roanoke. Since 2016, Mihalache-O'Keef has been involved with multi-stakeholder efforts in the Roanoke Valley to provide information and resources on breastfeeding and other baby-feeding options to expecting and new parents. In this context, she has used her research training to explore the impact of socio-demographic factors and community culture on infant nutrition choices and outcomes in our area.
"This grant really illustrates the value our community places on cross-sector collaboration to address health inequities," Mihalache-O'Keef said. "I believe Roanoke College's liberal arts mission aligns perfectly with that collaborative agenda, and Liz and I look forward to bringing our very different perspectives together on this project."
One goal of the HCAT is to improve available resources for lactating caregivers or educate them about resources that currently exist. One such resource is The Birth Nurse of Roanoke, which provides educational programming and trauma-responsive consultation for health care professionals and expectant or new parents, all through a trauma-informed framework. Mandy Irby, founder and CEO of The Birth Nurse, said low-income populations such as those served by CHIP have a higher incidence of past trauma and mental health challenges, so using the trauma-informed approach to lactation training is important. 
Irby said she's looking forward to seeing what kind of impact the HCAT can make over the next three years. The group has already convened and formed subgroups that will meet monthly to discuss goals, execution of the project, and outcomes. Initiatives already in the works include creating a lending library of lactation supplies; establishing an outreach program for community businesses to understand more about breastfeeding and how to support lactating employees and clients; and an educational curriculum for first responders, lactation professionals and other providers.
"I'm excited about a variety of community groups supporting lactation in Roanoke and in the valley in new and powerful ways that I don't think Roanoke has seen before," Irby said.
-The Salem Times-Register