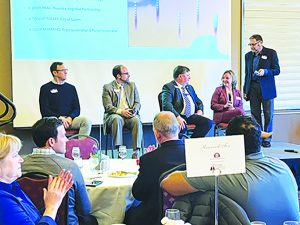 Update given by local economic development leaders
Aila Boyd
aboyd@mainstreetnewspapers.com
The Salem-Roanoke County Chamber of Commerce held its Annual Meeting and Economic Outlook Update last Friday, Jan. 27 at Roanoke College's Colket Center. 
"Good morning, everyone. Thank you for joining us today. I've had the pleasure of serving as the president of our chamber for this past year and I'm very proud of the work that we've done to connect businesses to communities in Salem/Roanoke County," Ashley King, director of general services for Roanoke County, said.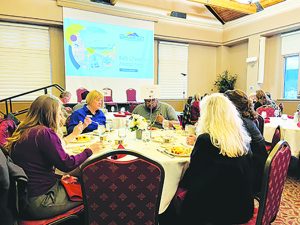 She recognized the various individuals who have contributed to the chamber over the past year, including members of the board of directors, committee members and ambassadors. Later, she recapped some of the major events the chamber held in 2022, including the Annual Meeting and Economic Outlook Update, Annual Business Awards Breakfast and Annual Gingerbread Festival. 
King also introduced Amanda Livingston, who joined the chamber in October as its new executive director. "We are very lucky to have her serving our membership," King said. "In a very short time, she has demonstrated great drive and passion for our chamber." 
She added that Livingston's ability to connect with others and create personal relationships has already provided the chamber with a "strong growth in membership and sponsorships." 
Attorney General update
Matt Hall, a community liaison officer with the Office of Attorney General of Virginia, spoke about his office's local and statewide efforts. 
"I wanted to give you an update on what we've done over the past year. We've launched one of the largest crimefighting programs in the history of the Commonwealth of Virginia. We've launched Operation Ceasefire."
He went on to explain that two prosecuting attorneys have been allocated to cities to prosecute violent crimes, including gun-related crimes. He pointed to two attorneys who have been hired to prosecute such crimes in Roanoke.
Other initiatives Attorney General Jason Miyares has priorities that Hall pointed to include youth violence intervention and preventative opioid addiction education. 
"We have to get this right," he said. "We really want to educate folks that one pill can truly kill with fentanyl." 
Economic outlook update
An economic outlook update was delivered via a panel of local officials, including Tommy Miller, Salem's director of economic development, John Hill, executive director of the Roanoke Regional Partnership, Landon Howard, president of Visit Virginia's Blue Ridge, and Megan Baker, Roanoke County's economic development director. 
It was moderated by Gene Marrano, editor of Valley Business FRONT and reporter/anchor for WFIR. 
Baker started her role in late October. She said, "I came into a very vibrant and active community. We have the Board of Supervisors that have set some great priorities for Roanoke County." Right now, she said, she's taking stock of the economic development situation in Roanoke County but is looking forward to what 2023 has in store for the county. 
One area of focus she touched on for the upcoming year is a review of how the county markets itself to outsiders, including businesses. 
Howard said, "2022…I'll tell you the first quarter was not that great because of this thing called COVID, but we've recovered. The last numbers I've seen, we've had $117 million in total revenue for our hotels and if you compare that to 2019, it's exactly even. That revenue has recovered." 
However, room demand, he said, is still down roughly 11%. His agency is forecasting that leisure in the region in 2023 will be up compared to 2019.
"We're back! And we're excited about that," he said. 
Hull noted that his agency was involved in the announcement of eight new site developments last year. The impact of those announcements, he said, "exceeds any level in the last five years."
"We've had a really strong year," he said. The announcements account for north of $200 million of economic impact and 435 jobs. "Our opportunity pipeline is double what it was pre-pandemic times. Lots of interest. Lots of activity." 
Miller, who joined Salem in the first half of 2022, noted there has been a considerable amount of economic development-related activity in the city over the past year. 
"I came onto an office empty for about two years. I thought I was going to spend a lot of time working on a strategic plan, but there has been a lot more work I'm excited about," he said.
Some of the projects he has been involved in over the past year included streetscape developments, a new hotel, an announcement about the former Valleydale site and restaurant coming into downtown and building relationships with existing businesses. 
Upcoming event
Towards the end of the meeting, Livingston noted that one of the chamber's next events will be on Feb. 17 at 7:30 a.m. The "Business Advocacy Breakfast Series 1: Breakfast with our Congressmen" event will be in the WDBJ7 Community Room. Reps. Morgan Griffith and Ben Cline will participate in the meet and greet. 
She ended the meeting by saying, "We have a lot to look forward to. We really encourage you to participate and get involved."