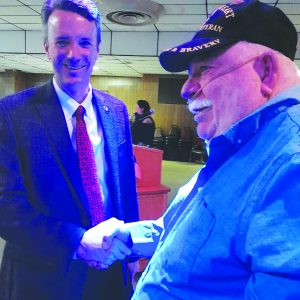 By Meg Hibbert
Contributing writer
When he was 17, Marine recruit Patrick Ramsey was shot in the head while rescuing other wounded Marines in Cam Lo, Vietnam. Fifty-three years later, he got his Purple Heart Award.
"I fell through the cracks," Ramsey said simply. Recently he sought the help of Sixth District Congressman Ben Cline and his staff to get the overdue medal.
"I wanted to do it for the family," Sgt. Ramsey explained, after Lt. Col. Joel Fraker pinned the award over his left breast. "Congressman Cline pushed the buttons, but Christine Broughton, field representative in his Roanoke Office, set up the buttons for him," Ramsey added.
He thought back to that early morning in Cam Lo. "It was Sept. 16, just after 0500. North Vietnam Army regiments were attacking. I was the squad radio operator for Lima Company in the 3rd Marine Division."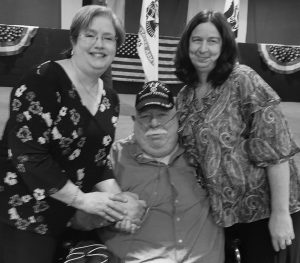 Several of his buddies were hit, and Ramsey left the foxhole to look for others who needed help. That's when he was shot in the back of his skull by enemy fire.
After time in the hospital, Ramsey returned to active duty. The 3rd had shipped out of Vietnam, he said, and his record jacket was sent from one division to another, he explained. "They knew I was wounded but there was nothing in my record jacket to say that. I did not have the time in the country to be pulled out of Vietnam," he added.
Ramsey served a total of 10 years. When he left Vietnam in May 1970, Ramsey went on to serve another eight years, in Okinawa, the Middle East and Asia, he said.
Back in the states, Ramsey worked as a commercial electrician in North Carolina, and ultimately, MT Electric hired him and moved him to Roanoke. He was retired on total disability in 2004. Since then, Ramsey has been active in the Roanoke Moose Lodge 284.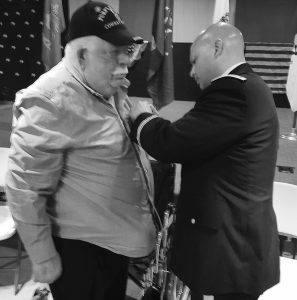 Whitney Kingston of Salem, senior regent of the Women of the Moose, made a special presentation to Ramsey "for his service to your fellow veterans." It was a $200 check made out to Ramsey's favorite charity, Wellness for Warriors in San Antonio.
Ramsey explained Wellness for Warriors "has been providing supplies and services veterans need, ranging from waters to air purification systems, locating specialists for veterans with foot problems and other things."
After reading the Purple Heart commendation certificate, Congressman Cline said, "It's an honor for me to be here. Mr. Ramsey has given to his country and his community."
Referring to helping Ramsey get the Purple Heart, Cline's field representative added, "We do constituent services like this on a daily basis."
Forty people were gathered at the lodge to congratulate Ramsey. Among them were his two daughters, Melissa Buchanan who lives in Pleasant View, and Carri Bonner of Columbus, Ohio, as well as three of Ramsey's grandchildren, Alex, Isabelle and Ethan. 
Participants included master of ceremonies Andrea Spence, daughter of Lodge President Matt Spence. Andrea Spence also opened the ceremony by singing the National Anthem.