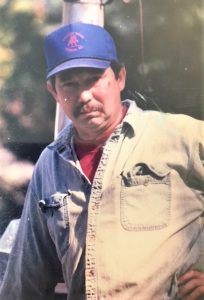 Daniel Edward Troutman, 68, of Salem, went home to be with the Lord on Wednesday, July 21, from Carilion Roanoke Memorial Hospital. 
He was born on May 16, 1953, son of the late Homer and Margie Shuford Troutman, in Statesville, N.C.
In addition to his parents, Danny was preceded in death by his brother, Thomas Troutman; and sister-in-law, Gail Troutman.
As a seventh-generation blacksmith, one could almost imagine that Danny was practically born with a set of horseshoes he created while in the womb. His wealth of knowledge came early, as he was taught from a young age the craftsmanship of a blacksmith as well as a welder. His talent was like no other. He could literally create nearly anything you requested out of a piece of steel. His talents weren't limited to steel, however. Danny could do almost anything he set his mind to. 
His love for horses was also to no surprise, as he, along with his wife, Nancy, owned and managed a large horse farm locally. He received numerous awards over the years from the many associations he belonged to; the Roanoke Valley Horseman's Association, the American Saddlebred Horse Association of Virginia, the United Professional Horseman's Association, and the Hackney Society, just to name a few. 
While most of Danny's adult life was spent fixing fences, among other duties around the farm that needed tending to, you may have found Danny fishing local, or possibly at the Outer Banks of North Carolina, along with friends and those he loved most, trying to hook a big one. 
Danny was simply a great man whose shoes could never be filled and whose legacy will be carried on by the many friendships that were made over the years.
Family remaining to cherish his memory includes his wife of 38 years, Nancy C. Troutman; sister-in-law, Karen Pannick; and his nephews, Bradley Troutman, Marcus Troutman; and Ryan Shriver.
A graveside service to honor Danny's life was conducted on Monday, July 26, at 11 a.m. at Mountain View Cemetery in Vinton, with Rev. Mark Mofield officiating. A brunch in Danny's honor was held at the farm following the service. In lieu of flowers, please consider making donations in Danny's memory to the American Saddlebred Horse Association of Virginia, 5327 Sundance Rd Salem VA 24153-5804.
The family wishes to offer special thanks to Holly Nichols, RN, at Roanoke Memorial, as well as Karen Pannick and Carol Reedy for the love, care, and support they have each shared at a time it was most needed.