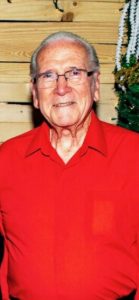 Mr. Kenneth Weaver, age 85 of Stockbridge, GA., passed away July 24. Mr. Weaver was retired from the Jonesboro Post Office and was a member of First Christian Church of Jonesboro. 
He is survived by his wife of 63 years; Patricia Weaver, daughter; Beverly Kay Weaver of Stockbridge, GA., son; Jeffrey Charlton (Julie) Weaver of McDonough, GA., sister; Ruth Woodruff of Waverly, OH., grandchildren; Katie (Cameron) Guida, Sarah (Houston) Rutledge, Abigail Weaver, Mark (Kylie) Weaver and Benjamin Weaver, great-grandchildren; Ava Kate Elisa Guida, Steel Vincent Guida, Turner Grace Rutledge and Arlington Hope Rutledge, and many nieces, nephews cousins and extended family members. 
He was preceded in death by his infant son; Mark Laine Weaver, parents; Ernest H. and Margaret Weaver, sisters; Ernestine Brown Medley, Hester Hayden, Lois Chaplin and Nanny Sue Milton, and step-mother Gay Weaver. Funeral Services will be held at 2 p.m. on Saturday, July 31, at First Christian Church Jonesboro with Minister Wade Hall officiating.
 Interment will follow at Eastlawn Memorial Park in McDonough, GA. The family will receive friends from 1:30 p.m. to 2 p.m. on July 31 at the church. In lieu of flowers, the family requests donations to: First Christian Church Jonesboro, Benevolent Fund or Missions Fund, 2272 Walt Stephens Road, Jonesboro, GA 30236, in Memory of Mr. Kenneth Weaver. Ford-Stewart Funeral Home, Inc., Jonesboro/Stockbridge, GA 770-210-2700 www.fordstewartfuneralhome.com.