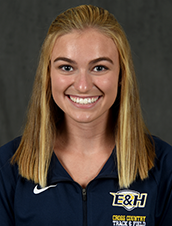 By Brian Hoffman
Delaney Eller, an Emory & Henry College freshman and 2022 Glenvar High graduate, has been selected as the South Atlantic Conference Women's Cross Country Runner of the Week for meets completed during the third week of the season. She is the first E&H student-athlete in school history to earn weekly honors from the SAC, which the Wasps recently joined when they went from Division 3 to Division 2.
Eller was the top SAC finisher at the Queen City Invite in Charlotte, NC on September 23rd. She completed the 5K course in 20:49, placing 19th overall in the event. Additionally, Eller helped the Wasps earn a 10th-place finish as a team. Her time beat her previous collegiate best by 1:22.
This marks the first time since the 2013 season that an Emory & Henry women's cross country runner has received league runner-of-the-week honors. The Wasps return to action on Friday, October 7, when they return to Charlotte to compete in the Royals Cross Country Challenge, hosted by Queens (N.C.) University of Charlotte.