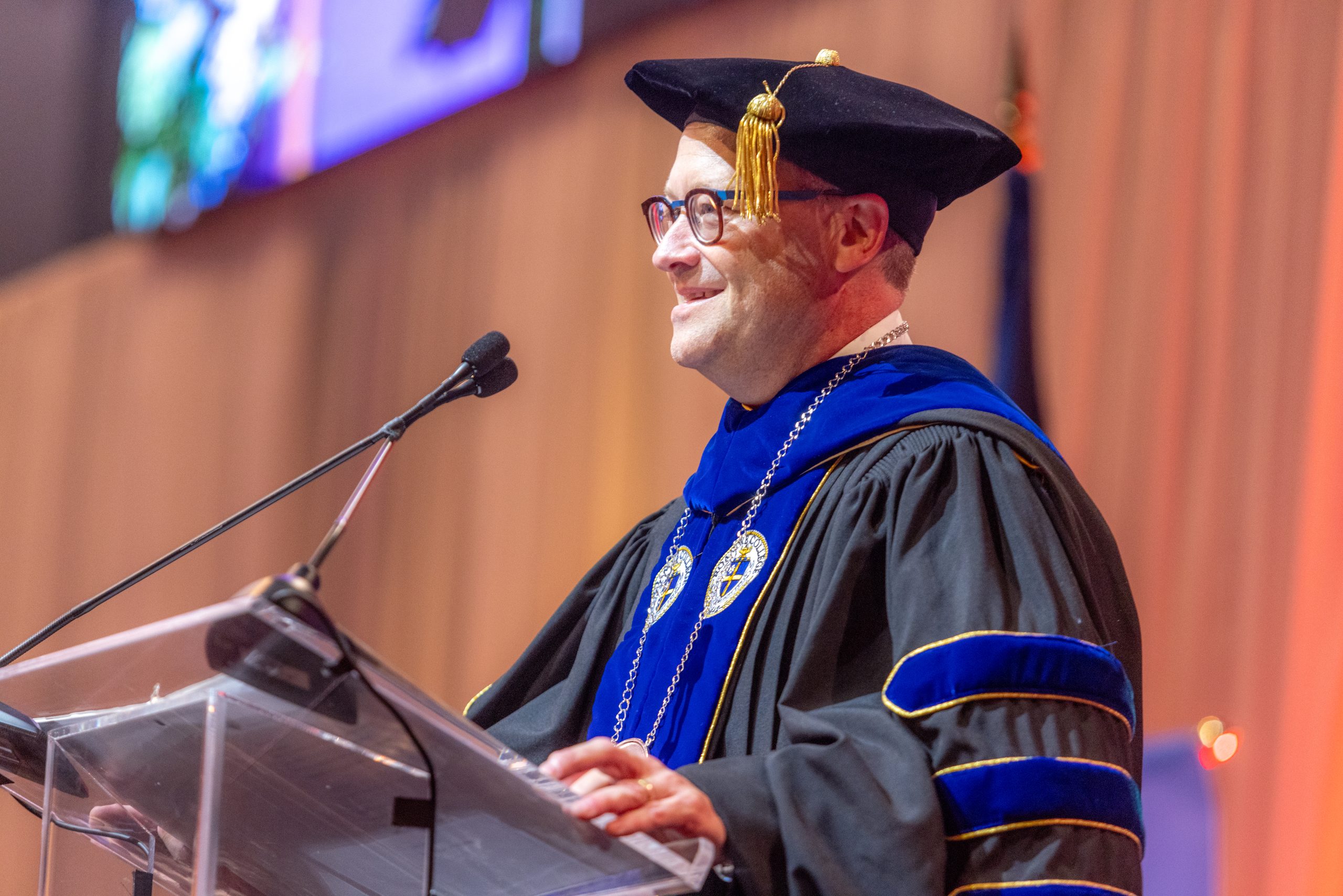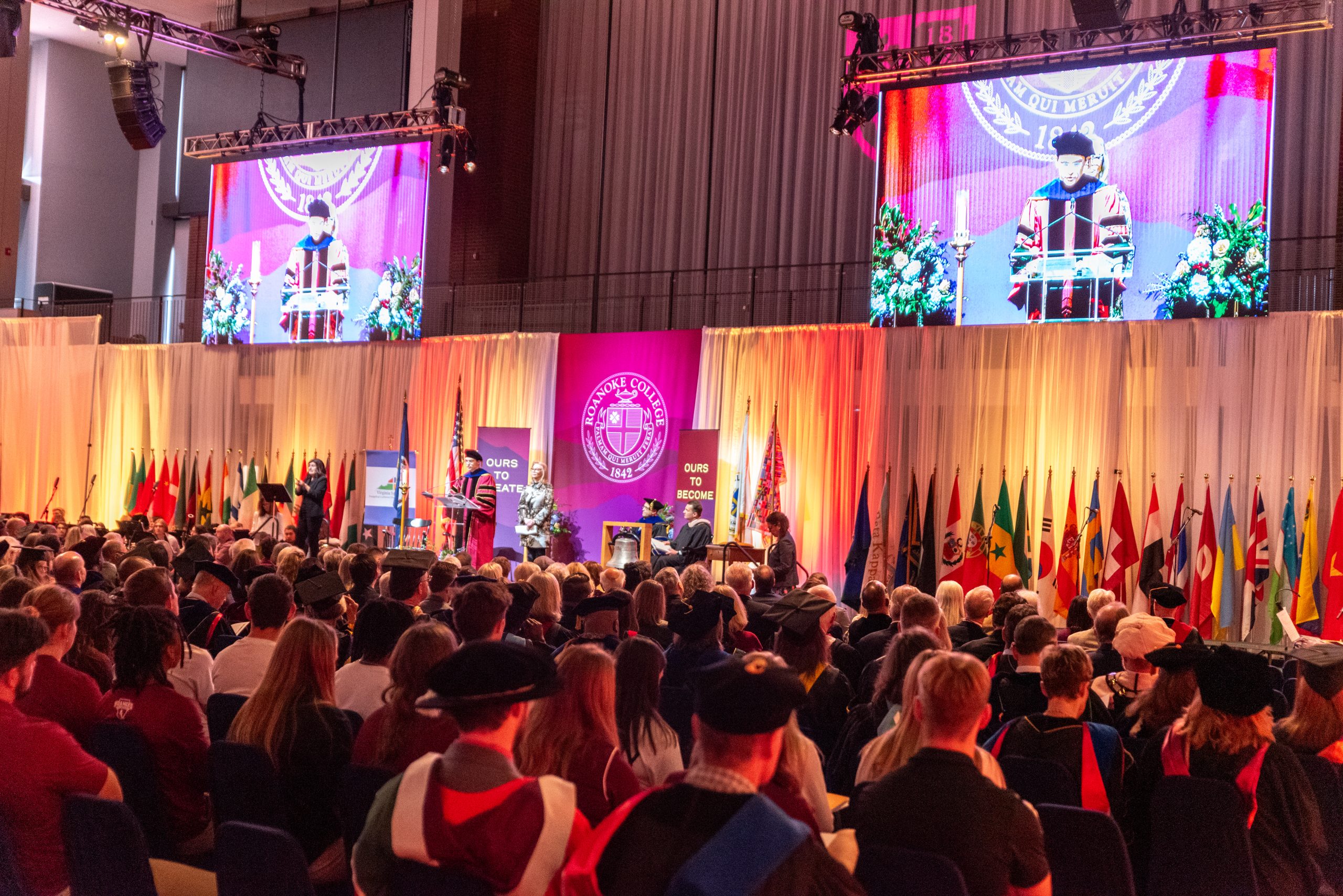 The official investiture ceremony brought together students, alumni, faculty, regional leaders  
 Aila Boyd
aboyd@mainstreetnewspapers.com
Roanoke College celebrated the inauguration of its 12th president on Friday, Oct. 27, in a series of events that honored the history and the future of the campus community. 
 The official investiture of President Frank Shushok Jr. brought together students, alumni, faculty, regional leaders and higher education innovators. Inaugurations are rare milestones at Roanoke College, the institution said. It has had just 12 presidents in its 181-year history. 
Shushok's installation was marked by musical tributes from students, a reading from poet and alumna Cheryl Hopson '95 and greetings from a wide cross-section of the Maroon community, including Virginia State Delegate Sam Rasoul '02, Roanoke College Trustees Robert Fralin and Ken Belton '81, Maroon parent and Norfolk Southern CEO Alan Shaw, Modern Languages Department Chairman Jose Banuelos Montes and Dining Services Retail Manager Tammy Parker. 
Shushok was presented with the Presidential Medallion by his predecessor, 11th Roanoke College President Michael Maxey. The sterling silver medallion, fashioned in the image of the Roanoke seal, represents the legacy of service, mentorship and achievement that lies at the heart of the college's mission.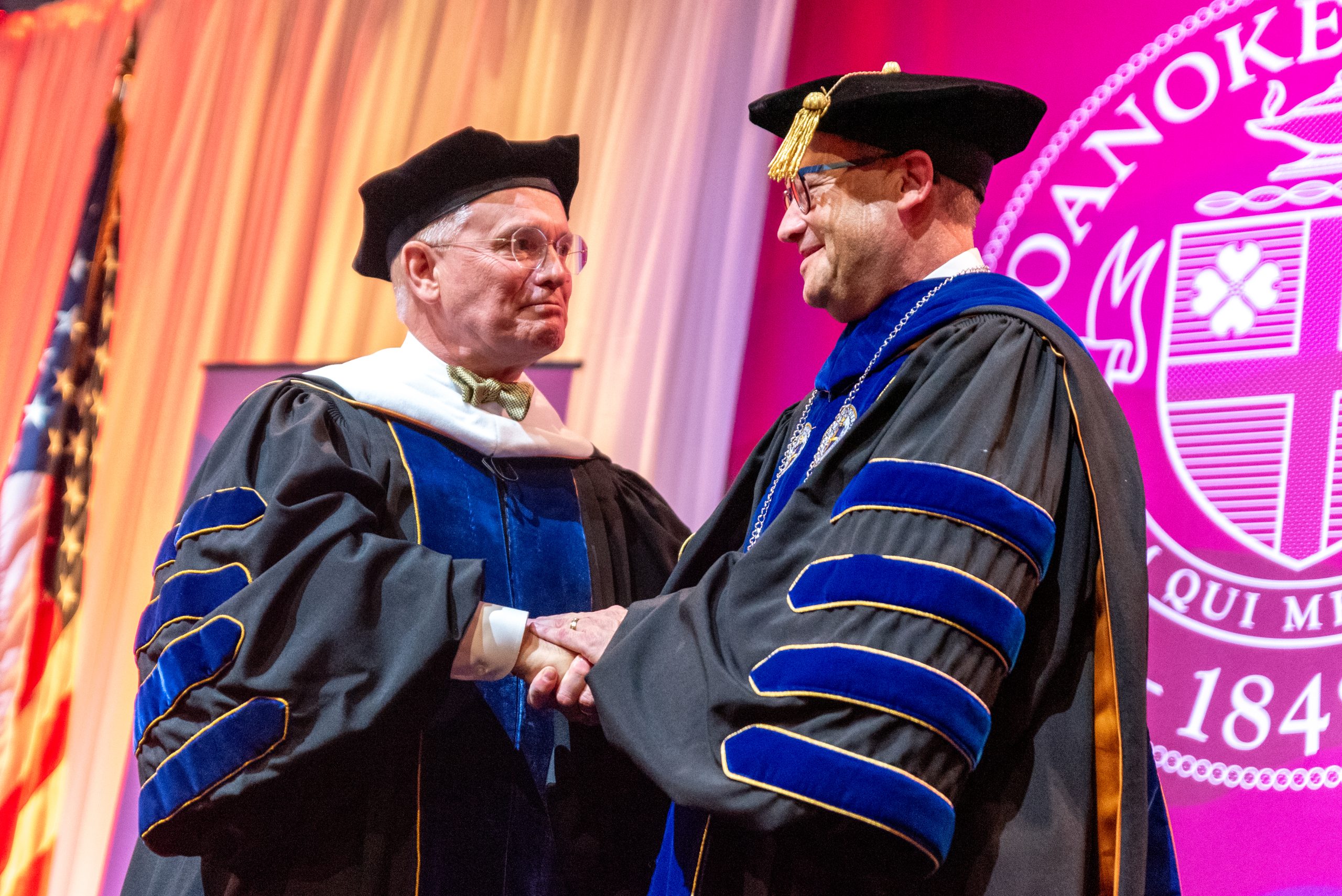 Engraved on the medallion is the name of each president who has led the campus. It is a fellowship that Shushok said he was humbled to be a part of. 
"Our job is to help students believe in better versions of themselves, envision a world beyond what they understand, and run in the direction of big questions and complex challenges," Shushok said in his inaugural address. 
"In the end, when a single student finds a calling, becomes compelled by the cause of justice, learns to care for humanity, discovers a talent, hones a skill, or finds the courage to speak up for a value, the world stretches. Potential becomes reality. We all grow larger. We get to live in wonder on our many, many moons. I cannot think of a better way to spend a life, and so, as the grateful 12th president of Roanoke College, I am here, and I believe we are ready. The future is ours to create." 
Shushok began his term as president on July 1, 2022, after being unanimously selected for the role by the Roanoke College Board of Trustees. He brings to bear more than 30 years of experience in higher education and a deep commitment to bolstering student wellness and success. 
Since joining Roanoke, he's immersed himself in campus life and worked expeditiously to position the college for success amid the changing national landscape of higher education, the institution said.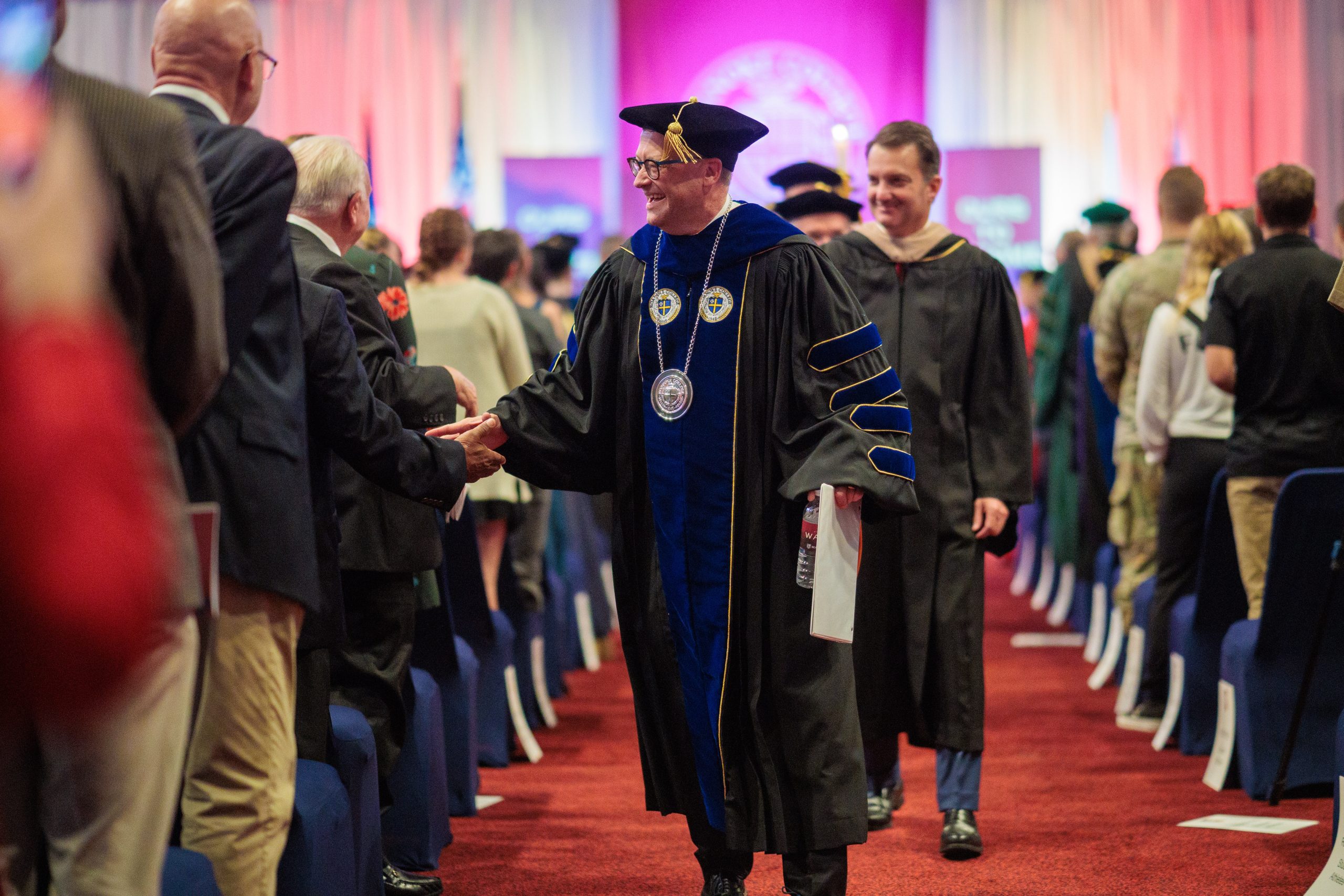 "This is indeed a great day for Roanoke College," said Board of Trustees Chairman Malon Courts '92. "… Today, as we gather to inaugurate the 12th president of Roanoke College, I am reminded of the 11 remarkable leaders who have served the College with vision, determination and dedication throughout our 181-year history. President Shushok, you inherit a great tradition. You also inherit the complex challenges and responsibilities of today's higher education landscape."  
"The Board of Trustees is confident that you will lead the College towards a bright future, embracing innovation while respecting history and tradition. Your spirit, energy and commitment to students have already made an impact, and we are excited for the years ahead."  
The inauguration ceremony headlined a slate of events that celebrated Roanoke and its wider community. Building community and forging new partnerships has been a key focus of Shushok's tenure. In the past year, the College has worked alongside a myriad of partners — including Virginia Tech, Virginia Western Community College, Salem City Schools and Deloitte — to develop forward-thinking programs that will strengthen student success and contribute to the region's vibrancy. 
Representatives from across the region were on hand for Friday's ceremony, as were delegates from other colleges and universities, learned societies and the interfaith community. Shiloh Baptist Church in Salem led the gathering in a rendition of "America the Beautiful," and the Rev. Theodore Schneider '56, of the Evangelical Lutheran Church in America, offered the invocation. 
Other planned events surrounding last week's inauguration celebration included forums on the future of higher education featuring Roanoke faculty, Rishi Sriram of Baylor University, Sylvester Johnson of the Virginia Tech Center for Humanities, President Emeritus Nathan Hatch of Wake Forest University, Chancellor Eileen Hulme of Indiana Wesleyan University – National & Global Campus, and President Robert Kelly of the University of Portland. 
In his inaugural address, Shushok spoke of the power of a community committed to serving the greater good, of the sacred mission to ensure education is attainable for all, and of the need for courageous innovation in the face of new challenges confronting America's colleges and universities. 
At the heart of it all, he said, are our students, who come to Roanoke to learn, grow and ultimately discover their purpose. 
"Truly, I believe today's students — the ones in this very room — are our greatest hope," Shushok said. 
"You are the 'why' I hold onto to greet every decision, every direction, every morning — students. I believe you keep us focused on what matters most in the world."