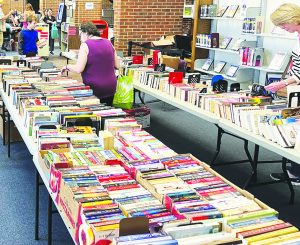 Friends of the Salem Library (FOSL) will hold a book sale for the first time ever in springtime. The FOSL typically receives more donations than they can effectively offer during the Olde Salem Days weekend. With no options for free book storage available, the group made the decision to add an additional book sale.  
"We will give our patrons another chance to leisurely peruse our books for titles that strike their fancy. Come and see what we have to offer," Ken Sosnowski, book sale chairman, said.
The days and times of the sale are as follows:
Thursday, March 2: 9 a.m.-1 p.m.: Early-bird Friends of Salem Library sale

Thursday, March 2: 1 p.m.-8 p.m.: Public sale

Friday, March 3: 10 a.m.-5 p.m.: Public sale

Saturday, March 4: 10 a.m.-5 p.m.-Public sale 
The friends group traces its roots to a casual conversation in September of 1988, a conversation between Joyce M. Foster and Earnestine Woodliff Lewis, former children's librarian of the Salem Public Library.   
Acting on their ideas, Foster became the group's organizer, mentor and long-time treasurer until handing over the task a few years ago.  Thirty-five years later, Foster and Janis Augustine, retired Salem Public Library director, are two original members still active today.  
Far from being FOSSILS, an acronym they sometimes whimsically use to refer to the organization, they have their sights set on helping the Salem Public Library reach its full potential as a learning center full of vitality, vim and vigor.  
Over the years, friends have enrolled numerous families as members and boosters.  Early on, the group was active in the campaign that resulted in the 1990-91 expansion and renovation of the library on Salem's Library Square.  
Without the direct sponsorship of the group, many library activities including community-building events, storytelling programs and circulating materials for library patrons, would go unfunded.  The friends have provided furniture for the public, including the children's and teens area, and display fixtures; AWE Early Literacy computer stations for children; children storytime supplies (books, a new, large, colorful rug);  sponsorship of library programs for all ages; sponsorship of the annual Salem Elementary Schools Art Show;  a new projector and screen for the meeting room; annual sponsorship of the Salem Public Library Summer Reading Program for all ages including prizes, performers, and craft supplies.
Donations made to The Friends of the Salem Library are tax deductible. 
-Benita Rae VanCleave