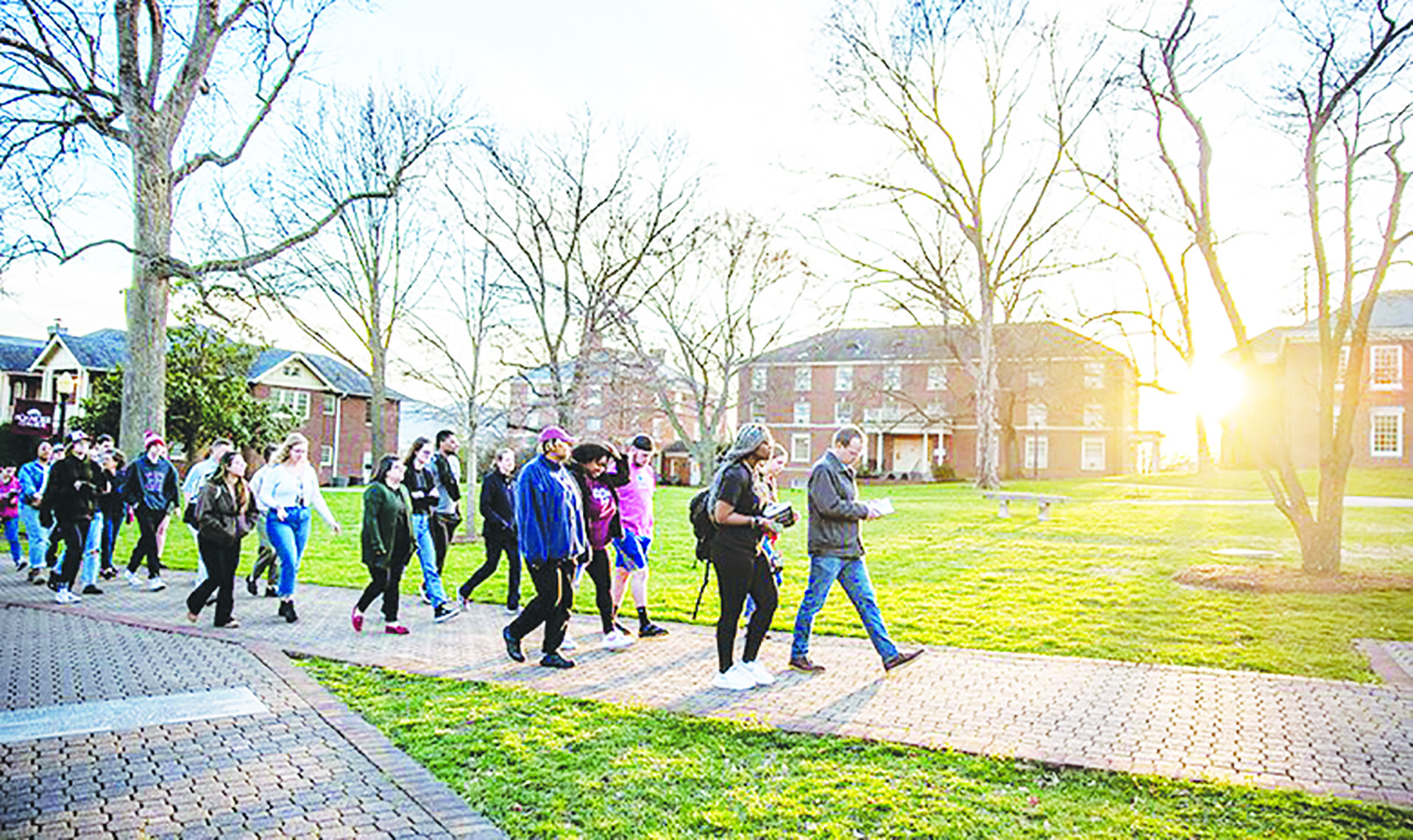 The vigil was part of the college's observance of Black History Month
The Roanoke College community paused on Sunday evening to honor the memories of enslaved workers whose ties to the school's history have been revealed by the work of student researchers with the Center for Studying Structures of Race.
The annual vigil, organized by the Black Student Alliance and the Office of Multicultural Affairs, brought people together to learn, reflect and remember the names of enslaved people whose identities were often obscured in official records of that era.
"The time we allotted isn't enough to fully recognize the people we want to honor today, as it would take lifetimes to truly give them the respect they deserve," Jasmine McFadden, the president of the alliance, said to those gathered. "However, we hope that with the time you spend with us, walking these paths with us, you take away a feeling of deeper respect for the grounds we walk on, the buildings we stand in, and most importantly, the people themselves."
The vigil, which was part of the college's observance of Black History Month, also coincides with a larger campus effort to document and memorialize the history of enslaved people in the region. That work has included establishing the Center for Studying Structures of Race, creating a campus walking tour and pursuing plans to build an on-campus memorial.
Jesse Bucher, director of the center and college historian, guided Sunday's gathering through key parts of the school's history and encouraged people to join him in affirming aloud the names of enslaved workers documented by researchers.
"Let us speak their names and broaden our truth," he said, adding later that events like the campus vigil are vital to keeping history alive.
"History is living through us," he said. "It's being embodied through the practice of walking up this path together, of lighting candles, of taking time to think and pause and consider our surroundings in a more expansive, more truthful, more complete way."
Over the course of the evening, the vigil wended its way across the campus, ending at The Rock where participants planted stakes in the ground that were each emblazoned with the name of an enslaved person. Each name was also marked with a blue ribbon — a color with a deep significance in the history of American slavery.
Christopher Bowen, chaplain, led the group in a prayer and a reflection on the lives of the people whose hands shaped the earliest days of the college's history. "We honor them," he said. "We stand in a sacred space."
-Roanoke College