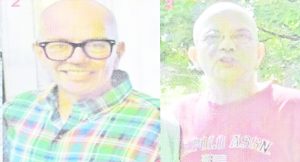 It is nearing the one-month mark since Salem resident John Krippendorf was last seen on Feb. 8 after he was released from the LewisGale Medical Center. 
His friends and family have still not had contact with him and are concerned for his well-being. 
According to a missing person flyer that is circulated in the area, Krippendorf was released from the center after being on a ventilator for eight days. He was wearing a plaid flannel shirt and tortoise shell wire frames at the time. The flyer indicated he is 57, bald, has blue eyes, is 5-foot-4-inches and weighs 155 pounds. 
As of Monday, the Salem Police Department said there have not been any confirmed sightings of Krippendorf since Feb. 8. The department also said it has no additional information at this time. 
The flyer encourages those with information on Krippendorf to contact the Salem Police Department at 540-375-3078 or The Aware Foundation at 833-933-4639.
-The Salem Times-Register