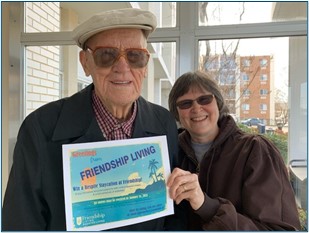 Friendship Assisted Living recently awarded a free week-long respite "staycation" to contest winner JT Huddleston. Lois Rittenhouse, Huddleston's daughter and caregiver, entered his name into the promotion after scheduling a beach vacation for this coming summer.
"I enjoy living close to dad and supporting him," said Rittenhouse. "It's a wonderful feeling to have such peace of mind knowing Dad will be safe, well-fed, and entertained while I'm out of town."
Rittenhouse is one of many in our region that are supporting parents and loved ones who desire to continue living independently at home.
"I hope to continue remaining at home as long as possible," said Huddleston. "I'm so thankful for my daughter's love and care, and it's great having Friendship available and willing to help out as needed so she can enjoy life too."
Recognizing that the Coronavirus pandemic has been difficult for all providing healthcare and support to elders, Friendship Assisted Living developed the promotion so those who are supporting loved ones can have a well-deserved break for rest, or to attend to matters requiring time and attention.
"So often we see family members and friends who are struggling to care for those they love, while taking care of themselves and the demands of everyday living," said Friendship Assisted Living Administrator Susan O'Malley. "This promotion is truly a win-win. Lois will enjoy a well-deserved break while JT makes new friends, enjoys our chef's cooking, and has fun with our team."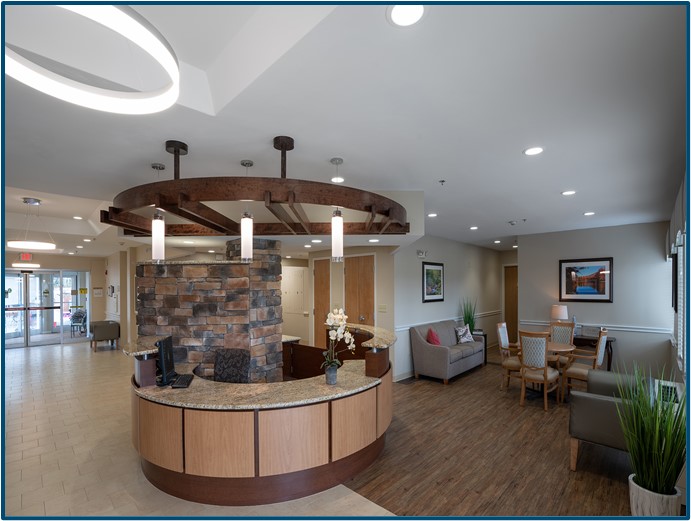 Assisted Living is just one of several services Friendship offers for seniors who prefer to remain living at home.
Friendship Home Care is available 24 hours a day (including holidays) and provides assistance around the house with everyday tasks, housekeeping, companionship, transportation as well as personal attention to include bathing, dressing, hygiene assistance and medication management.
Friendship's Adult Medical Day Care, located in The Feinour Center, provides affordable daytime care for family members who can no longer stay home safely, or prefer to spend time in a community setting while still residing at home.
Club Friendship, Friendship's award-winning restaurant and bar, provides take-out meals available for purchase.
Friendship Physician Clinic offers primary care and is currently scheduling wellness visits, in addition to addressing individuals' health concerns.
Friendship Pharmacy helps clients compare costs, reviews prescriptions and compatibility for those taking multiple medications, and has several free services available, including prescription delivery to one's home.
Friendship Outpatient Therapy provides a host of services to help individuals regain strength and abilities, and build confidence.
"Our mission at Friendship is to support friends and provide peace of mind," said Friendship President and CEO Joe Hoff. "We recognize that our 'friends' are individuals that live both within and outside of our campuses. That is the challenge and motivation that fuels our organization to continue enhancing our care, and expanding services to address the ever-changing needs in the Roanoke Valley. We want all seniors to be supported, regardless of their socioeconomic status or where they are in their life journey."
Submitted by Stephanie Landes, Director of Marketing