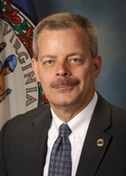 The Virginia Office of the State Inspector General (OSIG) has announced that the General Assembly has confirmed the Governor's reappointment of State Inspector General Michael C. Westfall. Westfall's four-year term began July 1, 2020, when the Governor announced the reappointment.
"I am humbled and honored that the General Assembly has confirmed the Governor's appointment to allow me to continue serving as the Commonwealth's State Inspector General through June 30, 2024," said Westfall. "I am proud of our team and their accomplishments, and am glad that others outside of OSIG are recognizing our work. By modeling our core values of integrity, trust, dedication, collaboration and respect, we are moving closer to our vision of maximizing the public's confidence and trust in state government."
Westfall cited recent examples of OSIG's work that is making an impact on state operations and the citizens of the Commonwealth. They include:
The Governor initially appointed Westfall as State Inspector General in April 2018. Westfall served as acting State Inspector General since February 2017 and Deputy Inspector General since 2015.
Prior to joining OSIG in 2015, Westfall served in several leadership positions, including Chief Audit Executive for the Virginia State Police and Assistant Director and Director of the Chesterfield County Office of Internal Audit, where he oversaw internal audits and hotline investigations for more than 20 years. He began his career as an auditor for the U.S. Department of the Interior Office of Inspector General.
Westfall holds a master's degree in accountancy from Virginia Commonwealth University and is a Certified Inspector General, a Certified Public Accountant and a Certified Fraud Examiner. He was recently elected to serve a three-year term on the Association of Inspectors General Board of Directors. Westfall also is a member of the Association of Certified Fraud Examiners and the Virginia Local Government Auditors Association (past-president). He previously served in leadership roles with the Association of Local Government Auditors and the Association of Government Accountants (past president of the Richmond chapter).