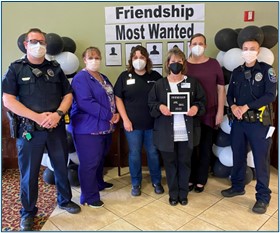 ROANOKE – Friendship, a senior living and rehabilitation provider, held a "jail bail" event this month to raise money for the American Heart Association's Heart Walk with help from community members.
Hosted at Friendship Health and Rehab Center on Hershberger Road, participating Friendship employees and community members role played as felons and criminals in a simulated arrest as they worked to clear their name of silly crimes and free themselves by collecting enough bail money from their families and friends.
"I think heart health is something that affects all of us," said Tanya Scott, Friendship Director of Social Services who organized the event. "It's just a good cause."
Before the event took place, five "felons" were chosen from among Friendship staff and representatives from partner businesses, including Kim Holbrook from Enhabit Home Health & Hospice and Rob Bingler from National Seating & Mobility. An additional three "felons" were voted on by Friendship employees, with each vote costing $2.
Roanoke County Police Officers Jerry Baker and Jen Wickham volunteered to arrest the criminals, who then had their mugshots taken. Friendship Director of Housekeeping Erika Richardson assisted as the honorary judge. According to a release after the event, all of the "felons" were great sports, getting on their phones and calling everyone they knew to raise their own bails.
"Friendship has been a wonderful partner for the last 30 years, starting with the first heart walk in Roanoke in 1992," Elizabeth Vail, senior development director at the American Heart Association, said. "One thing I have really enjoyed observing with Friendship is the comradery and creative ways the employees work together to Fundraise for the Heart Walk."
The release noted the "felons" seemed to enjoy the competition of seeing how quickly they could meet their assigned fundraising goals. Scott hoped to raise about $1,000 to support the association, which fights heart disease and stroke and helps families affected by heart disease. After three hours, $3,200 had been raised.
-The Salem Times-Register