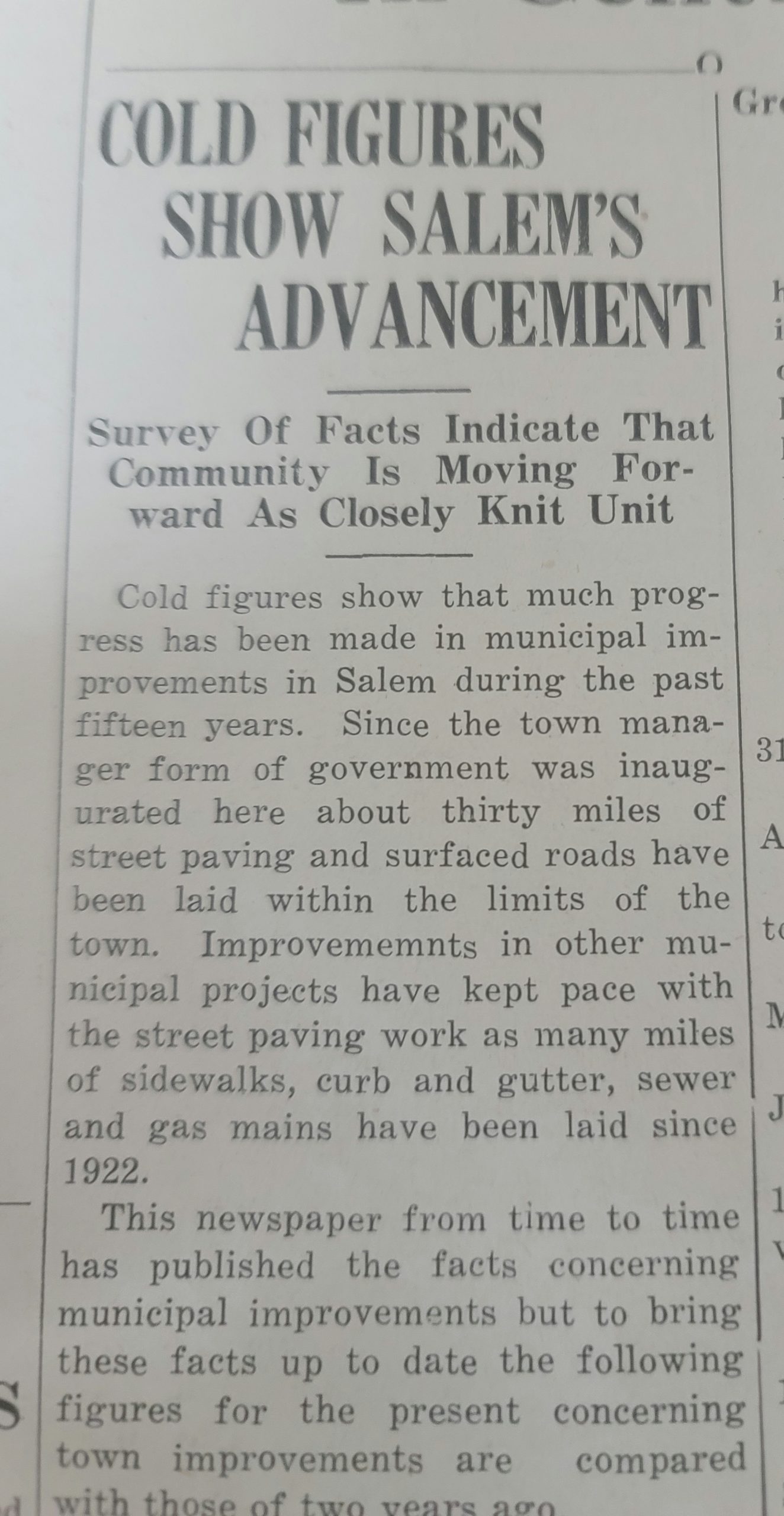 Survey Of Facts Indicate That Community Is Moving Forward As Closely Knit Unit 
From the 1938 centennial edition of The Times-Register 
Cold figures show that much progress has been made in municipal improvements in Salem during the past fifteen years. Since the town manager form of government was inaugurated here about thirty miles of street paving and surfaced roads have been laid within the limits of the town. Improvements in other municipal projects have kept pace with the street paving work as many miles of sidewalks, curb and gutter, sewer and gas mains have been laid since 1922. 
This newspaper from time to time has published the facts concerning municipal improvements but to bring these facts up to date the following figures for the present concerning town improvements are compared with those of two years ago. 
34 Miles Of Paved Streets 
In April of 1936 the town of Salem had thirty-one miles of paved or surfaced streets while today the town has thirty-four miles of such roads. The building of sidewalks has gone ahead steadily. Two years ago there were 9.8 miles of sidewalks in Salem while today the figures total about 12.9 miles. At that time there were ten miles of curb and gutter laid while today the town can boast of thirteen miles of such work. Two miles of water main have been added during the past two years so that at the present time there are a little more than twenty-three miles of water mains in this community. 
The mayor and members of the council have permitted the town manager to look after the business affairs of the town with little restriction and without permitting politics to become involved, so that considerable saving has been made. The net bonded debt of the town is now $127,000 which is $27,000 less than it was two years ago. This year $83,875 has been paid on indebtedness but a good portion of this money was taken from the sinking fund so that it cannot be said that this amount has been saved during the past year. 
Good Town Manager 
Salem has been fortunate in having a good administration during the years since the town manager form of government has been adopted, and the town has also been fortunate in having good town managers. 
The first town manager to be employed by this municipality was John P. Broome who assumed his duties here on September 1, 1922. He came here from Prince Frederick, Maryland,
and is now at Petersburg, Va. He severed connection with the town on January 1, 1925, when Wallace Lawrence of Salisbury, Maryland, took over the duties of town manager. Mr. Lawrence was succeeded by Roy P. Bishop of Charlotte, N. C., who served until Sept. 30, 1929, when J. J. Cassady was appointed to this position. Carlton C. Massey of Fredericksburg, Va., assumed the duties of town manager on April 1, 1938. 
To mention all the improvements that have been made in the town during the past sixteen years would require much space. A new water pump and new pump house in South Salem were constructed prior to 1930 while in 1930 a new water purification plant with capacity of a million gallons of water daily, costing $85,000 including new pumps and pumping station, was built. 
At the present time the city gets water from three sources, an artesian well, Lake Spring and the Roanoke river. One of the most modern filtering plants in the State is now used by the town. The water goes through three cleansing processes before the chlorination process, so that when it is ready for consumption it h as absolutely no impurities in it. Because of the great improvements in sanitation, especially as to drinking water, there are very few cases of small pox or typhoid fever in the community any more. 
It was since the town manager form of government went into effect that the town building was erected and some much needed equipment purchased for the fire department. 
Many other town improvements have been made including the erection of a municipal garage and shop, the erection of eleven reinforced concrete bridges. This has all been done and the tax rate on real estate is now 75 cents per $100. 
For several years past about twenty new homes have been erected in Salem on the average so that the assessed valuation of the town now is placed at $3,921,507.00 as compared with $3,814,602.00 two years ago. 
-Prepared by Lisa King