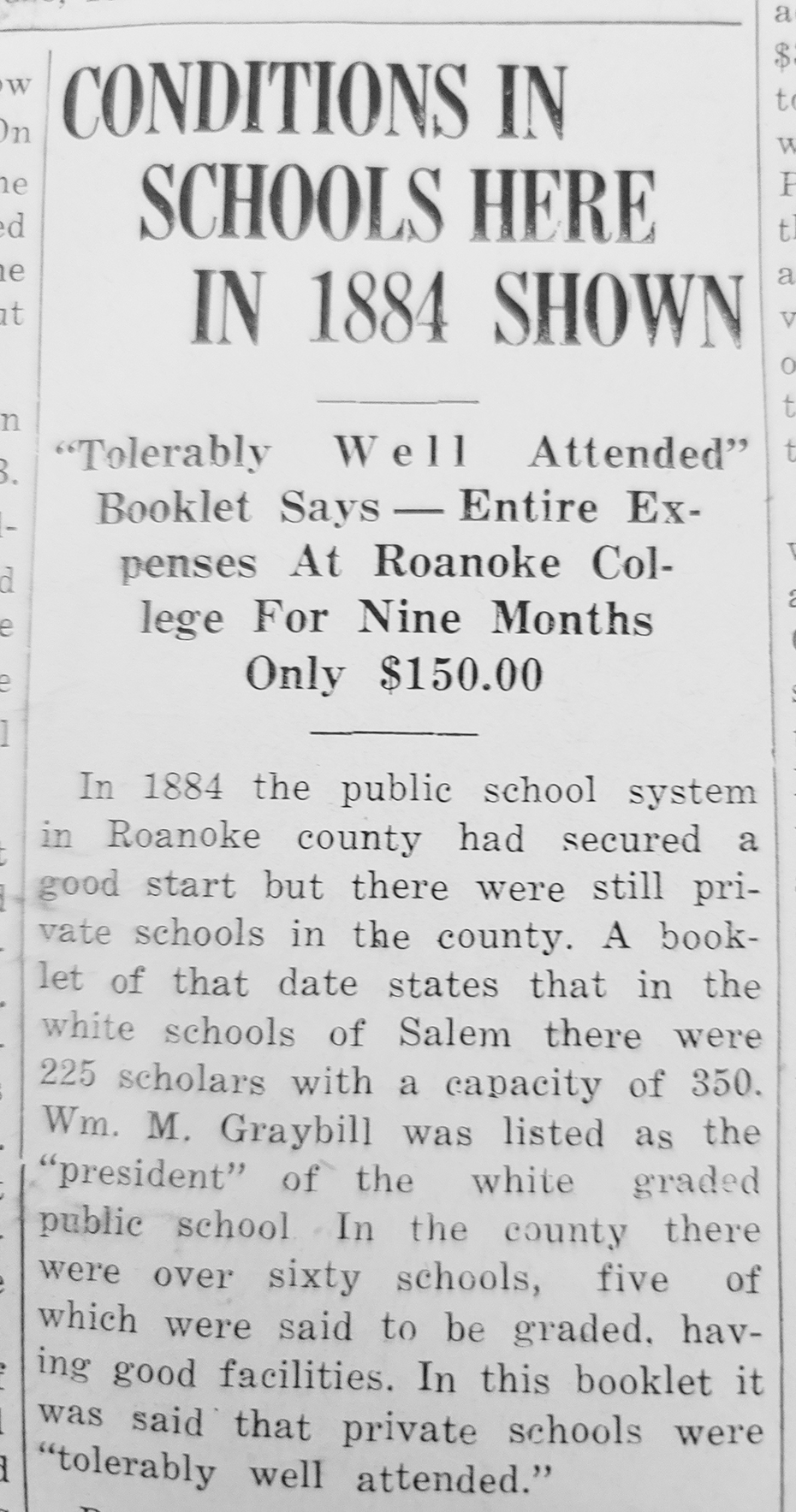 "Tolerably Well Attended" Booklet Says – Entire Expenses At Roanoke College For Nine Months Only $150.00 
From the 1938 centennial edition of The Times-Register 
In 1884 the public school system in Roanoke County has secured a good start but there were still private schools in the county. A booklet of that date states that in the white schools of Salem there were 225 scholars with a capacity of 350. Wm. M. Graybill was listed as the "president" of the white graded public school. In the county there were over sixty schools, five of which were said to be graded, having good facilities. In this booklet it was said that private schools were "tolerably well attended." 
Roanoke College had then been established for more than thirty years and in 1884 this institution owned twenty acres of land. The college had four large brick buildings, the entire front being 313 feet. The library at that time had a good start with 16,000 volumes and they had a mineral cabinet of over 11,000 specimens. 
Choctaw Indian 
The college drew students from various states and it was said that W. H. McKinney, a Choctaw Indian from Indian Territory was among the June graduates of the institution. Students for the 1884-1885 session were said to have been from sixteen different states. 
Julius D. Dreher, president of the college, was also an instructor in moral and political science. Other members of the faculty were S. Carson Wells, Rev. Wm. B. Yonce, Rev. Luther A. Fox, Rev. F. V. N. Painter, John T. Crabtree, Wm. R. Ruffner, J. J. Moorman, Esmond V. Degraff, Adolph H. Snyder and John H. Wyse. 
An advertisement of this institution said that the entire expenses of a session of nine months including college fees, board, fuel, lights and washing, was from $150 to $205. 
Hollins Institute at that time was also well established and a large staff of instructors was employed. Charles L. Cocke was general superintendent and Mrs. E. S. Childs, associate principal. Instructors in the literary and scientific departments were Wm. H. Pleasants, Wm. Taylor Thom, Mrs. L. V. Turner, Miss Sally L. Cocke, Miss N. B. Bowman, Miss Hannah Wilson, Miss Sally B. Ryland. In the departments of music, art and modern languages the instructors were H. L. Paull, H. H. Haas, Carl Eckhardt, Miss Mary Pleasants, Miss Anna V. Peebles, Miss Julia Porcher, Miss A. L. Neilson.
-Prepared by Lisa King