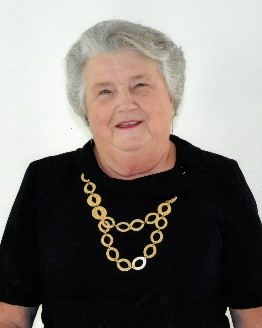 Margaret Anne Delp Kirby Ratcliff, 84, of Salem, VA formerly from Blue Ridge, VA, went to be with her Lord and Savior on Friday, March 17, 2023. She was born in Salem, VA on March 25, 1938, to the late Sebert C. and Madge Hash Delp. She lived in Botetourt County, VA for thirty-two years, and was a member of Glade Creek Baptist Church before returning to Salem, VA. She went to Andrew Lewis High School. She is a member of Ridgewood Baptist Church, where she served on various committees. In addition to her parents, Margaret is preceded in death by her four sisters, Blanch Firestone (Harvey), Katie Glass (George), Carrie Lee Richardson (Rich), and Sadie Loving; four brothers Dorsay Delp, Charles Delp, Thomas Delp, and Robert Delp; special friend, Kenneth Edens; husbands, Raymond L. Kirby, and Garnett William Ratcliff; son, Gary Lee Kirby; daughter, Judy Anne Taylor.
She is survived by her daughter, Cindy Rider; son, Raymond D. Kirby (Cindy); son-in-law, Mark Taylor; grandchildren, Kelsey Sloan (Jared), Andrew Kirby (Barbara), Nicholas Taylor (Bridget), Kristin Kirby, Zachary Rider, Levi Rider, Aaron Rider, Laken Ayers; great-grandchildren, Anne Sloan, Jack Sloan, Adelaide Kirby, and Sophia Kirby.
Margaret was happiest when she had her family around her. She loved having her grandchildren and great-grandchildren around her and watching them play. She deeply loved her family and was deeply loved by them.
A memorial service to celebrate her life will be held at 11 a.m. on Saturday, March 25, 2023, at the John M. Oakey & Son Funeral Home, with Pastor Roy Kanode officiating. 
Online condolences may be left for the family by visiting www.johnmoakey.com.