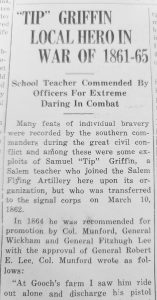 School Teacher Commended By Officers For Extreme Daring In Combat
From the 1938 centennial edition of The Times-Register 
Many feats of individual bravery were recorded by the southern commanders during the great civil conflict and among these were some exploits of Samuel "Tip" Griffin, a Salem teacher who joined the Salem Flying Artillery here upon its organization, but who was transferred to the signal corps on March 10,1862.
In 1864 he was recommended for promotion by Col. Munford, General Wickham and General Fitzhugh Lee with the approval of General Robert E. Lee.  Col. Munford wrote as follows:
"At Gooch's farm I saw him ride out alone and discharge his pistol six times in the Yankee column, at a distance of sixty yards.  The same day he led an attack with two men, supported by detachment from my regiment, and by his dash and gallantry, made some thirty men of Battery M, 2nd U.S. Artillery surrender to him with their arms and four caissons, before the support arrived. In the attack on Wilson's raiders, near Reams Station on June 28, he led two others in a charge on a party of eleven of the enemy headed by Lieut. Col. Lewis of the 3rd New Jersey Cavalry and two other officers, pressing them so hotly as to cause them to abandon their horses and equipment and seek safety in the bushes.  The horses, equipment, etc., of the party were secured by him and brought safely off. During the battle about Richmond in 1862, he captured the Colonel of the 4th New York Infantry and three other officers.
His individual record shows that he was wounded five times during his service.  He joined the local company as a private and was promoted twice so that he ranked as a 4th adjutant at the end of the war.
-Prepared by Lisa King