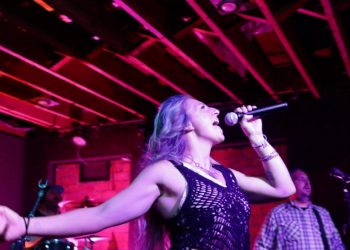 By Alexander Shedd
As the annual Salem Fair approaches, people from all around Roanoke County and beyond are preparing for two weeks of rides, music and attractions. A massive and long-running tradition, the Salem Fair is held at the Salem Civic Center from June 29-July 10.
One of the headline performers at the fair is Emily Angell, a young musician and athlete who has managed to jumpstart a successful career in the midst of the COVID-19 pandemic.
"It's so many emotions," Angell said of finally being able to tour the country after a couple years of streaming her music on the livestream gaming platform Twitch. "It was that combination of nervousness and excitement. The anticipation was insane, and now that it's happening I'm trying to really be present and bask in how lucky I am to be able to do this."
An independent artist, Angell's music is an upbeat mixture of pop and rock with influence from the folk and blues music she grew up listening to in upstate New York. "my parents had a lot to do with my musical influences," she recalled. "My mom and dad were both avid Beatles fans, and James Taylor and Carol King… I just remember jamming to the Beatles as a child with my dad, then when I came of age as a teenager it was the Britney [Spears] and Christina [Aguilera] era, and the boy bands, and I just loved pop music. I loved how comfortable it was, how catchy it was, how easy it was to sing along to… I always come back to that simple music, whether it was the blues, or just straight up pop music with four chords, there's always something really cool about the simplicity for me."
Emily Angell's career started at a severe disadvantage as she wrote and recorded during the height of the COVID-19 pandemic. During this time, she established a presence on Twitch, where she was able to connect with a community and share her music while isolated due to pandemic protocols. "Everyone has this crazy shared experience of the world as we know it shutting down, and after thinking about it for a little bit, I had already established a little bit of a following on Twitch, and when all the live shows and festivals and gigs were eventually taken away, a lot of creative professionals including myself needed to find alternative income sources and alternative ways of sharing our music," she explained. "I think the first livestreaming on a mass scale for musicians was really crucial, and for me, it was a no-brainer to dive headfirst into something I had already established in the previous year. So I made Twitch my other full time job and was able to leverage a lot of their built-in community options to grow my channel and become very close with the people that were already there."
Impressively, Angell is not only a musician, but also a competition obstacle course runner. Growing up as a gymnast, she joined up with a fitness group in 2017 that eventually led her to compete in elite triathlons and races. While her current tour was planned around two competitions that would "bookend" her tour dates, Angell sustained a calf injury in her last race and will be unable to compete in these events, though she still plans to attend. "It's been a bit of a blessing in disguise," Angell laughed, "because I didn't realize how hard the performances would be on my body, and I'm learning that being an athlete is being self aware and being aware of what your mental and physical capacities are."
Angell's latest release is Built For This, a five-song EP featuring "Keep Singing," a personal favorite of hers. She will perform at the Salem Fair taking place from June 29-July 10 at the Salem Civic Center. More information on Emily Angell can be found on social media or on her website, emilyangellmusic.com.