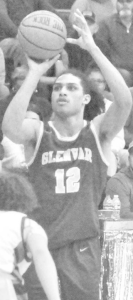 The Glenvar boys broke open a close game by outscoring Salem 20-7 in the fourth quarter and racing to a 50-41 win in basketball last Friday. The game was part of the two day Adam Ward Classic at Salem High School. "It was a great atmosphere," said Salem High coach Kevin Garst. "Neither team shot the ball great but they made a couple plays down the stretch and that was the difference." "It's always a great environment at the Adam Ward Classic, a great cause, and we appreciate being a part of it," said Glenvar coach Cliff Bordewisch. "After beating Salem at home early in the year I knew that young team was going to be better second time around.
I thought we came out with a bunch of energy and played pretty well for the first few minutes, but last couple minutes of the first and the entire second quarter we fell into some old bad habits and didn't execute very well on either end."
Glenvar led 14-12 after one quarter but the Spartans outscored the Highlanders 13-3 in the second quarter went up 25-17 at the half. Salem still led 34-30 after three quarters but the Highlanders outplayed them down the stretch. Glenvar freshman Brody Dawyot, who transferred to Glenvar after playing middle school ball at Andrew Lewis, scored 16 points in the decisive fourth quarter, including a resounding dunk for the last two points of the game. "I thought Brody was pressing a lot because he wanted to put on a show for the crowd that booed him in intros," said Bordewisch.
"At halftime we talked about getting back to being ourselves and staying locked in." Dawyot had just four points in the first half but finished with 24 on 10 for 17 shooting from the floor. He had six rebounds and three steals and came up big in the final minutes, scoring Glenvar's last eight points. Salem had cut the lead to two at that point. Ty Bolling, Elijah Carter and Lawson Simmons had seven points each for the Highlanders while Bolling had four assists and Simmons and Gabe Ford has six rebounds each. Marvin Fields led a balanced Salem attach with nine points while Clayton Davidson, Salem's only senior on "Senior Night," and Bryce Carver had eight points each. Carver and Cam Boles had five boards each for the Spartans, who were outrebounded by one, 28-27, for the game.
Glenvar shot 49 percent from the floor while Salem hit just 38 percent. On threes Salem was five for 22 for 22 percent while the Highlanders were three for 14 for 21 percent. With the win Glenvar improved to 13-8 on the season while Salem fell to 9-12. Both teams played again Tuesday night with Salem falling to Pulaski, 65-46, while Glenvar played host to first place Radford and lost a low scoring game, 45-32. That was the regular season finale for both local teams.
As for the Adam Ward Classic, seven more games brought big crowds into the Salem High gym Saturday for exciting high school basketball from 10 am to close to 10 pm, including an overtime thriller that saw undefeated Northside narrowly escape Radford.
The Western Virginia Basketball Officials Association and Salem High put on the event to raise money for the Adam Ward Scholarship Fund. "Thank you to everyone who made the Adam Ward Classic a huge success," said event co-founder Grant Smythers. "Thank you to our participating schools, our sponsors and those of you who attended the event. We appreciate your support and thank you for being 'Adam-Like' in your community."