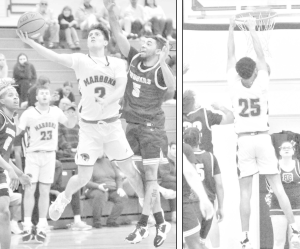 With a week and a half to go in the regular season the Roanoke College men stand in fourth place in the Old Dominion Athletic Conference basketball standings. The Maroons improved to 10-3 in the conference with an 86-53 win over Averett University in the Bast Center last Saturday. Roanoke in Winchester to play 3-9 Shenandoah on Wednesday of this week, but results were too late for publication. This Saturday they go to RandolphMacon, who is in first place in the ODAC with a 13-0 conference record and a 21-1 overall mark.
Last Saturday against Averett Efosa U-Edosomwan recorded his 1,000th career point and the Maroons pulled away in the second half for the win. Roanoke led by nine at the half, 37-28, and the second half was all Maroons. Kasey Draper extended the Maroons lead to 15 with 14:45 left in the game and a pair of free throws by Joshua Morse put Roanoke ahead by 21 with 13:00 left.
Justin Kuthan gave the Maroons a 30 point lead with just 7:39 remaining. A pair of free throws by Trent Dawson at 4:53 gave the Roanoke its biggest lead at 83-47. Draper had a team-high 18 points to lead one of four Maroons in double-figures. U-Edosomwan scored 16, including his 1,000th career point early in the game on a free throw. Kuthan had a dozenand Josh McClary was also in double figures with 10 points. The Maroons also beat Lynchburg at the Bast Center last week, 76-70. Zach Rosenthal led all scorers with 17 points and was one of five Maroons in double figures with Draper's 12 as well as Kuthan's 15 points, McClary's 13 and U-Edosomwan's 10 points.