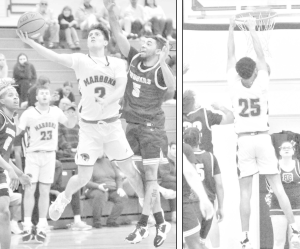 Lauren Keel led all scorers with 16 points and added 11 rebounds for her first double-double of the season to lead the Roanoke women's basketball team to a 64-51 win over the Randolph-Macon Yellow Jackets on Saturday afternoon. With the win the women improved to 15-6 overall and 9-5 in the Old Dominion Athletic Conference.
The score was tied at the half, 28-28. Randolph-Macon took its first lead since the first quarter with layup at 6:02, but with 1:54 left the period the Maroons retook the lead on a jumper from Keel, 39-38. Roanoke went on to hold the Yellow Jackets scoreless the rest of the quarter while adding six more to extend its lead to 45-38 heading into the fourth quarter.
The closest R-MC would get the rest of the game was nine points at 9:33 with Roanoke leading 49-40. Sayre Brandstatter pushed the lead to double-digits on the Maroon's next possession and the Yellow Jackets never got back within single digits. Roanoke led by as many as 16 with just over two and half minutes left and finished with the 64-51 win. Brandstatter finished with 15 points and Rose Sande had 13 in addition to Keel's 16. With the win the Maroons held on to sixth place in the ODAC standings. Roanoke was scheduled to play at Lynchburg Wednesday and this Saturday they'll host Virginia Wesleyan at 2 pm in the Bast Center in Salem.