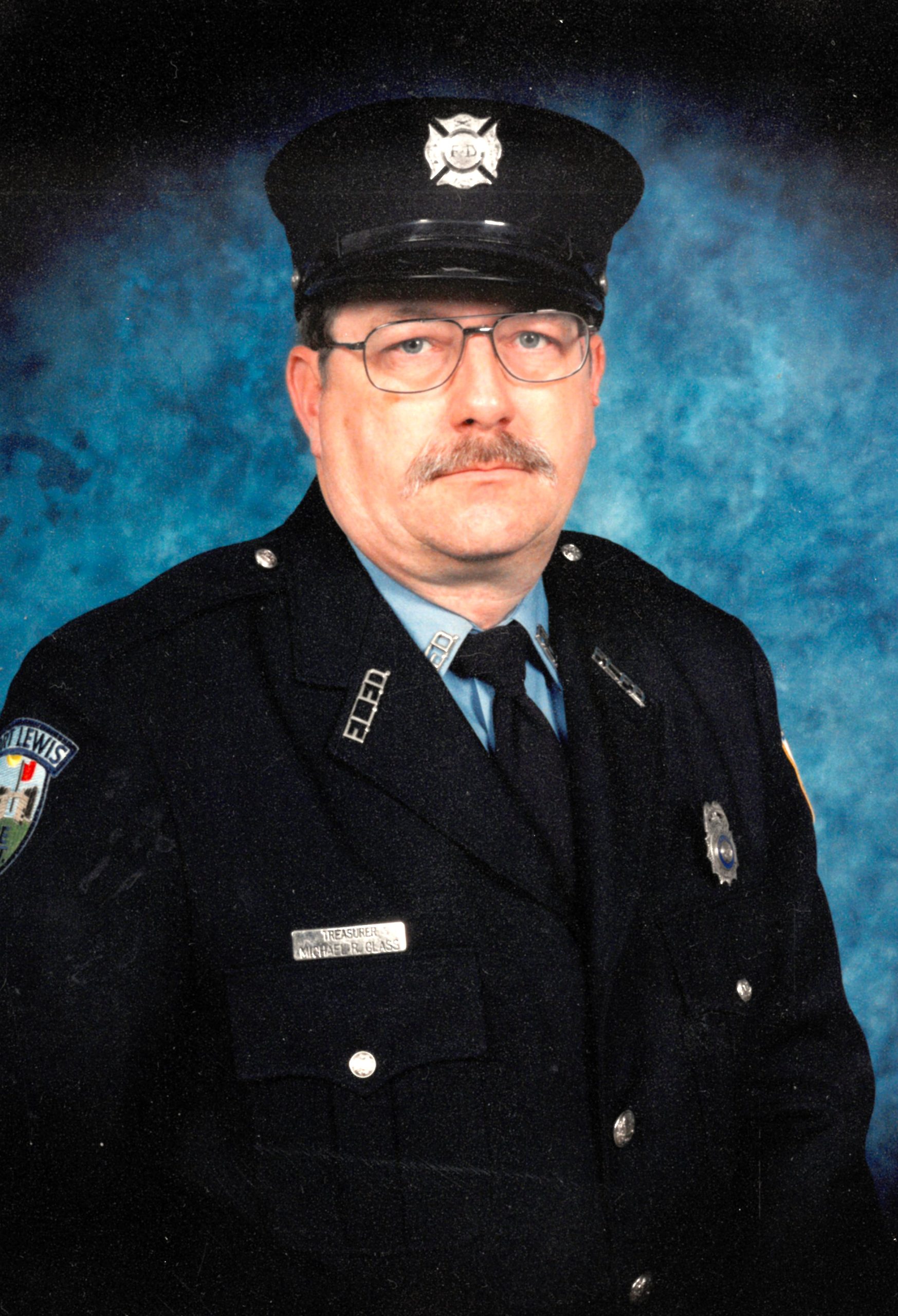 Michael Ray Glass (Pappy) 69 of Salem, met his loving wife Bonnie at the pearly gates Sunday, June 4th, 2023. Mike was also met by his parents Harrison and Barbara, and best friend Kevin Sheppard. He was an outstanding father, husband, brother, friend, mentor, and Firefighter. 
Those remaining to carry out Mikes' legacy on are his son, Stephen Palmer (Stephanie); grand-dog, Ace; his baby sister, Becky Ayers (Justin); special nephews, Jase, and Ryan Ayers; brothers, James and Ronnie Glass; Sister, Anne Paitsel (David); special nieces, Sylvia Paitsel (Cedrick); great niece, Leia; and special aunt, Sandra Dawley. Other special family members include Daniel, Leilani, Leigh Ann, Lena, and Dakota Ayers, along with many other nieces, nephews, aunts, and cousins.
When Mike was a young boy, he was afraid of fire trucks. It didn't take long for Michael to conquer his fear and follow in his father's footsteps, becoming a Firefighter. Mike dedicated his life to the Fire Service and serving his community. He started his journey as a volunteer firefighter, just like his own father, at Fort Lewis Fire Department in 1978. After holding several positions as treasurer and Lieutenant, he retired after 41 years of service in 2019. During his time with Fort Lewis Volunteer Fire Department, he organized the Chicken BBQ fundraisers twice a year and received several Firefighter of the Year awards.
Mike became a career firefighter with Salem Fire Department on March 19, 1987, where he obtained his EMT certification and his Hazmat Technician and served as part of the Regional HazMat team. During Mike's adventures with Salem Fire, he came to be known as "Pappy". On February 1, 2008, Mike retired after 20 years as a Senior Firefighter/ EMT.
Mike's lifelong commitment to expanding his knowledge of Fire services helped grow his career. He regularly attended classes, holding many certifications, as well as being a Virginia Department of Fire Programs instructor. Mike was influential in starting Roanoke County's Volunteer Firefighter Academy, where he continued as the Lead Instructor. Mike's desire to share his knowledge and passion for the fire service led him to start a second fire academy in conjunction with the Elliston Fire Department. Mike served as a mentor to countless Volunteer Firefighters throughout Southwestern Virginia through his teaching, whether it was in EVOC, Firefighter 1 and 2, or Hazmat. He has left a lasting impression on so many lives through his interactions and instruction over the years.
Mike also served a short time as a volunteer with Elliston Fire Department in the 1990s. Mike was elected as an honorary member of the Department in 2021, for his time and dedication he gave to the Elliston Fire Academies.
One of Mikes favorite pastimes was making trips to The Smokey Mountains with Bonnie, Steve, and Stephanie, as well as other friends. Mike also has a love for dogs. Whether it was the pups waiting for him every year to get their special treat on the Santa Run with Fort Lewis, or his own dogs, both named Blue. Mike always had a special place in his heart for children. He always made sure his wallet had a few dollar bills to hand out to any little ones he saw, especially Jase and Ryan.
One thing that could always be said about Mike was the size of his heart. He was known for doing anything he could for anyone. Mike, most importantly, filled the role as a father. Mike stepped into this role when he was needed most with no questions asked. Mike became Pops to Steve when he married Bonnie. He also filled the void Becky felt during their father's illness, and after.
In the month before Mike passed, we were gifted with two precious memories. Mike received a special visit from fellow firefighter Lt. Dana Lacy with Roanoke County Fire and Rescue, and her crew on Wagon 7. Dana stopped by just to say Hi. Mike whispered to her "take me to the truck." The staff got Mike into his wheelchair, and they took him to the truck. A dedicated Firefighter, even at his most vulnerable, still wanted to be with "the truck." Last Tuesday, Alisha, Faith, and other TerraBella staff took Mike with them delivering meals to Salem Fire Station 1 and to the career staff at Fort Lewis for EMS week. Mike was able to visit and shake hands with old friends. The smiles he shed that day will forever be cherished. We could not thank TerraBella Director of Nursing, Alisha and her daughter, Faith enough for capturing these moments for us to cherish. Mike is the definition of a true servant. He will be greatly missed by his family and so many others that knew him.
The family received friends on Wednesday, June 7, 2023, from 2 until 4 and 6 until 8 p.m. at the John M, Oakey & Son Funeral Home in Salem, and again on Thursday, June 8, 2023, from 2 until 4 and 6 until 8 p.m., also at the funeral home.
Funeral services, honoring Mike's life, will be conducted on Friday, June 9, 2023, at 1 pm, at Living Well Church of the Nazarene, 4335 W Main St, Salem, Va. Interment will follow at Cedar Lawn Memorial Park, in Roanoke, where firefighter last rights will be conducted.
The family will be honoring Michael's years of dedication to the Fire Service with a full firefighter funeral. First responders attending the funeral service should wear their Class A uniforms for a sea of Blue to honor Michael's legacy. All Fire apparatus are welcome.
In lieu of flowers, please consider donating to the Alzheimer's Association in memory of Mike Glass by visiting https://act.alz.org/ to submit your donation.
A special thank you to the Salem Fire Department, its members, and retirees, for their help. Thank you to Fort Lewis Fire Department for your love and support of Mike. The family would also like to thank the Virginia Fire Museum for providing the Fire Truck for Mike's last ride. We especially want to thank the staff at TerraBella Assisted Living, where Mike has resided the last two years in memory care. Mike was definitely known as the Ladies' man in the building. Also, we would like to thank everyone who has reached out with support. It is appreciated!
Online condolences may be expressed to the Glass family by visiting www.johnmoakey.com.