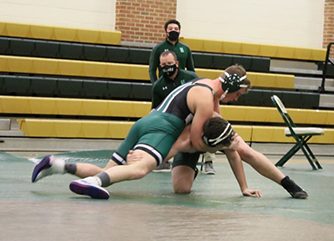 The Glenvar wrestlers will be in Buchanan tonight to participate in a "sub-region" wrestling tournament at James River High School, starting at 6 pm.
The sub-region will determine seeding for the regional, which is scheduled for February 13 at Patrick County High School. The state Class 2 tournament will be at the Salem Civic Center on Friday, February 19.
"Since so many teams have had very limited schedules the results of the sub region will be used to determine seeding at the Region tournament," said Glenvar coach Jason Cline.
Last week the Roanoke County School Board cleared the county school sports teams to participate against non-county opponents for post-season play. During the season, Glenvar could only compete against the four other county teams.
"We were really excited to be cleared for postseason," said Cline. "These kids work so hard for a shot to compete at regions and states.   We're glad they now have a choice to participate."
Glenvar wrestled Northside on January 26, and that was "Senior Night." The Highlanders honored  three seniors, Matthew Harris, Zach Moore, and Dakota Boyd, and their parents before the start of the match. After that the Highlanders took a 42-30 win.
"Northside has long been a strong wrestling team in the Roanoke Valley and this year's team has some solid veterans in their lineup," said Cline. "We knew we would have to win some key matches against some of their seniors to have a chance to win the dual.  Our kids delivered and we got some big wins from Mason Hylton (120), Jake Cline (132), Ethan Flowers (138), Trey Lawrence (145), Matthew Harris (182), and Zach Moore (19)" .
A night later the Highlanders had a rematch with Northside and also went up against Cave Spring. This time the Vikings edged Glenvar, 37-31, but the Highlanders beat Cave Spring, 48-12.