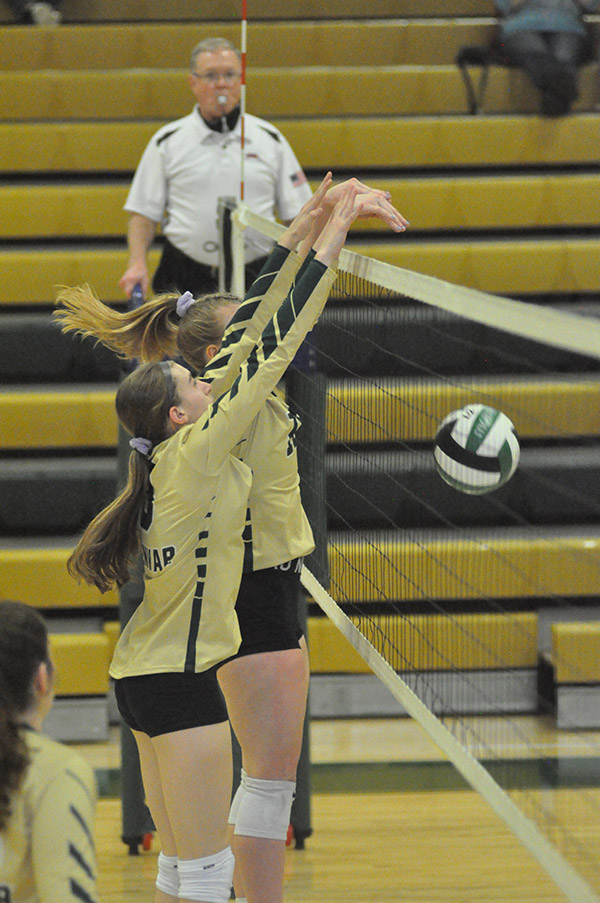 The undefeated Glenvar girls are all but assured of being the number one seed when the Three Rivers District volleyball tournament begins next week.
The tournament begins with a "play in" game on Monday, followed by quarterfinals at the top seeds on Tuesday. The Highlanders take a 10-0 record into tonight's regular season finale at home against Alleghany, hoping to run the table against a strong group of Three Rivers teams.
"We're in first place, but the four teams at the top of our district are all very good," said Glenvar coach Mark Rohrback. You take us, Floyd, Radford and Giles and all four are perennial region and state contenders. On a given night any of those four can beat one of the others."
Glenvar traveled to Giles Monday for a match that figured to be one of their toughest of the season. The Spartans are tall and senior-laden and they gave Glenvar a run before falling to the Highlanders in four sets, 25-15, 26-24, 12-25 and 25-22.
"They had eight seniors for senior night," said Rohrback. "They're very good and we're coming off spring break and have to go there, so I wasn't sure how we'd react. I'm pleased with how well we did."
Caroline Craig had 40 assists for Glenvar to go with 10 digs. Cara Butler had two aces and 22 digs and Claire Griffith led Glenvar with 17 kills to go with 12 digs and three aces.
While Glenvar figures to be the top seed, it's not a lock. Appomattox is also undefeated, although the Raiders don't play in as tough a district as Glenvar. Whoever is the top seed will have home court through the region tournament.
"We'll be able to have a few more fans for the tournament, and that should help," said Rohrback.