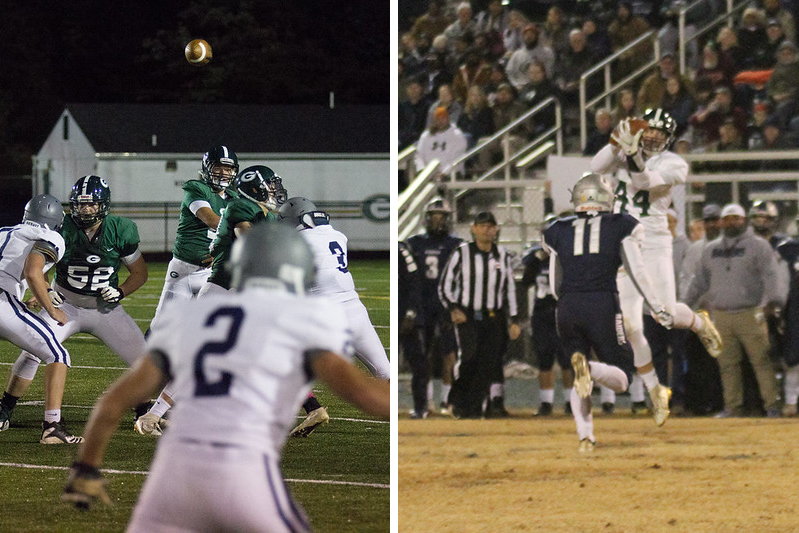 Last week the Virginia High School League released a composite schedule for all the state football teams. Two days later, Glenvar's schedule was completely moot.
On Thursday of last week the Roanoke County School Board voted, four to one, for county schools to play only intra-county opponents in the fall season. If that's confusing, remember the 2020 fall season was moved to late winter and early spring of 2021 due to the coronavirus pandemic. Football is scheduled to begin Monday, February 22, and volleyball, golf and cross country open competition March 1.
Glenvar had finalized a schedule of six Three Rivers District foes for the football season, beginning with a home game against James River. However, on the same day the Cave Spring basketball team was playing in Abingdon in the Region 3D tournament, the school board voted to not allow a team from Buchanan to play football at Glenvar.
"I'm fed up," said Glenvar football coach Kevin Clifford, who lobbied to allow the teams to play out-of-county foes at the meeting along with Glenvar principal Corie Franklin. School Board chairman Don Butzer, who represents the Glenvar area, was the only dissenting vote.
"When are we going to say enough is enough," said Clifford. "Not to dismiss this horrific disease, but do we have to keep living in a glass house. I'm totally perplexed over this."
With 11 days before the start of the season new Glenvar athletic director Tyler Brown had to change the entire football schedule, and with just five county schools the Highlanders will have to play two teams twice.
"And we're the smallest school in the county," added Clifford. "I don't mind playing up, but this could hurt our chances of making the playoffs. And it doesn't just affect us. This affects 11 different school districts. The metrics are slowing down and the governor said we need to get kids back in school. It's just not good business."
The decision didn't go over well with many parents of Roanoke County students and there has been talk of rethinking the decision. However, football season starts next Monday, ready or not.
"It cuts down on your preparation time," said Clifford. "With a week to go we didn't even have a schedule."
As of this week the Highlanders have home games with Hidden Valley twice and Northside once. They play at William Byrd twice and at Cave Spring. There are no Three Rivers District teams on the schedule and principals that make up the district must approve the advancement of teams to regional play who do not play within the district.
Glenvar should have a good team. The Highlanders are coming off a 2019 season that saw them advance to the second round of the Region 2C playoffs and they have 15 seniors, a great number for a Class 2 school.
The Highlanders have depth and experience on the offensive line, led by 275 pound senior Catawba College signee Jacob Crowder. Blake Custer(250), Aiden Custer(260), Matthew Harris(190), Jesse Brown(215) and Chase Waybright(185) all will see time.
Aiden Wolk, a junior, returns at quarterback. He won the job as a sophomore and is primed for a good season. His targets include 6'6", 275 pound senior tight end Jeb Secrist, who has signed to play college ball at Charleston Southern University. Jeb is a big target with good hands who caught four touchdowns in one game last year.
Other receivers include speedster Colvin Delano, Nick Woodson, Dagan Williams and Keith Couch.
Junior Kyle Hanks will be the starting runningback but sophomore Jackson Swanson and junior Royce Pierson will also get touches. Gabe Shaffer and Landon Shell are the H-backs.
On defense Secrist, Crowder, Harris, Zach Moore, Blake Custer and Aiden Custer are solid on the line. The Highlanders will have to replace all-state linebacker Colby Street with a combination of Pierson, Nick Williams, Tyler Willis-Buchanan, Shaffer, Shell, Nate Johnson and Mason Anderson. Defensive backs are Woodson, Hanks, Couch, Williams, Delano and Joe Hall.
Glenvar is still deciding on a kicker. Christian Housh, who was expected to be the kicker, broke a bone in his foot during the final basketball game of the season and is unavailable.
The Highlanders have been lifting weights and training for this season for a year and three months and now that it's arrived, the school board has thrown the team for a loss before it even begins in Clifford's eyes.
"They hung a lot of people out to dry," said Clifford. "The people making these decisions aren't the people who have to deal with this, and it's very upsetting."