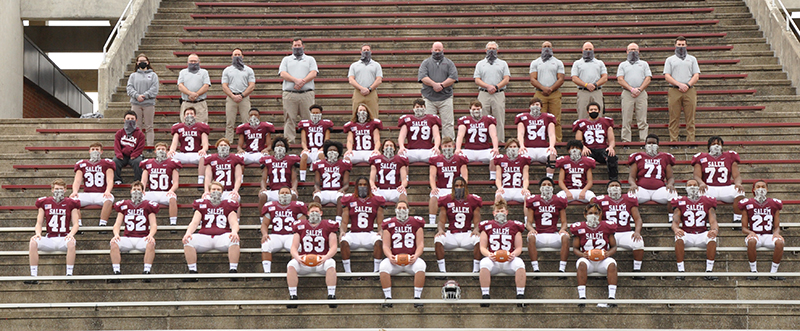 It's a week and a half after the Super Bowl and Monday Night Football is already back. This time, however, it's the high school kids.
Salem High will open the 2020 football season in 2021 next Monday with a home game against Blacksburg. Instead of a packed house roaring when the Spartans take the field a couple invitees from each player will do their best to make some noise and make the kids feel like things are back to normal. But, of course, they're not.
Salem will open the season without benefit of a scrimmage against an opposing team. Coach Don Holter and his staff will rely on last Saturday's intra-squad scrimmage to evaluate who is best ready to represent Salem High on Willis White Field. That scrimmage was held on a cold day in a steady drizzle with ice covered trees ringing Spartan Field. No, things are not back to normal but it's the best that can be expected after losing the fall season to the coronavirus pandemic.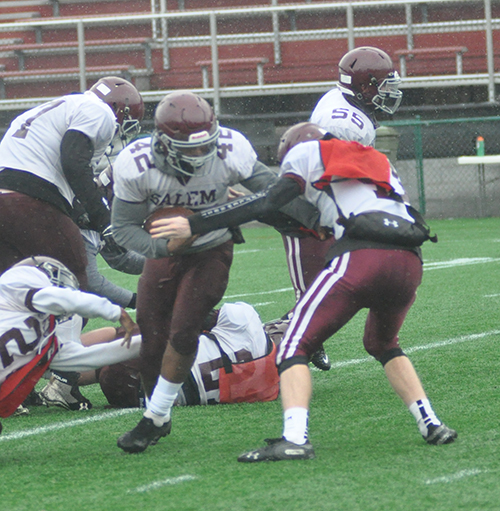 "I saw some things I liked and I saw some good effort," said Holter of the intra-squad scrimmage. "We have some technique to be corrected and some little details to work out. The offensive line is usually the last to come around."
This year, the offensive line better not take too long because Salem will only play six regular season games. Two games on the original schedule, Hidden Valley and Cave Spring, have already been cancelled since the Roanoke County schools can only play each other. Salem has replaced Cave Spring with Franklin County and Holter and SHS athletic director Chris King were still working to replace Hidden Valley with a week to go before the season begins.
When they come around, the offensive line should be pretty good. This year's "Mules" will feature two of the team's four captains, senior center Will Clemons and right guard Alex Haley, another returning senior. Cameron Martinsdale, a 265 pound junior, is the likely starter at right tackle but he was wrestling at Virginia Beach two days before the football season opener after winning the Region 4D mat title at heavyweight.
Senior Brandon Torian is the left guard and the left tackle spot is a battle between senior Filip DeHaven and 6'3", 250 pound sophomore Andrew Lutes. DeHaven, at 276 pounds, will still have a weight edge on Lutes despite dropping 100 pounds since the end of the 2019 season. Junior Jake Massey will start at tight end.
These mules will be opening holes for two talented running backs, fullback Cam Leftwich and tailback Zavione Wood. Those two are the other Spartan captains and they form a formidable duo. Leftwich, a junior, was second on the team last year with 12 touchdowns while rushing for 600 yards on 120 carries. Wood, a senior, carried the 65 times for 519 yards and nine touchdowns.
Salem will rotate a variety of wideouts in and out of the lineup, with many doubling on the defensive side of the ball. Junior Chauncey "Deuce" Logan, Jr. is the top returnee with 13 receptions and senior Shawn Collins had the most yards, 205, and touchdowns, four, among the returning Spartans. Also seeing time will be Amarri Edwards, Chase Greer and Virginia Tech bound twins Jayden and Jordan McDonald.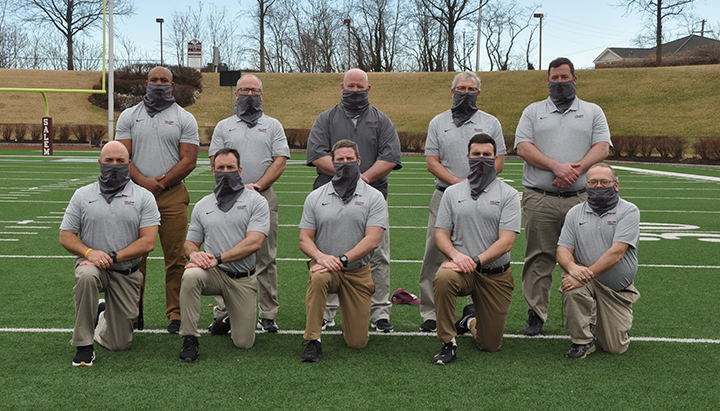 ---
As of Monday the quarterback position was still up in the air, with junior Logan and sophomore DaRon Wilson battling for the starting position. The two have thrown one varsity pass between them as Logan was one for one for a 50 yard touchdown last year and Wilson was the quarterback on the jayvee team. During the scrimmage Logan picked off a Wilson pass while playing defense, then later in the scrimmage he hauled in a perfect Wilson bomb for a touchdown.
On defense Martindale and 296 pound junior Stacy Williams give Salem excellent size at the nose guard/tackle positions. Massey and Ky'Juan Waller are slated to be the ends.
Wood is a talented linebacker on the defensive side of the ball. He was second on the team to graduated Bobby Pinello in tackles last season with 73 total, including a team leading 11 for losses. Waller was third on the team last year with 57 total tackles.
Junior Noah Collins will be the other linebacker and junior Carson Williams will play the hybrid "robber" position. Williams will switch from last year's number 4 jersey to the coveted number 3, which tells you what the coaches think of him. Who decides who gets to wear 3?  "I do," responded Holter.
Greer, Logan, Shawn Collins and the talented McDonald twins will handle the secondary. Jayden McDonald had four interceptions last year to lead the team and Collins had three.
Three Spartans are battling for the placekicking job, sophomores Ashton Cornett and Caleb Wright and freshman Wesley Cross. Logan returns to punt.
As mentioned, the Spartans were still looking for a sixth opponent with a week to go before the opener. They'll play both Blacksburg and Christiansburg within five days to open the season, with the Christiansburg game on the road on February 26.  River Ridge District opponents Patrick Henry and Pulaski County will join Class 6 Franklin County to round out the six game schedule in this very unusual season. It's a shame it has to be like this because the Spartans will be very good.
But at least they're getting to play.