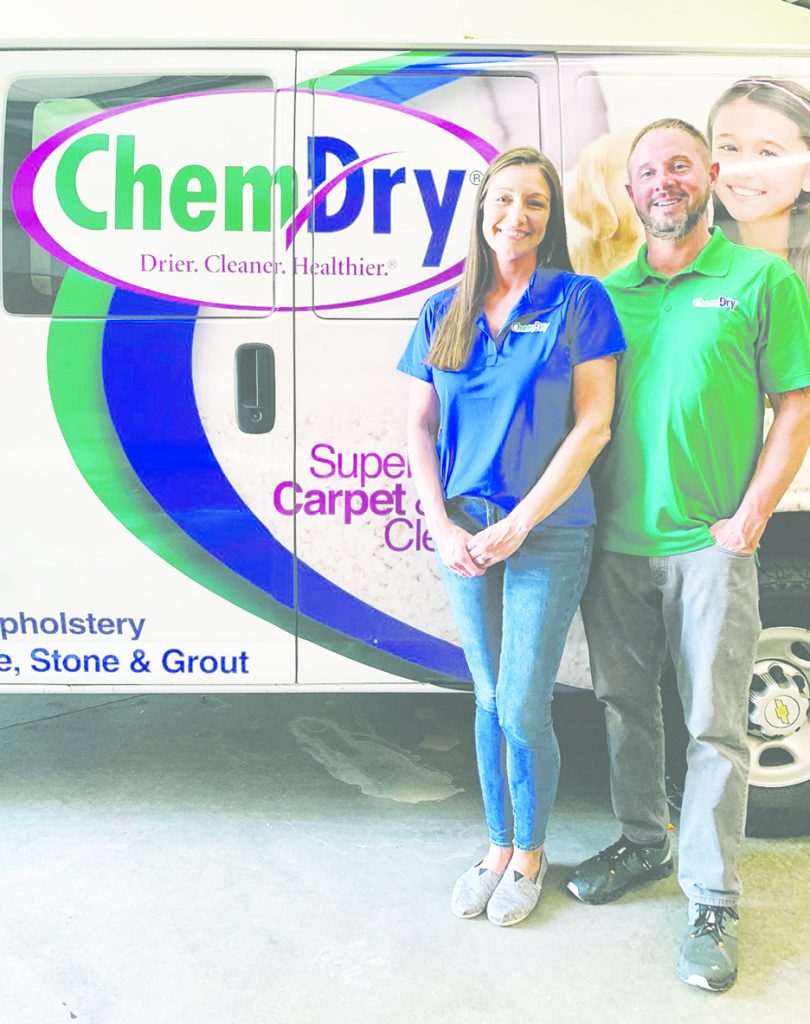 Megan O'Kuly
Contributing writer
Chem-Dry, a well-known carpet cleaning company, is undergoing a transformative journey with the new ownership of Joey and Natasha Flores. Inspired by Natasha's father's loyal patronage to Chem-Dry for over three decades, the Flores couple saw an opportunity to continue the company's tradition of excellence while infusing their own personal touch to serve the local community.
Chem-Dry's appeal lies in its "Green Certified" status, rapid two-hour drying time, and safe solutions that are pet and child-friendly. Recognizing the value of these benefits, the Flores couple eagerly embraced the challenge of business ownership when the former owner, Keith Reynolds, announced his retirement and the sale of his business.
Under Reynolds's mentorship and with corporate training at Chem-Dry's headquarters in Logan, Utah, Joey and Natasha acquired the skills and knowledge needed to lead the company. Their vision is clear – to provide exceptional customer service, treating each customer's home with the same care and respect they would give their own.
Drawing from his Marine background, Joey Flores brings a unique perspective to the cleaning industry. "Marines are known for being clean, tidy, organized, and giving 100% at all times. That discipline has carried over to owning a cleaning business," he explained, highlighting the attention to detail instilled during his military service.
Chem-Dry's approach, known as "Chemistry Dry," harnesses nature's chemistry to minimize water usage during cleaning, resulting in faster drying times. This environmentally conscious method benefits both the planet and customers who can enjoy their freshly cleaned carpets within just two hours.
Natasha Flores emphasized the safety aspect of Chem-Dry's solutions, stating, "The difference in Chem-Dry versus any other carpet cleaner is that our solutions are all natural, so they're pet and kid safe because we know most people in the world have pets or kids, or both. It's Green Certified, so you know it's safe, and you don't have to worry about harsh chemicals."
Chem-Dry's comprehensive range of services includes upholstery cleaning, area rug cleaning, pet urine and odor removal, tile, stone, and grout cleaning, hardwood floor cleaning, specialty stain removal, leather cleaning and restoration, dryer vent cleaning, granite countertop renewal, and commercial cleaning. Their extensive services are offered throughout the majority of the Roanoke Valley area. Whether it's a residential home, office space, or commercial establishment, Joey and Natasha are ready to meet the cleaning needs of the community, upholding the highest standards of professionalism and customer satisfaction.
In a world where the desire for environmentally friendly solutions is growing, Chem-Dry stands out as a trusted and reliable choice. Thanks to the dedication and vision of Joey and Natasha Flores, Salem residents can enjoy clean, fresh, and safe living spaces without the inconvenience of lengthy drying times or harsh chemicals.
Chem-Dry's legacy of excellence continues, with a new chapter written by a local couple driven by a passion for outstanding service and a genuine desire to make a difference in their community. Joey and Natasha Flores have not only taken on the challenge of owning a business, but they have also embraced the opportunity to provide a service that enhances the lives of their customers.
For inquiries or to schedule a cleaning service, Salem residents can get in touch with Chem-Dry at 2636 W Main St, Salem, VA 24153, or call (540) 375-6625.