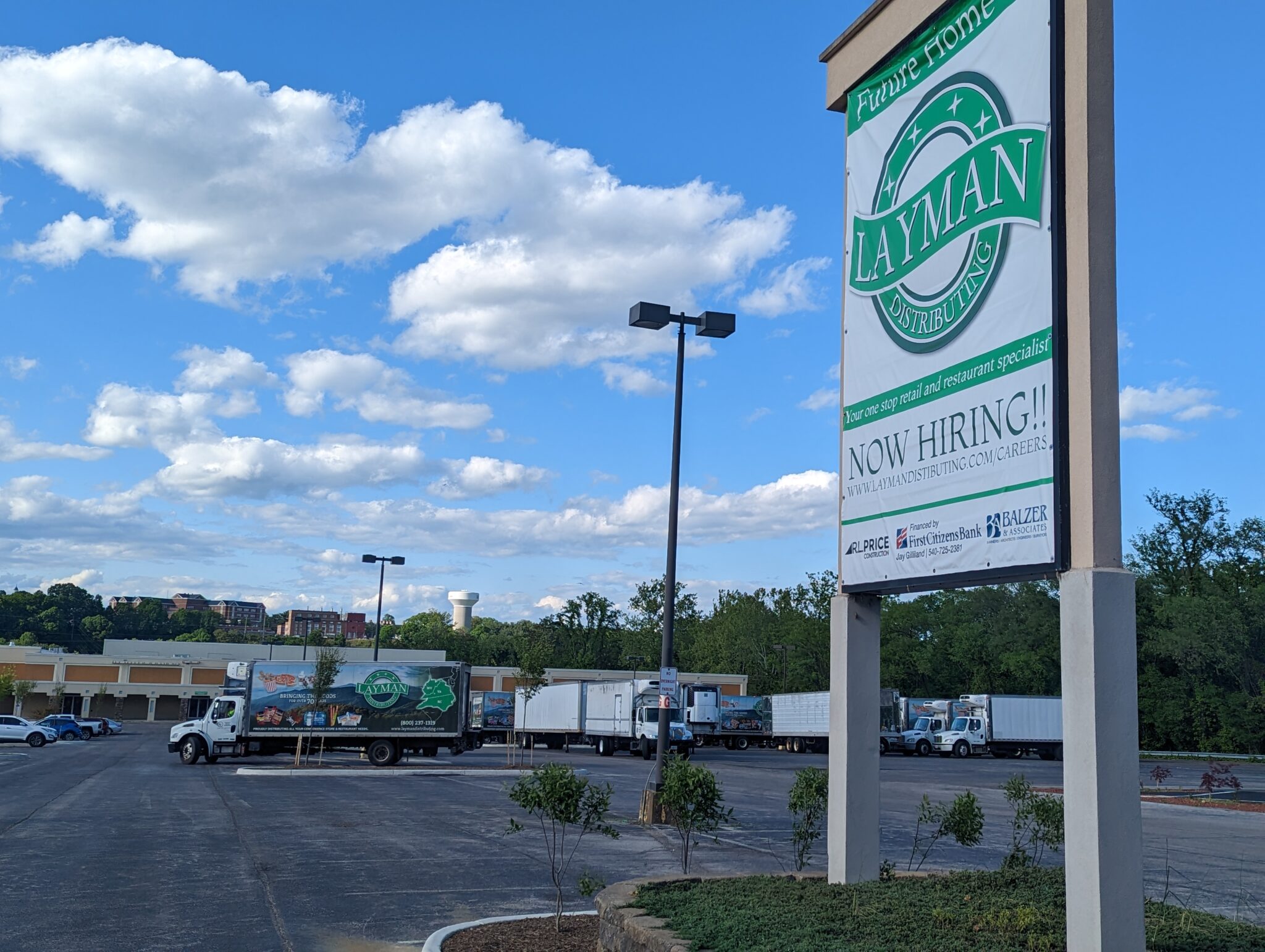 42 new jobs will be created 
Aila Boyd
aboyd@mainstreetnewspapers.com
Layman Distributing, a small, woman-owned full-service wholesale distributor will invest $6.8 million to expand in Salem, according to an announcement from Gov. Glenn Youngkin last week. The expansion will include a relocation to a facility at 2157 Apperson Drive that will provide twice the square footage of the distributor's existing facility, doubling the company's operational capacity. 
"Layman Distributing is a homegrown Virginia company that has found success for 75 years in the City of Salem, demonstrating the strength of the Commonwealth's strategic location, world-class infrastructure, robust workforce, and innovative supply chain ecosystem," Youngkin said. "The Roanoke Region provides a convenient gateway to reach target customer markets, and this expansion will allow Layman to further extend its distribution reach. We look forward to a continued partnership with the company for years to come."
The announcement noted the project will create 42 new jobs.
"Layman Distributing is a valued long-term employer in the City of Salem and its expansion will bring 42 new jobs and strengthen Virginia's supply chain management sector," said Secretary of Commerce and Trade Caren Merrick. "The region's robust workforce and access to expanding markets along I-81 will help the company serve its growing client list, and we stand ready to support Layman's continued success in the Commonwealth."
"As we celebrate our 75th anniversary this year, we look forward to our continued future growth and investment in the City of Salem and Southwest Virginia," said Justin Keen, VP of corporate development for Layman Distributing. "Everyone from Mayor Renee Turk, City Manager Jay Taliaferro, Economic Development Director Tommy Miller, all the way down to City of Salem Water Department have given us a great deal of consideration that ultimately led to our decision to expand in the City of Salem. With the vast support of pro-business leaders such as Governor Youngkin, Secretary Merrick, Senator Suetterlein, and Delegate McNamara, we felt Virginia and the City of Salem was the right place for us to continue to grow our business. We would like to extend a special thanks to R.L. Price Construction and First Citizens Bank for their unwavering support of this project."
"At Layman, we add value to the supply chain by presenting our customers with innovative C-store products, food-related programs, and delivering those efficiently to them," said W. Scott Thomasson, VP of sales, purchasing, and warehouse operations. "This new facility will increase our efficiency so we can continue introducing new product lines, optimize inventory levels, and provide new services. Additionally, this new facility will also give Layman the space to show off our new virtual Convenience Store and Test Kitchen. The Layman family and her employees have worked hard to realize this place in our history, and we can't wait to enjoy a beautiful new home to showcase all we can do for our customers, employees, and community. Our vision is to become the preeminent C-store and food distributor in the Mid-Atlantic region, and now that vision has an opportunity to be realized."
"The City of Salem is proud and excited to have Layman Distributing continue its legacy with us," said Salem Mayor Renee Turk. "Since 1948, this family-owned business has competitively and faithfully served this area, growing in leaps and bounds because of its outstanding customer service and personal relationships. The Layman family is truly living its business mission by expanding its one-stop retail and restaurant specialty business into a larger facility in Salem. This demonstrates the employees' commitment to helping their customers' businesses grow as they grow, and we are thrilled they will remain a part of our Salem community."
"It is encouraging to see a long-tenured business from the Roanoke Region investing in its future growth," said John Hull, executive director of the Roanoke Regional Partnership. "Layman Distributing is a vibrant business that recognizes and pursues growth opportunities, and its continued success directly contributes to the growing industrial diversity of the Roanoke Region."
"We are excited to see Layman expanding and being able to provide 42 new job opportunities right here in Salem," said Sen. David R. Suetterlein. "We look forward to continuing to pursue policies that make it easier for Virginians to start and expand businesses."
"I am thrilled that Layman Distributing is expanding its operations in Salem, and I appreciate the company's continued support of economic growth and development in the Roanoke Valley," said Del. Joseph P. McNamara. "This is a great example of what we can accomplish when we champion a pro-business climate in the Commonwealth. Congratulations to Layman Distributing for its sustained success."
Founded in 1948, Layman Distributing began its business distributing tobacco products and now offers over 12,000 stock-keeping units of convenience and grocery store products to its customers, which include convenience stores, restaurants, universities, dining halls, vending services and independent grocers. 
The Virginia Economic Development Partnership worked with Salem and the Roanoke Regional Partnership to secure the project. It will support the distributor's job creation through the Virginia Jobs Investment Program, which provides consultative services and funding to companies creating new jobs.