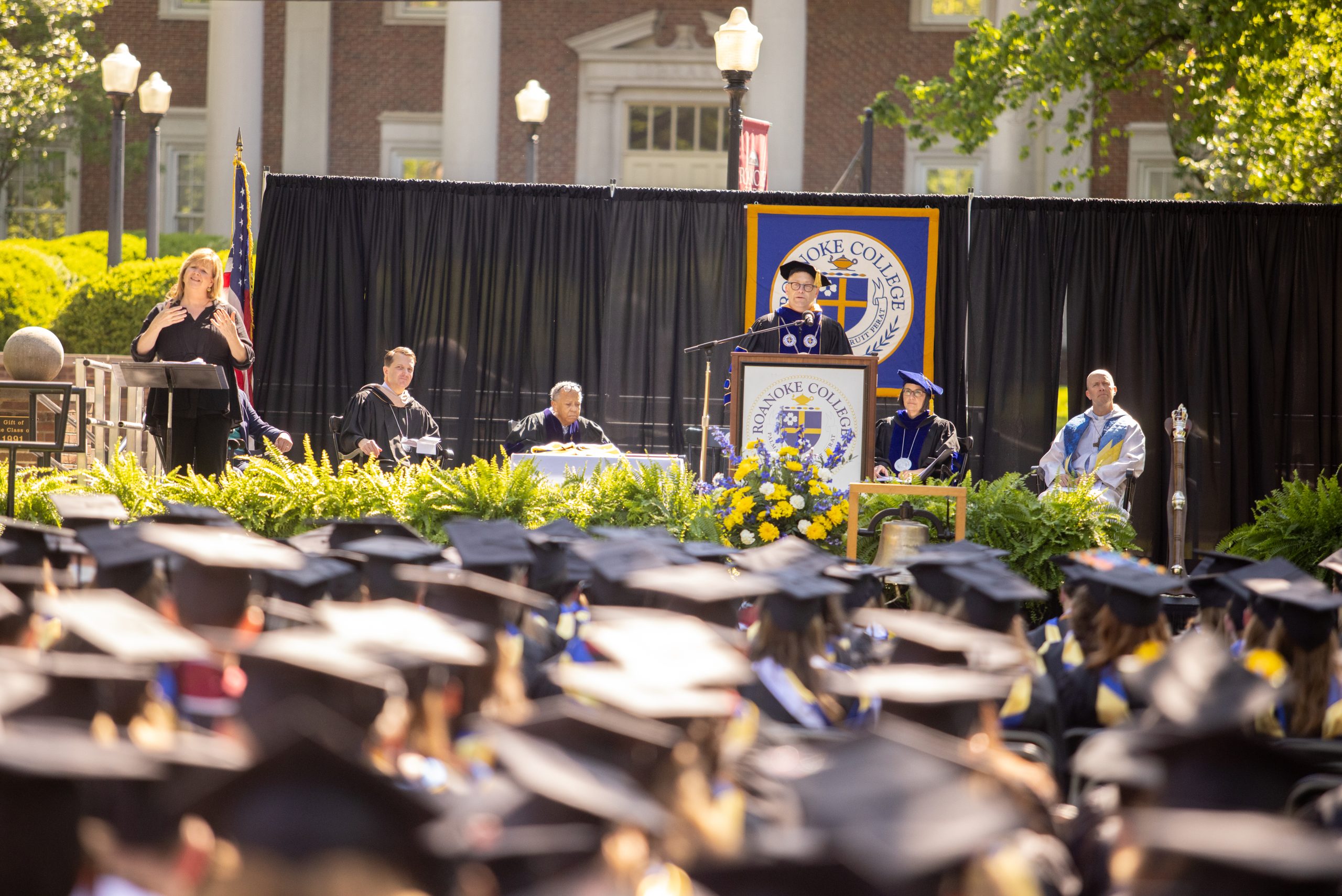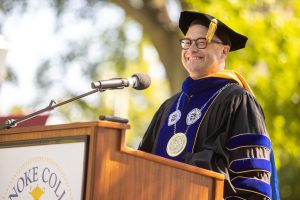 Writer Nikki Giovanni awarded honorary degree
Aila Boyd
aboyd@mainstreetnewspapers.com
Roanok College held its commencement ceremony for the Class of 2023 last Saturday, the first since new President Frank Shushok Jr. took over as the institution's 12th leader. American writer 
A total of 436 students graduated, with 179 Bachelor of Arts, 177 Bachelor of Science and 80 Bachelor of Business Administration degrees being granted.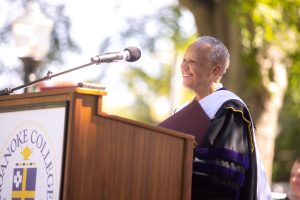 After the virtual ceremonies of the COVID-19 years, which dominated the start of this class's college experience, graduates and guests alike appreciated gathering under beaming sunshine and dappled shade on the John R. Turbyfill '53 Quadrangle. 
In his remarks to the graduates, Shushok noted that the stories of people all over the world are a collage made up not only of joy, success and adventure, but also failure, loss and doubt. He encouraged the students to celebrate everything that brought them to that moment and remember that they are capable not only of surviving everything that life offers, but of flourishing and finding purpose along the way. 
He said, "Quite frankly, being human is no joke. But I want you to remember that you have the fortitude and tools to take on hard things, whether that's a struggling relationship, another personal issue, a sticky work problem or a pandemic that shuts the entire world down. You know how to struggle and learn your way through it. From there, you can look back, understand the lessons, and say, 'Look at me now.'" 
The Class of 2023 broke a record with seven students earning valedictorian honors. The previous record was last year's class with five valedictorians. The 2023 valedictorians are: 
Kasey Truman Draper, a business administration major from Roanoke

Luke Herbert Elder, a physics and computer science major from Richmond

Emma Evangelina Maras, a literary studies major from State College, Pennsylvania 

Ashtyn Blair Porter, an international relations and creative writing major from Midlothian

Brayley Anice Whitcomb, a mathematics major from Salem

Eli Flynn Wooliever, a physics and biochemistry major from Worcester, Vermont 

Rachel Victoria Yinger, a biology and creative writing major from Dover, Pennsylvania 
Each valedictorian was invited to the podium to deliver brief remarks.  
"After COVID and online classes, we've gone through a lot of trials to get where we are today," Wooliever said. "But if there's one thing I've learned at Roanoke, it's the power of community. We wouldn't have made it through our college career without the support of our friends, or the fantastic group of faculty and staff that dedicated so much to our education and development. … I think it's safe to say that Roanoke has become more than a college for all of us. It's been a home." 
Giovanni
During the ceremony, Nikki Giovanni was awarded an honorary Doctor of Humane Letters.  
She is also a lifelong teacher, recently retiring from Virginia Tech after 35 years of service, and an advocate for social and racial justice. She read one of her poems as part of the ceremony.
"At Roanoke College, we are deeply committed to helping students prepare for lives of purpose, build meaningful careers, and meet the world's greatest needs.  Nikki Giovanni is a remarkable example of these three things," Shushok said. "As a poet, teacher, and cultural icon, she bravely calls it like she sees it, challenging us to be better versions of ourselves—both as individuals and communities. Her poetry is a masterclass on what love looks like in all its forms—from friendship, quiet moments with nature, debilitating grief, and righteous anger towards injustice. It's an honor to welcome her to the Roanoke family."