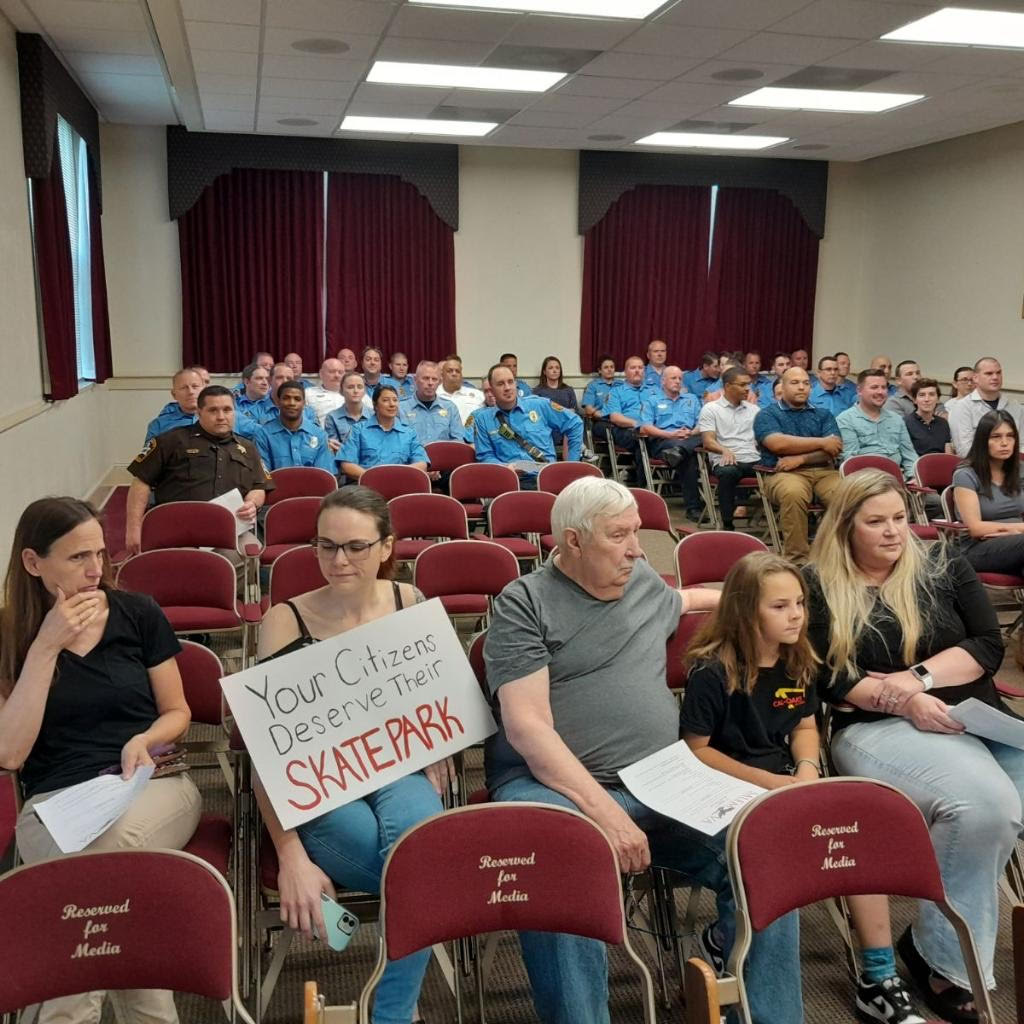 Meg Hibbert
Contributing writer
Skating and scooter enthusiasts came back to Salem City Council Monday night to renew their plea for replacing the demolished skate facility that was in Moyer Sports Complex for 30 years.
Laura Saunders, with her 9-year-old son, Kyle by her side, spoke during the Citizen Comment portion.
Without a skate park, the skate community is left with no place to skate, she said. Outdoor activities are good for children's physical and mental health, Saunders added. "Without the park, the closest one is 28 miles from Salem," Saunders said.
"Four times more money was spent on maintaining the dog park than the skate park," she said. 
Saunders explained that by skating at the skate park, Kyle had developed valuable life skills, including perseverance, goal setting, social skills of talking with older teens and adults, and more. 
Among facts and figures she distributed before the meeting to Councilmembers were estimated costs for a new skating facility. She said building a park would cost $50 per square foot, with an average of 10,000 square feet, plus the cost of land.
The former skatepark was torn down after renovations to Moyer Sports Complex began in September for the softball complex and addition of pickleball courts. It is expected to reopen in 2024.
They were particularly distressed, members of the skating community said when they appeared in April , because Council made no announcement about the skate park being demolished and not included in plans for the new $27.5-million complex expected to open in 2024.
Mayor Renee Turk thanked Saunders and other speakers at the Citizen Comment portion for expressing their concerns to Council. 
Resident Jane Taylor who asked Council to consider after school activities or policing to keep teenagers out of trouble. 
"They have been vandalizing the Salem Farmers Market tables with drawings of male genitalia, ripping tops of tables, swinging on pipes, screaming profanities, trying to pick fights and running into the street," she said.
Citizen John Breen's topic was the need for Salem City Council to have a system of checks and balances, noting that the assistant city manager is also the Council's clerk. "Why shouldn't Council have a separate clerk?" he asked.
In other matters at the meeting Council:
Approved, on second reading, rezoning for property at 1640 Roanoke Boulevard from residential to light manufacturing, for a small warehouse.
Mayor Turk acknowledged firefighters and EMTs who filled the back of Council Chambers for the meeting.
Four of the five Councilmembers were present for the meeting, with Councilman Randy Foley participating remotely because he was out of town.
The meeting adjourned at 6:51 p.m.