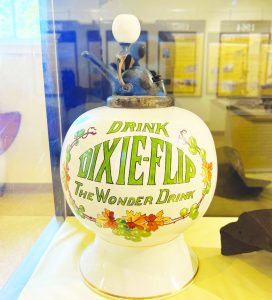 Did you know that Salem once had its own soda company?  In the early 1900s, the Virginia Beverage Company had a plant in Salem that introduced two of the company's best-selling products: King-Cola and Dixie Flip.
Pictured is a Dixie Flip dispenser that was used here in Salem.  Dixie Flip was a white grape flavored soda introduced in 1917.  It was described at the time as having a "white-grape, true-fruit, champagne" flavor.  This dispenser held the syrup that was then mixed with carbonated water to make the soft drink.  Dixie Flip was produced until 1923, when the company went bankrupt and closed. 
This Dixie Flip dispenser is currently on display in the Salem Museum's new permanent exhibit "Through Their Eyes."  
"Through Their Eyes" highlights sixteen major events, dating back to 1671, that have shaped Salem and the Roanoke Valley into the community it is today. History gets personal as seen 'through the eyes' of men and women who lived here at the time.  The Gallery features personal narratives, pictures, maps, artifacts, hands-on elements, and augmented reality technology. 
The Salem Museum is open Tuesday through Saturday from 10 a.m.-4 p.m. and located at 801 E. Main St.