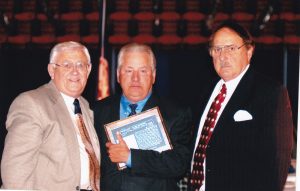 Salem lost a couple of greats recently with the passing of Sid Witt, Sr. and C. Wayne Taliaferro. Witt passed on Tuesday, July 27, and Taliaferro died on March 10.
Witt died from complications from a stroke he suffered shortly before his death. He was a great friend to the kids in Salem and the Roanoke Valley as a sandlot coach for almost 50 years. He won four state championships and numerous divisional, regional and district titles, including a third place finish in the national Little League girls' softball World Series in 1978.
While Sid was a great youth baseball and softball coach, he's probably best known for his work with the Little League "Challenger" program. In 1989 he helped found the local group for kids with issues that kept them from competing in the regular baseball and softball leagues. He started out with one team and expanded to as many as six over the years. He was beloved by the players and parents in the Challenger program, which he participated in right up until the time of his death along with son, Sid, II.
Sid was inducted into the Salem-Roanoke Baseball Hall of Fame in 2005. He was 83.
Taliaferro's passing slipped by me at the time but, thanks to long time area track and cross country coach Richard Browder I was made aware of his accomplishments in track & field as a student at Andrew Lewis High School in the late '50s. Wayne was 81 when he died, just three months before his former track teammate, Alwood Williams.
"We lost two of the greatest track and field athletes to ever compete for Andrew Lewis High School," said Browder of Taliaferro and Williams. "With the help of their teammates, these two athletes led Andrew Lewis to three state track and field championships, indoors in 1958 and 1959 and outdoors in 1959."
Legendary track coach Ray Bussard was the coach at Andrew Lewis during that era, and he went on to national fame coaching swimming at the University of Tennessee and in the Olympics. Bussard, who the track at Andrew Lewis Middle School is named for, died in 2010.
"Wayne's best events were the high jump and the high hurdles," said Browder. "He also excelled in the long jump, low hurdles, and sprint relays. He was the indoor and outdoor team captain in 1959.  In the 1958 State Indoor Championship meet, Wayne won the high jump with a new state record of 6 feet, 1 1/2 inches.
"In the 1959 State Outdoor Championship meet, competing with a severely sprained and very painful back, Wayne managed to finish second to Alwood in the high hurdles, and he also placed in the high jump, long jump and low hurdles. The points scored by Wayne were critical and essential to secure the team victory and the only outdoor Boys' State Track and Field Championship won by Andrew Lewis High School."
Wayne's son, Curtis Wayne Taliaferro, Jr., was a standout football and basketball player for Salem High in the early '80s who went on to play football at Virginia Tech.