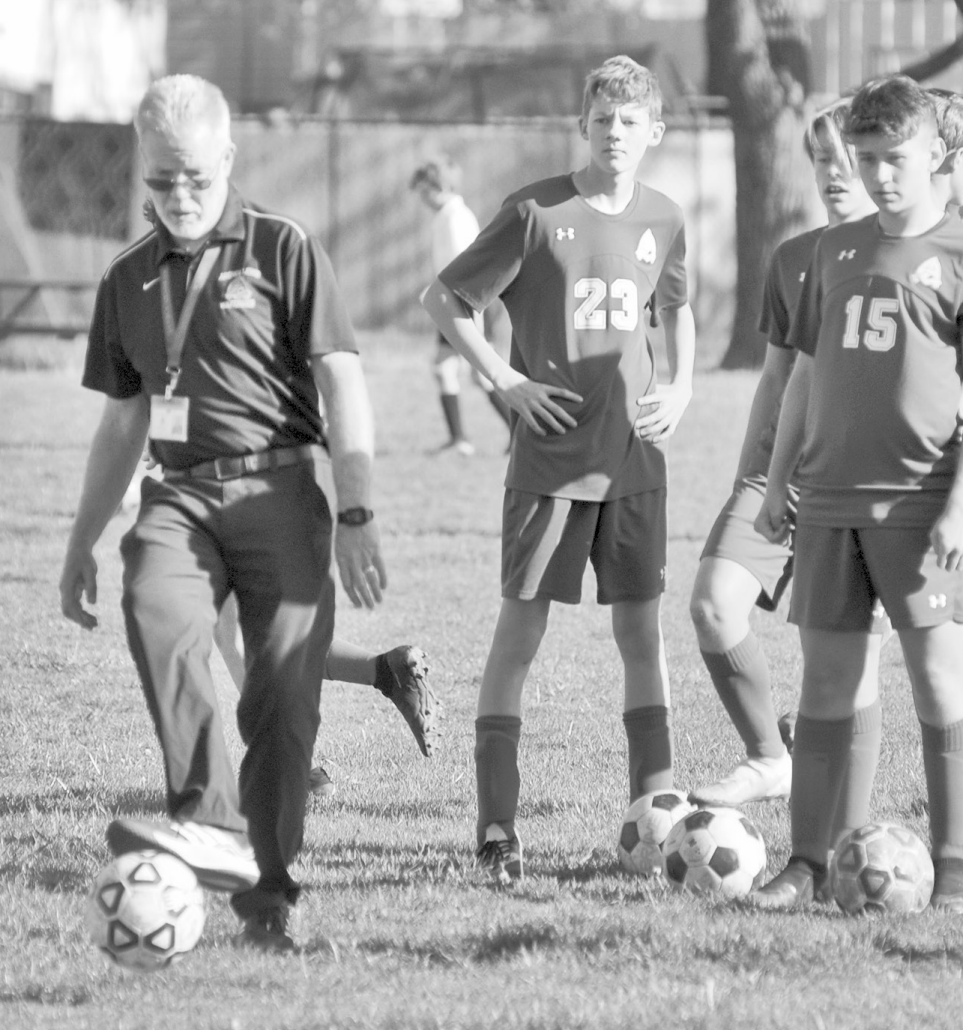 First and only coach for Wolverine team will hang it up after this season, be honored next week
The Andrew Lewis Middle School soccer team will take an 11-0-1 record to Glenvar tonight as they try to send coach Perry Manning out with an undefeated record. Manning is in his last season coaching the Wolverine boys after 38 years on the Lewis sideline. Manning is not only the winningest coach at Lewis, he's the only coach the boys' have had. He was named soccer coach when Lewis started the program in 1986 and since that time he's won well over 300 games, although he couldn't give you an exact number since records from his first years are hard to come by.
Perry played collegiate soccer at Virginia Tech, then spent a year as an assistant with the Hokies. He student taught at Northside and served as an assistant there, and also coached in the Roanoke Star system. He was hired by Salem to be a science teacher and soccer coach, and at that time the Wolverines were playing with mostly seventh graders in a league that included teams with a majority of ninth grade players. "We were in over our heads with that first team," he said. "I think we had three eighth graders and the rest were seventh graders, but they learned a lot that year.
We won one game that first year but we measured our progress in small steps and it got to the point where we started beating some people." Manning built a program that has been highly successful. In the past 15 years two losses is a bad year for the Wolverines, who play a 16 game schedule. Perry enjoys the middle school level. He had some chances to apply for the high school position but he wanted to coach at the same school where he taught, and there are a lot of rewards with the seventh and eighth grade students. "They're not to the point where they think they know everything," he said, "but they're advanced enough where we can do some things. This is a good fit for me."
Manning decided this season will be his last on the pitch. He has four children, now ages 28 to 37, and three grandchildren and it's time to step back and enjoy some family time. He's also coached volleyball the past couple years and will do so in the fall, then finish out the 2023-24 school year and retire from teaching. "I wanted to sort of ease my way out, and not coach soccer that last spring as I was preparing to retire," he said. "I'm sure I'll miss it. I haven't told the kids yet but I suspect they know.
It's a happy and sad thing. I'll enjoy spending more time with the family but we have a good group of seventh graders who will be back next year." A reception is planned for Perry after next Thursday's home game with Franklin County, on April 27.
The game will start at 5:30 pm with a reception to follow and former Lewis players are urged to attend and enjoy some fellowship and refreshments. "Perry isn't one who likes a lot of attention, but you don't see many coaches who have been on the job for 38 years," said Lewis athletic director Matt Coe. "He's done an exceptional job and we've been very lucky to have him." The Wolverines keep winning. In the past week they beat Blacksburg, 3-1, Northside, 3-1, and Cave Spring 2-0 at Lewis on Monday.
Sam Villegas and Hudson Boxely scored the goals against the Squires as the defense recorded a shutout. Glenvar will be a formidable foe today as the Highlanders are 6-3-3 after defeating William Byrd on Monday, 3-0. Clifford Lively, Evan Harris and Ryder Francisco scored for the Highlanders and Drew Butler was in goal for the shutout. It was the third shutout in a row for Glenvar, who beat Central Academy twice last week by scores of 2-0 and 3-0.