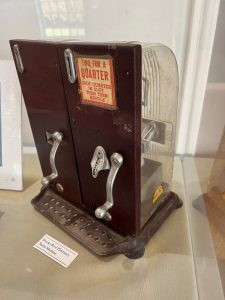 Introduced in 1905, stamp machines were once a common and convenient way to get stamps.  They allowed people to get a few stamps at a time outside of Post Office regular hours, and could be found in local shops.  In 1910, inventor Joseph Schermack perfected the machine and introduced the most recognizable model.  These machines were popular and common until the early 2000s, when they were becoming obsolete and their manufacturers were closing down, making replacement parts difficult to find.
One common place to find these machines was at a local drug store, like Brooks-Byrd Pharmacy.  Brooks-Byrd opened in the 1950s, replacing Webber's Pharmacy that was in the same location, and was a staple of Salem's Main Street for decades. 
This Schermack Stamp Machine from Brooks-Byrd Pharmacy is currently on display in the Salem Museum's new featured exhibit "Hometown History."  
Scattered throughout Salem and the surrounding area are countless reminders of Salem's past.  Many of these locations have either been replaced or forgotten after years of development. "Hometown History: Salem's Forgotten Beginnings" sets out to share these historic locations' forgotten stories.  
The Salem Museum is open Tuesday through Saturday from 10 a.m.-4 p.m. and located at 801 E. Main St.