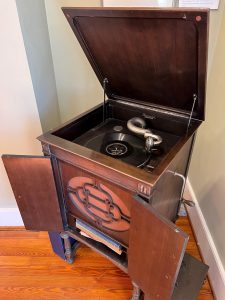 Today, we have easy access to music through radio, CDs, streaming and more. However, listening to music was not always so easy!
In 1877, Thomas Edison invented the first method of recording sound.  His original machines recorded onto tin foil cylinders.  These evolved into wax cylinders, then shellac discs, which were used for decades until the introduction of vinyl records in the 1940s. 
From the 1880s to the 1920s, phonographs were the best way to listen to music. Phonograph records were thicker than modern vinyl records, and originally only had one song, leaving the back side blank.  It was not until 1908 that double sided records were introduced.   
Phonographs were expensive, but during the boom of the 1920s more families had access to them. They allowed for people to have immediate access to their favorite music, leading to today's widespread access.  
This phonograph is currently on display at the Salem Museum. It was made by Brunswick, and was one of the most popular models of the 1920s. This model was introduced in 1926 and was one of the best-selling phonographs of the decade. 
The Salem Museum is open Tuesday through Saturday from 10 a.m.-4 p.m. and located at 801 E. Main Street.