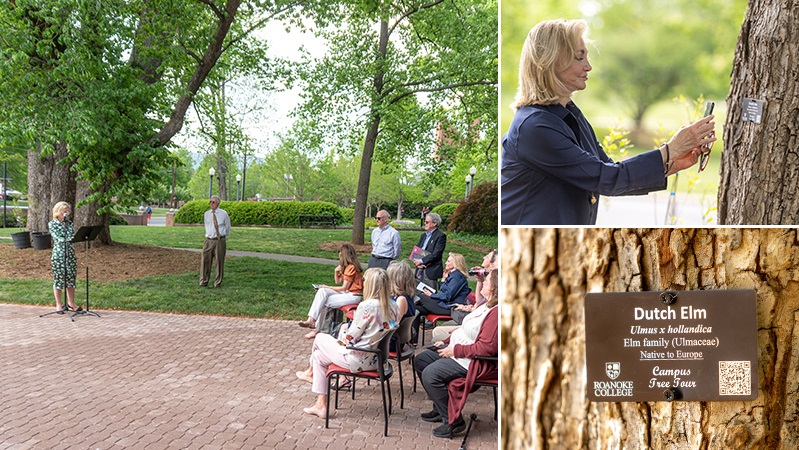 Roanoke College is launching an innovative new resource to showcase its spectacular campus trees — just in time for fall foliage season.
The college's scenic grounds, consistently ranked among the most beautiful in the country, are home to some 1,000 trees of at least 77 different species. "The carefully tended collection is a vital environmental, educational and historical asset with some noteworthy trees that date back to before the school's founding," the college said.
Now, for the first time ever, nature lovers can learn more about the greenery on campus with just the click of a button. More than 50 trees have been outfitted with QR code placards that invite visitors to learn more about each specimen's ecology and history. 
The QR codes, which can be scanned with a smartphone, allow people to instantly pull up more information online about the tagged tree. The result is a unique, self-guided tour that encourages people to spend a few moments taking in the majesty of a saucer magnolia, a Norway spruce and more. 
"This is a beautiful day for Roanoke College," said Vice President of Advancement Kim Blair. "Our landscape, from our tree canopy to our mountain views, is an integral part of what makes the Roanoke experience so special. We're thankful for the hard work and passion of everyone who made this project possible."
The tree tour was created after a detailed inventory of the campus tree collection was done by Bartlett Tree Experts. Both undertakings were supported by generous benefactors. In addition to shaping the tour, the extensive inventory will help guide ongoing tree care work by Roanoke College Building and Grounds.
By preserving and celebrating Roanoke's natural resources, one of the project's patrons, Trustee Joanne Leonhardt Cassullo '78, said she hoped to pass along the same spark of joy that she felt when she first stepped on campus.
"When I got to Roanoke College, I loved the trees here, to see them bud out in the springtime and tell of the coming weather," she said. "It's just such a beautiful campus. I loved the idea of mapping all the different trees so that, as you walked by, you could realize you were standing next to something so beautiful and historic and important."
The curation of the QR code tour was led by Professor Emeritus of Biology Dar Jorgensen, Researcher Michael Wise, and Landscaping and Grounds manager Bill Martin. To mark the project's launch, Roanoke is rolling out a new webpage that shares more history and an interactive tree tour map: https://www.roanoke.edu/campustrees.
The early phases of the tree tour project were first announced last spring during Alumni Weekend when supporters gathered around the towering Champion Dutch Elm tree near Fintel Library. The elm, which is older than the bustling campus that now surrounds it, measures about 94 feet tall and about 21 feet wide. For years, it's been crowned Virginia's Champion Dutch Elm, a title given to the largest known tree of that species in the commonwealth.  
"Remarkably, this tree was living when David Bittle, Roanoke's first president, arrived here to establish the College more than 180 years ago," said Jorgensen, adding that it was a testament to the enduring legacy a well-cared-for arboretum can create.
To grow that legacy, Peter Becker '74, also a benefactor of the project, donated new saplings to be planted on campus. The trees, named Kindred Spirit oaks, are a sought-after hybrid innovation that can flourish to 40 feet in height. Their planting this month will mark the first Kindred Spirit oaks in Roanoke's collection.  
"Protecting our natural resources and enhancing our tree diversity is important for students and for the future so we can continue to have an urban green space that's viable and living," said Becker, an arborist whose studies at Roanoke led him to a successful career at Bartlett Tree Experts, where he retired as senior vice president of the Mid-Atlantic region.
Becker credited Roanoke with setting him on the path that led him to discover his life's purpose working in ecology. That is an opportunity he hopes to help share with future generations of students. Trees are not just tranquil, shade-giving additions to a campus, he said. They are a living laboratory where research and hands-on training can unfold.
Organizers of the tree tour are already working alongside Roanoke College's Environmental Studies Department, and students are expected to play an essential part in the future stewardship and educational interpretation of the campus arboretum.
Environmental Studies Chair Kathy O'Neill said faculty and students were excited about the possibilities and thankful to supporters for championing students and real-world learning opportunities.
"It's tremendous," she said. "Our students have a long history of being involved in the campus trees, whether it's taking measurements or working on the trees. We know it's something that attracts environmental students, in particular, to our campus. They love the trees here and get very invested in them. So we're excited about the future and can see a lot of new research ideas going forward." 
-The Salem Times-Register