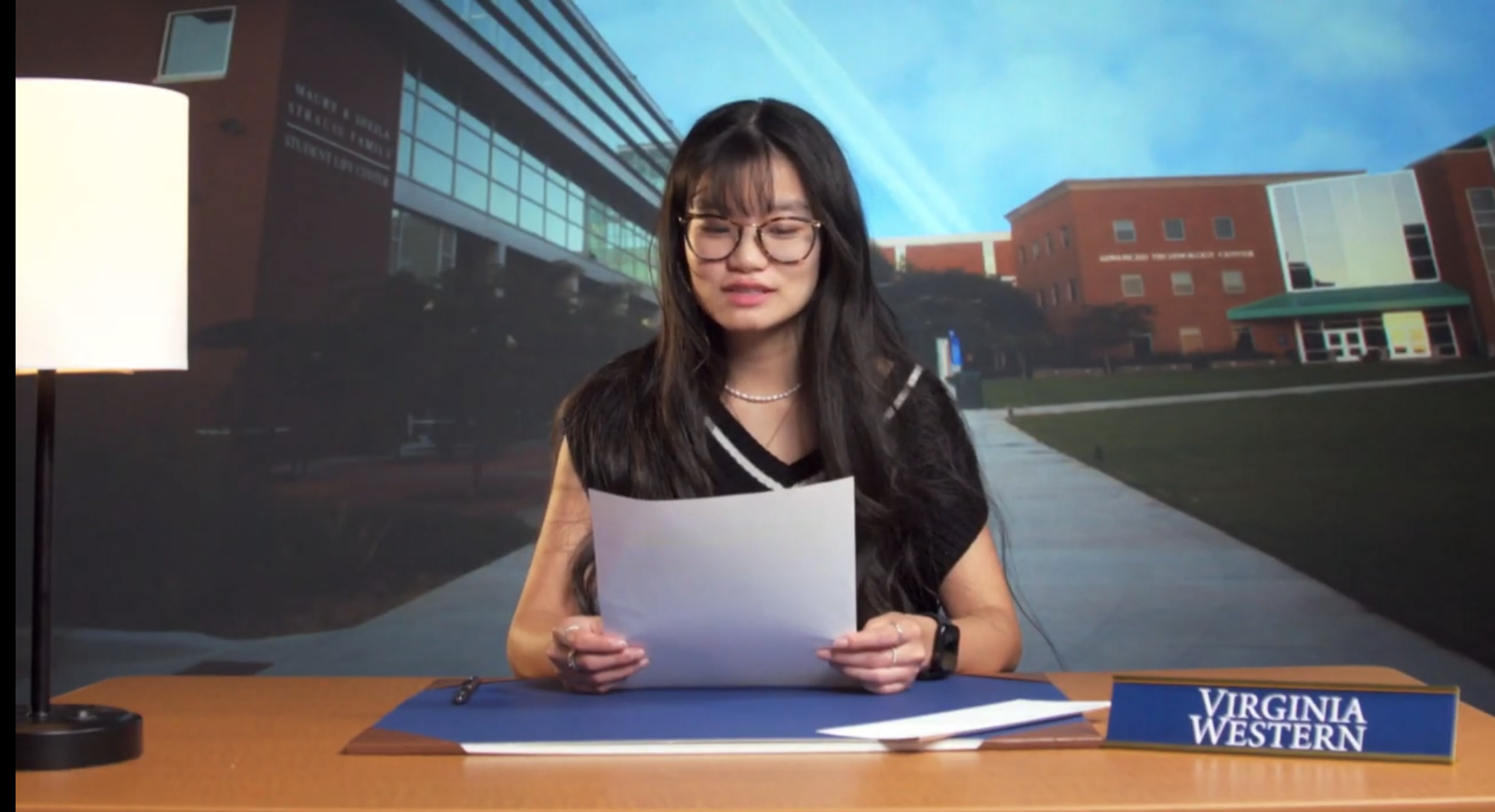 ROANOKE – The Virginia Western Community College Educational Foundation announced last week that it awarded $223,358 in general scholarships to 114 students attending the fall 2023 semester at Virginia Western Community College. 
"Letter to My Future Self" is a seven-minute video that profiles nine recent Educational Foundation scholarship recipients. Watch it at https://www.virginiawestern.edu/foundation/letters/
For information on donating to or establishing a scholarship at Virginia Western, contact Philanthropy Director Amanda Mansfield at (540) 857-6962 or amansfield@virginiawestern.edu. 
| | |
| --- | --- |
| Fall 2023 Recipient  | Scholarship Award(s) |
| Chloe Eckard | Fralin Futures STEM-H Scholarship |
| Ella Hambrick | Fred Whitaker Company Annual Scholarship |
| Hannah Thompson | Developmental Math Scholarship & Sallie and Elsie Williamson Endowed Scholarship |
| Brie Beddingfield | The Neall Family Charitable Foundation Scholarship |
| Olivia Campbell | J.K. and Donna Speas Annual Scholarship |
| Hollie Carter | George T. Wade Memorial Annual Scholarship |
| Lena Chandler | Fralin Futures STEM-H Scholarship |
| Kerrianne Desai | SunTrust Community Service Endowed Scholarship |
| Seth Fletcher | Al Pollard Memorial Foundation Scholarship for the Culinary Arts |
| Lorien Griffith | Fralin Futures STEM-H Scholarship |
| Audrey Keister | Employee Family Scholarship & Prabhat Jain Engineering/Technical Scholarship (Virginia Transformer Corporation) |
| Joseph Manello | Bridging the Gap Endowed Scholarship |
| Kiana Watt | Educational Foundation Textbook Scholarship |
| Jennifer Wood | Fralin Futures STEM-H Scholarship |
| Grace Eakin | Gerry Montgomery Meador Endowed Scholarship |
| Autumn Hutchison | Dr. Donna Harpold Memorial Annual Scholarship |
| Sadie McAllister | Alice Becker Hinchcliffe Williams Endowed Scholarship & Delta Dental Annual Scholarship for Dental Hygiene |
| Erica Bain | Fralin Futures STEM-H Scholarship |
| Lisa Szczesniak | Al Pollard Memorial Foundation Scholarship for the Culinary Arts |
| Amanda Bayer | Brown & Sons Farm Annual Scholarship |
| Jade Bennett | Lorraine Pleasants Memorial Annual Scholarship |
| Teresa Carroll | Garnett E. and Patsy T. Smith Endowed Scholarship |
| Evan Carwile | Appalachian Power Endowed Scholarship  |
| Conner Gump | Fralin Futures STEM-H Scholarship |
| Stephanie Henson | Fralin Futures STEM-H Scholarship |
| Taylor Janney | Fralin Futures STEM-H Scholarship |
| Nicolas Leon Guzman | Foot Levelers Endowed Scholarship |
| Cameron Meredith | The BLUHF Project Annual Scholarship for Skilled Trades |
| Jenna Nunn | Educational Foundation Textbook Scholarship |
| Hayley Rea | Fralin Futures STEM-H Scholarship |
| Jennifer Correa | Michael E. Warner Memorial Annual Scholarship |
| Jocelyn Correa | Linda French Cecil Memorial Scholarship & Walter Darnall Vinyard Endowed Scholarship |
| Allen Harris | Construction Management Certificate Program Scholarship  |
| Haley Killian | Fralin Futures STEM-H Scholarship |
| Haley Cuthrell | Fralin Futures STEM-H Scholarship |
| Kaylana Alston | Barbara McKinney Watts Endowed Scholarship |
| Colby Cummings | LewisGale Medical Center Endowed Scholarship |
| Ashley Fant | Fralin Futures STEM-H Scholarship |
| Raychel Hahn | Dennis L. & Hazel Phillips Blalock Memorial Endowed Scholarship |
| Cara Hodge | Walter Darnall Vinyard Endowed Scholarship |
| Daniel Juilfs | Fralin Futures STEM-H Scholarship |
| Nathan Kinzie | Walter Darnall Vinyard Endowed Scholarship |
| Karen Klink | Beverly Day Williamson, Jr. Endowed Scholarship |
| Levi Lam | Stanard and Betty Lanford Endowed Scholarship |
| Ali Mahdinezhad | John Morris Roslyn Educational Scholarship |
| Fatemeh Mahdinezhad | Fralin Futures STEM-H Scholarship |
| Nicholas Maiolo | Fralin & Waldron, Inc. Endowed Scholarship in Memory of Craig E. Via |
| Daniel Murphy | Fralin Futures STEM-H Scholarship |
| Rahimullah Nazari | Stanard and Betty Lanford Endowed Scholarship |
| Negina Rasoli | Refugee and Immigrant Scholarship & Michael Smith Commonwealth Legacy Scholarship |
| Irish Roessel | Michael E. Warner Memorial Annual Scholarship |
| Adriana Sanchez-Popoca | Dr. J. Andrew Archer Memorial Annual Scholarship |
| Alexis Spradlin | American Sign Language Endowed Scholarship in Memory of Laura Knight Schowe |
| Briana Wood | Fralin Futures STEM-H Scholarship |
| David Yemey | Nicholas E. Janney Memorial Endowed Scholarship |
| Yasir Babiker | Fralin Futures STEM-H Scholarship |
| Annabelle Brown | Laurens Sartoris Commonwealth Legacy Scholarship for Nursing Students & Peter and Roseta Skelly Endowed Scholarship |
| Abigail Cairns | Dr. Elizabeth W. Payne Endowed Scholarship |
| Bailey Cassell | Barbara McKinney Watts Endowed Scholarship & LewisGale Medical Center Endowed Scholarship |
| Lesley Clarke | Mr. & Mrs. Emanuel Payne Endowed Scholarship |
| Cheyanna Eller | Fralin Futures STEM-H Scholarship |
| Autumn Engle | The Louise R. Lester Foundation Annual Scholarship |
| Shellie Falls | The Neall Family Charitable Foundation Scholarship |
| Jayden Glass | Fralin Futures STEM-H Scholarship |
| Destinie Griffin | Beverly and Leon Harris Teaching and Nursing Annual Scholarship & Laurens Sartoris Commonwealth Legacy Scholarship for Nursing Students |
| Andrew Harshbarger | Educational Foundation Textbook Scholarship |
| Alicia Hibbs | Fralin Futures STEM-H Scholarship |
| Misty Irby | Fralin Futures STEM-H Scholarship |
| Lizaveta Kraslavska | Fralin Futures STEM-H Scholarship |
| Aerowyn LaComa | Down Syndrome Association of Roanoke Annual Scholarship & Educational Foundation Textbook Scholarship |
| Jarod Lim | Fralin Futures STEM-H Scholarship |
| Ezekiel Luebeck | Fred Whitaker Company Annual Scholarship |
| Melanie Meador | Second Chance Annual Scholarship |
| Mishawn Merchant | The Charlotte Woolwine Scholarship for Sole Caregivers of Minor Dependents |
| Max Myers | Fralin Futures STEM-H Scholarship |
| Robert Nejad | LewisGale Medical Center Endowed Scholarship |
| Kevin Oliver | Michael E. Warner Memorial Annual Scholarship |
| Nathan Patrick | The Louise R. Lester Foundation Annual Scholarship |
| Courtney Perdue | Fralin Futures STEM-H Scholarship |
| Kaitlyn Pressley | Business, Technology & Trades Annual Scholarship in honor of Deborah A. Yancey |
| Gary Proctor | Valley Bank Endowed Scholarship |
| William Pugh | Fred Whitaker Company Annual Scholarship |
| Hannah Puskar | Fralin Futures STEM-H Scholarship |
| Katherine Richards | Beverly Day Williamson, Jr. Endowed Scholarship |
| Anderson Schemm | Gordon C. and Jean Willis Memorial Endowed Scholarship |
| Emily Shockley | Rita Halsey David Radiography Endowed Scholarship |
| Kelly Silva | Al Pollard Memorial Foundation Scholarship for the Culinary Arts |
| Alicia Slawson | Beverly and Leon Harris Occupational/Technical Annual Scholarship |
| Annie Stevens | Fred Whitaker Company Annual Scholarship & The William Bernard Alphin Annual Scholarship |
| Kaile Surrell | The Elizabeth and Harry Sellers Annual Scholarship & Educational Foundation Textbook Scholarship |
| Nickole Toler | African-American Railroad Heritage Annual Scholarship & Continental Societies Endowed Scholarship |
| Gracie Walker | Fralin Futures STEM-H Scholarship |
| Katelyn Wissinger | Beverly Day Williamson, Jr. Endowed Scholarship |
| Robert Linsenmen | Accounting Annual Scholarship for Adult Learners |
| Brittany Hoover | Orrin Clifton Annual Scholarship |
| Otoniel Bobe Cummings | Prabhat Jain Engineering/Technical Scholarship (Virginia Transformer Corporation) |
| Sophia Graves | Al Pollard Memorial Foundation Scholarship for the Culinary Arts |
| Alexis Hammersley | Deborah L. Petrine Commonwealth Legacy Scholarship |
| Rose Joy | John Morris Roslyn Educational Scholarship |
| Sean Laughlin | Fralin Futures STEM-H Scholarship |
| Logan Milton | VFCCE Commonwealth Legacy Scholarship |
| Krish Patel | Dr. J. Andrew Archer Memorial Annual Scholarship |
| Anthony Pinkney | Employee Giving Annual Scholarship |
| Nicholas Powers | Friendship Annual Scholarship |
| Christopher Robertson | Educational Foundation Textbook Scholarship |
| Haden Smith | Prabhat Jain Engineering/Technical Scholarship (Virginia Transformer Corporation) |
| Harrison Smith | Appalachian Power Endowed Scholarship & ITT Exelis Endowed Scholarship |
| Chandler Sutphin | Fralin Futures STEM-H Scholarship |
| Connor Weeks | Beverly Day Williamson, Jr. Endowed Scholarship |
| Jada Keene | Alice Becker Hinchcliffe Williams Endowed Scholarship |
| Hayley Linke | Fralin Futures STEM-H Scholarship |
-The New Castle Record