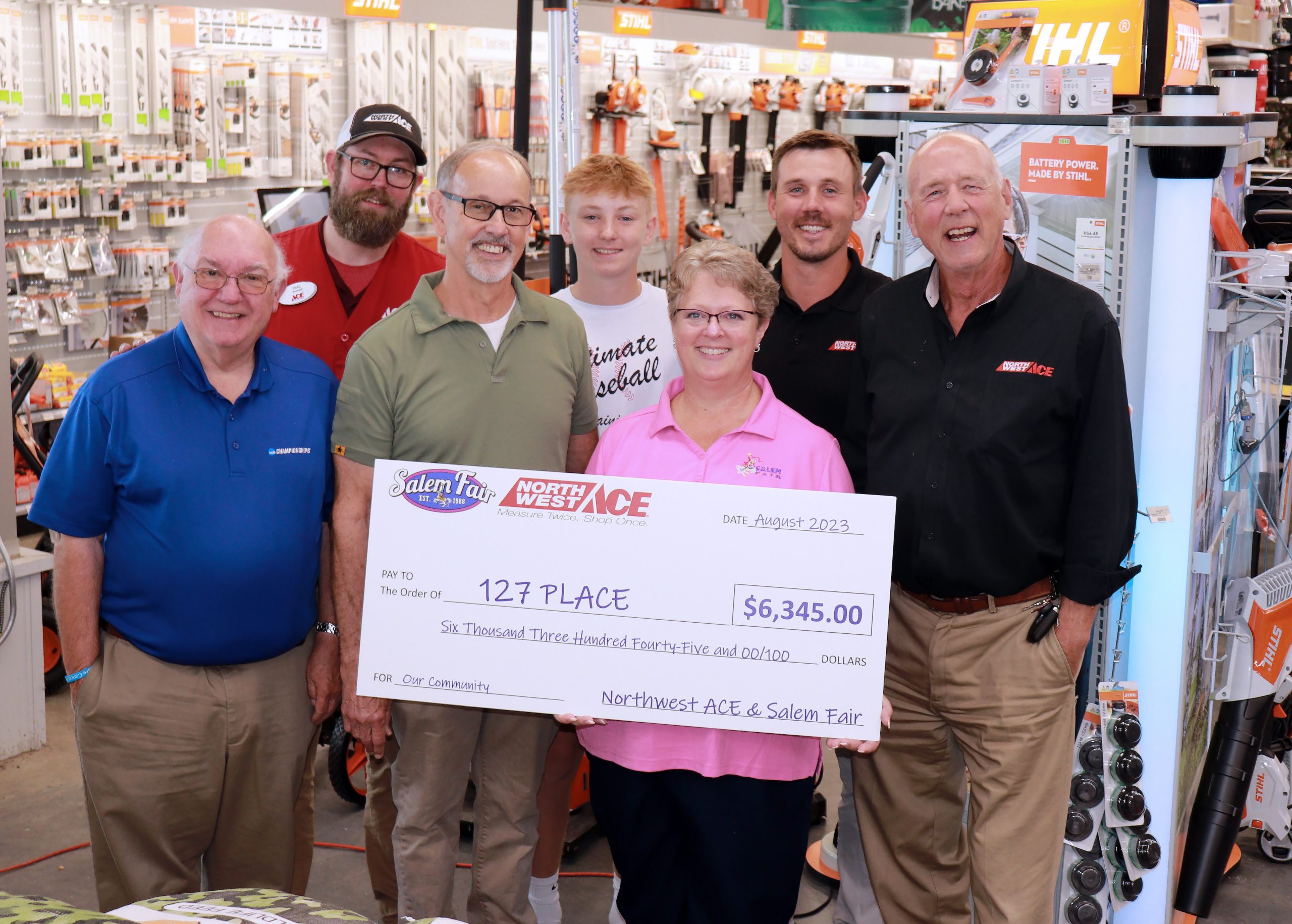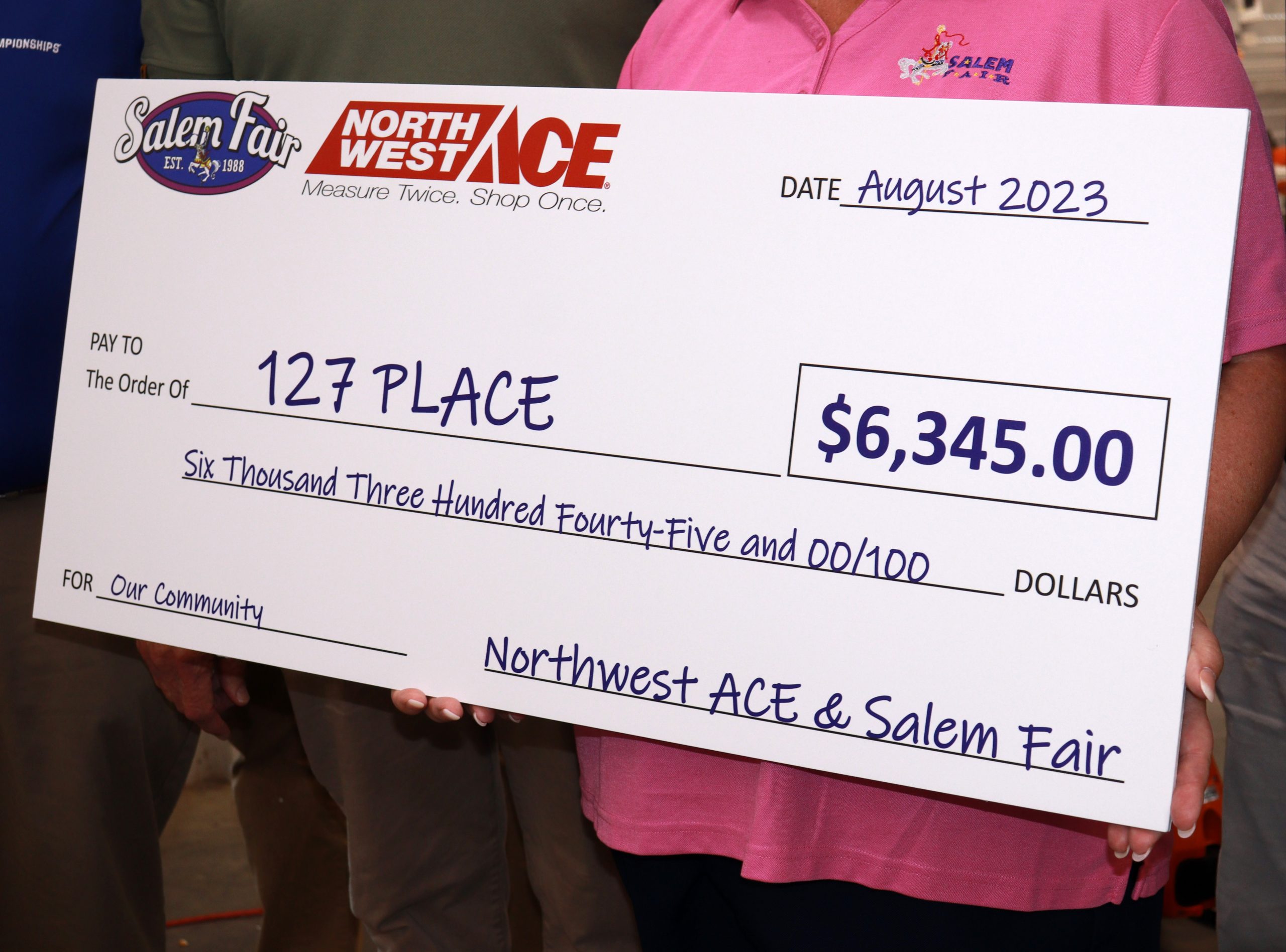 One of the valley's most giving retailers, Northwest Ace Hardware, has once again teamed up with the Salem Fair to make a generous donation and a significant impact to a nonprofit organization. 
This past June, fair fans purchased the Megapass unlimited ride tickets at area Northwest Ace stores in the region, at the Salem Civic Center box office and online. The number of ticket purchases before the start of the fair enabled the Overstreet family, that owns and operates the NW Ace chain of hardware stores, to donate $6,345 to 127 Place. 
"Northwest Ace Hardware is honored to once again make this award to 127 Place as a way of recognizing how its workers and volunteers are improving the lives of children in our hometowns and communities," said Nathan Overstreet, NW Ace Hardware vice president. "Our relationship with the Salem Fair has enabled us to collectively impact some folks we may not have otherwise reached." 
The 35th Salem Fair once again attracted visitors from all over Virginia, North Carolina and West Virginia during its 12-day run at the Taliaferro Complex. This year's fair featured a visit from Gov. Glenn Youngkin and a 50% jump in the sale of those advance unlimited ride tickets. 
"The purchase of the passes for the 2023 Salem Fair got off to a slow start but finished stronger than ever," said Wendy Delano, Salem director of civic facilities. "We are thrilled to partner with Northwest Ace Hardware throughout the year and especially during the fair when we can join forces to highlight the great work 127 Place is doing." 
The organization 127 Place has a goal of helping children who are unable to help themselves. The members strive daily to positively impact the lives of vulnerable children, their families, their communities and the world. 
"As I mentioned last year when we were humbled by this honor, Roanoke has the largest foster care population in the state," Ray Moore, 127 Place founder and board member, reiterated. "We want to keep kids from entering foster care in the first place, and that means we must go the extra mile to support the extended family members who fill the gap. This donation will help us accomplish that goal." 
Currently, there are approximately 5,000 children in foster care in Virginia. In most cases, the brokenness of family disruption is not something they chose, but rather something that happened to them. 
"This is yet another way the generosity of our fairgoers makes a difference beyond the midway," said Carey Harveycutter, Salem Fair manager. "More than 2,500 pairs of socks were donated at the gate for the Roanoke Rescue Mission and Mrs. Dorsey's Clothes Closet, and a record 4,723 pounds of food was collected for the Salem-Roanoke County Food Pantry. We are thankful the fair can impact the community in this manner and especially honored that we can assist 127 Place." 
127 Place serves as a Community Champion in the CarePortal network, which connects churches and community responders to requests that are posted and vetted by social workers at local departments of social services and other requesting agencies like Total Action for Progress, the Rescue Mission, and the Blue Ridge Women's Center. 127 Place funds some requests and provides a storage space for donations of frequently requested items like furniture that churches can use to meet requests. 
"This $6,400 is going to make a big difference in our community. We plan to use this money to provide beds, groceries, clothing, rent and utility assistance to families, so that children don't have to go into foster care," said Moore. 
Since launching in February 2019, CarePortal churches in the Roanoke Valley Region have met 88% of 1,488 submitted requests serving 2,415 children with an economic impact of $1,285,196. 
-The Salem Times-Register