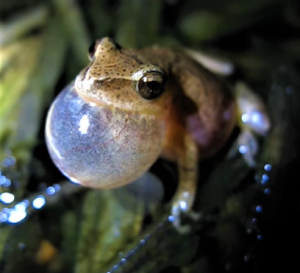 Pam Dudding Contributing writer
There are so many people who enjoy the "first song of spring" from the easily recognizable springtime peepers. They let us know that winter is leaving, and new birth is on the horizon.
Their melodic sounds tend to bring a smile to one's face and a special warmth to many hearts.
Up in Craig County, there are multiple places of mud puddles, swamps or ponds where people drive by and can be serenaded by their early spring songs.
Some people say they sound like sleigh bells or baby chicks.
Regardless, nearly everyone enjoys their signal of spring with their beautiful songs and looks forward to hearing them.
For me, I have been known to raise my windows in cooler weather, lay a towel down so the cold air won't come in, just so I can still hear the little peepers.
Years ago, when I lived in Bradshaw, they were so loud, but I thought it was wonderful. However, they seemed to go to sleep about 8 p.m. I shared this with a friend who knew I had a tendency to pray about everything. She said I needed to pray in some "party peepers." I did and God answered. I had peepers until about 11 p.m. I was truly a Happy Pammie!
There are others who shared their perspectives on Facebook:
Lena Lindsay – "My momma said, 'those little Peatoots will be peeping through ice tonight,' every time the temperature would drop after a thunderstorm"
Dawn Fisher – "Living in Paint Bank (hearing those) …best years of my life"
Earl Devinney – "I use to live in Oriskany near Craig Creek where a large spring came out of the mountains. When that happened, I got peeped from all sides. Peepersville!"
Peepers are just tiny frogs, which we call spring peppers. They have just started their life and it seems that happiness is their forever song.
They are tan, brown and green in color and about the size of a small paper clip. Most have a black X-shaped pattern on their back. They are sometimes referred to as a "chorus frog." Their throat blows out like a bubble to make their noises.
However, when you get close to their habitat, they will simultaneously quit their singing.
These little creatures are unusual in that each year, they come out of what you could call "hibernation."
Here's how the Old Farmer's Almanac explains it: "They endure sub-zero temperatures by going sub-zero themselves, shutting down almost all bodily functions. More than half of the frog's blood and other liquids may turn to solid ice for weeks at a time. The frog's urea acts as a kind of antifreeze to prevent permanent damage to body structures. By raising levels of glucose more than a hundredfold, individual cells keep themselves from breaking down internally, each one a kind of pilot light within a cold stove."
Therefore, every year, the little frog comes back from the dead, so to speak.
It is said that the males can produce a clear note of well over 100 decibels at close range, (not that different in sound or intensity from a fire alarm going off in your kitchen)!
"Multiply this by the hundreds or even thousands of individuals calling in a single marsh, and lo and behold, your woods have become about as soothing as the inside of a jet engine," the Almanac noted.
National Wildlife stated that the males' mating call, the high-pitched whistling or peeping sound is repeated about 20 times a minute. However, the faster and louder they sing, the greater the chances of attracting a mate.
The females lay their eggs, anywhere from 750 to 1,200, in the wet areas where fish are not present. The males fertilize the eggs as they are laid.
Depending on the temperature, eggs can hatch within two days to two weeks. The little tadpoles have gills to breathe underwater and tails to help them swim, until they transform into a frog over the course of six to 12 weeks.
These little spring peepers are said to have short lives, living only three to four years at most.
But, for those of us who enjoy their melodic songs, we have a tendency to roll down our windows and let our foot off the gas when we know there is a "peeper villa" near, so we can be serenaded yet one more time.