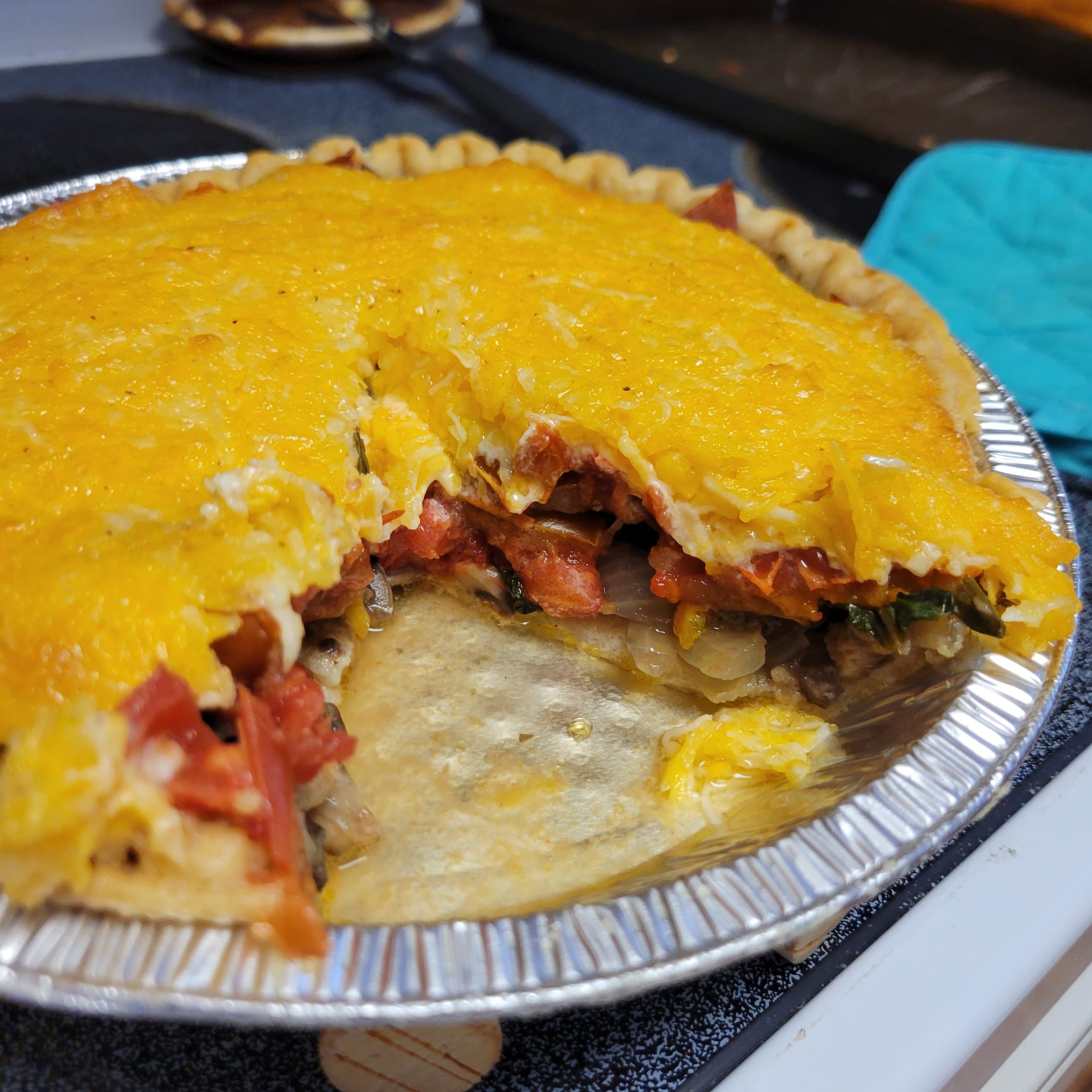 Tomatoes have started to show up on my porch. My neighbor, Jane, grows vegetables in raised beds in her back yard. It's a war against the squirrels, birds, and groundhogs but she gets some to do well. They may not be pretty, but they taste good. I give her Betsy's reject dog treats for her dogs, and she gives me tomatoes. This week I have an abundance of tomatoes. I decided to make a recipe that I got from an old friend. This savory pie is a good use for fresh tomatoes and is held together by a mixture of mayonnaise and cheese. This friend was the total opposite of me. She liked natural fabrics, hated air conditioning, and grew her own food. Her dream was to own a place in the country and keep chickens. She made this pie and I thought she was nuts. The words tomato and pie just did not go together in my mind. However, one bite and I was hooked. She gave me the recipe and the recipe tips were longer than the recipe. Her tips help prevent a soggy bottom. I use a premade frozen deep dish pie crust but you can make your own. The crust is prebaked and then lined with bread crumbs. Some recommend cornmeal to line the crust. I use seasoned bread crumbs but you can use plain or Italian seasoned. Fresh summer tomatoes emit a lot of water when cooked. It's best to get as much of that liquid out as possible before adding them to your baked crust.  One key is to cut up your tomatoes, remove the watery seeds, sprinkle with salt and let stand in a colander for at least 30 minutes. Then when you are ready to use them, pat them and squeeze them very dry with paper towels. She also said to add cooked, crumbled bacon to the layers in the pie for extra flavor.
Ingredients
1 deep dish pie shell (homemade or store-bought)
1/2 teaspoon kosher salt
3 to 4 large tomatoes, I dice them up but the recipe says to slice them (approximately 3 cups chopped tomatoes)
1/2 cup chopped yellow or red onion
1/4 cup sliced basil
2 cups grated cheese (combination of sharp cheddar and Monterey Jack, or Gruyere or Mozzarella)
1/2 cup mayonnaise
1 egg beaten
1 teaspoon Frank's Hot Sauce or Tabasco, or to taste
¼ tsp ground black pepper
2 TBSP bread crumbs or cornmeal
Preheat the oven to 350°F (175°C). Place the oven rack in the center of the oven.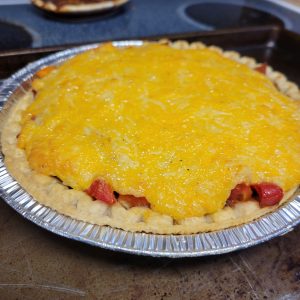 Pre-bake the crust:
If you are using a store-bought pie shell, follow the directions on the package for pre-baking, or pre-bake it in the oven for about 8 to 10 minutes (a little longer for a frozen pie shell), until lightly browned.
If you are using a homemade crust, press it into the pie plate and freeze for 30 minutes. Remove the plate from the freezer and press a sheet of aluminum foil into the crust to keep the sides of the pie crust from falling down as it cooks. Fill the pie with pie weights such as dry beans or rice to help hold the foil in place.
Pre-bake the homemade crust for 15 minutes, then remove the foil, use the tines of a fork to poke a few small holes in the bottom of the crust (for venting), and bake for 10 more minutes
Salt and drain the tomatoes while you are prebaking the crust.
In a large skillet, heat 1 tablespoon of olive oil over medium-high heat. Add the onion; cook until lightly browned on the edges (about 6 minutes). Transfer onion to a bowl and set aside to cool completely.
Make cheese mixture. In a medium bowl, mix together the cooked onion, grated cheese, egg, mayonnaise, Tabasco, and a sprinkling of freshly ground black pepper. Sprinkle the bread crumbs over the pie shell evenly. Spread half of the cheese mixture over the bottom of your pre-baked pie crust shell. Spread the drained chopped tomatoes over the cheese mixture. Sprinkle the sliced basil over the tomatoes. Spread the rest of the cheese mixture over the tomatoes.
Place in the oven and bake at 350°F (175°C) until browned and bubbly, 25 to 45 minutes.
Cut into slices and serve warm or at room temperature. I find that it's easiest to slice when I allow the pie to rest for at least 20 minutes being cutting into it.