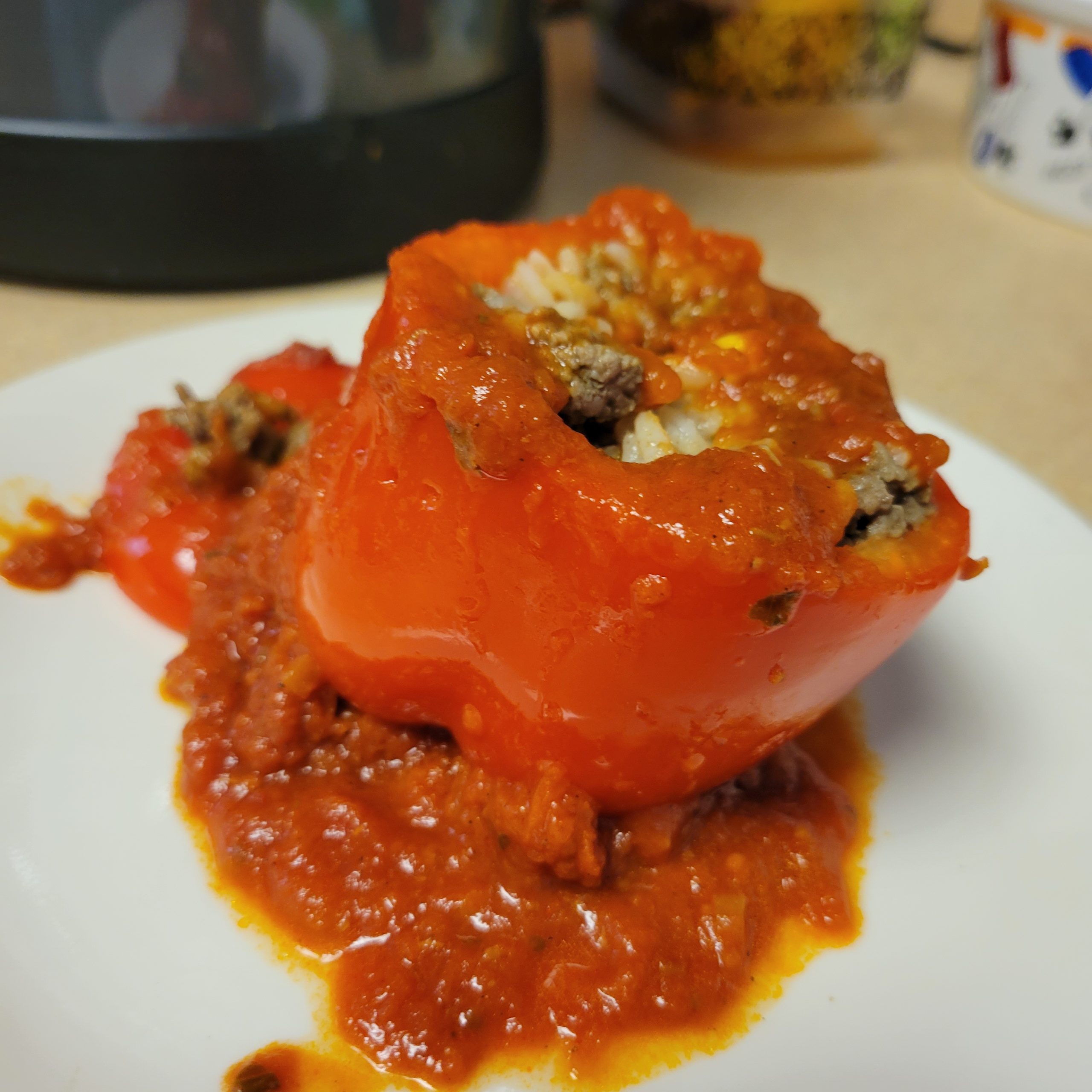 Crock Pot stuffed bell peppers
Of all my kitchen gadgets, I like my slow cooker best. I have one that I got as a wedding present in 1986 and it still works. I counted and I can report I have 5 slow cookers, ranging in size from a small dip crock, to a large 8-quart Crock-Pot. I use the term crockpot interchangeably with slow cooker. Most of us do, but Crock-Pot is the brand name of the Rival Company's slow cooker. Introduced in 1971, the Crock-Pot soon became a favorite of those who worked and needed a meal at the end of the work day. A slow cooker is a countertop electrical appliance that contains a removable glass or ceramic crock that cooks food slowly at low temperatures, generally between 170- and 280-degrees F, over several hours and can be left safely unattended. As the food cooks it releases steam, which the lid traps. The lid traps heat and moisture which cooks the food. Keep the lid on while cooking and limit peeking! Older models of slow cookers have a knob with warm, low and high settings. Newer models have programmable digital controls that include countdown timers and auto warm features. Choose the size for the number of people your recipe serves. The slow cooker should be about ¾ full of ingredients or liquid to cook properly. A family recipe is usually best for a 6-7quart crockpot.  You can use slow cookers for meals, appetizers, to keep food warm, and to keep beverages hot during parties. I often use a crockpot when I am camping. I have several favorite crockpot recipes but the one I make most often is stuffed peppers. You can use any color of pepper you like, I like red, orange, or yellow. I use microwavable ready cooked rice but you can make your own. I also use canned or frozen vegetables. These peppers freeze well. Just thaw in the refrigerator and then reheat in the microwave. 
Stuffed peppers
4-6 peppers, washed, cut off the top and remove the seeds. 

1 24 oz. jar of spaghetti or marinara sauce

2 cups cooked rice (or riced cauliflower)

1 package steamable mixed vegetables or 1 can mixed vegetables

1 lb. ground beef, browned
Spray crock with non-stick spray, place peppers upright in crock pot.  Pour just enough of marinara sauce to cover the bottom of the crock. Mix ground beef, cooked rice, vegetables in a bowl. Fill peppers with this mixture, tamping down, so the peppers are well stuffed. Pour the rest of the jar of marinara over all. Cover and cook on high 3-4 hours or low 6-8 hours.  Peppers are done when a fork pierces the outside skin easily. You can add more or less vegetables as you like. I add cooked onion and spinach on occasion.