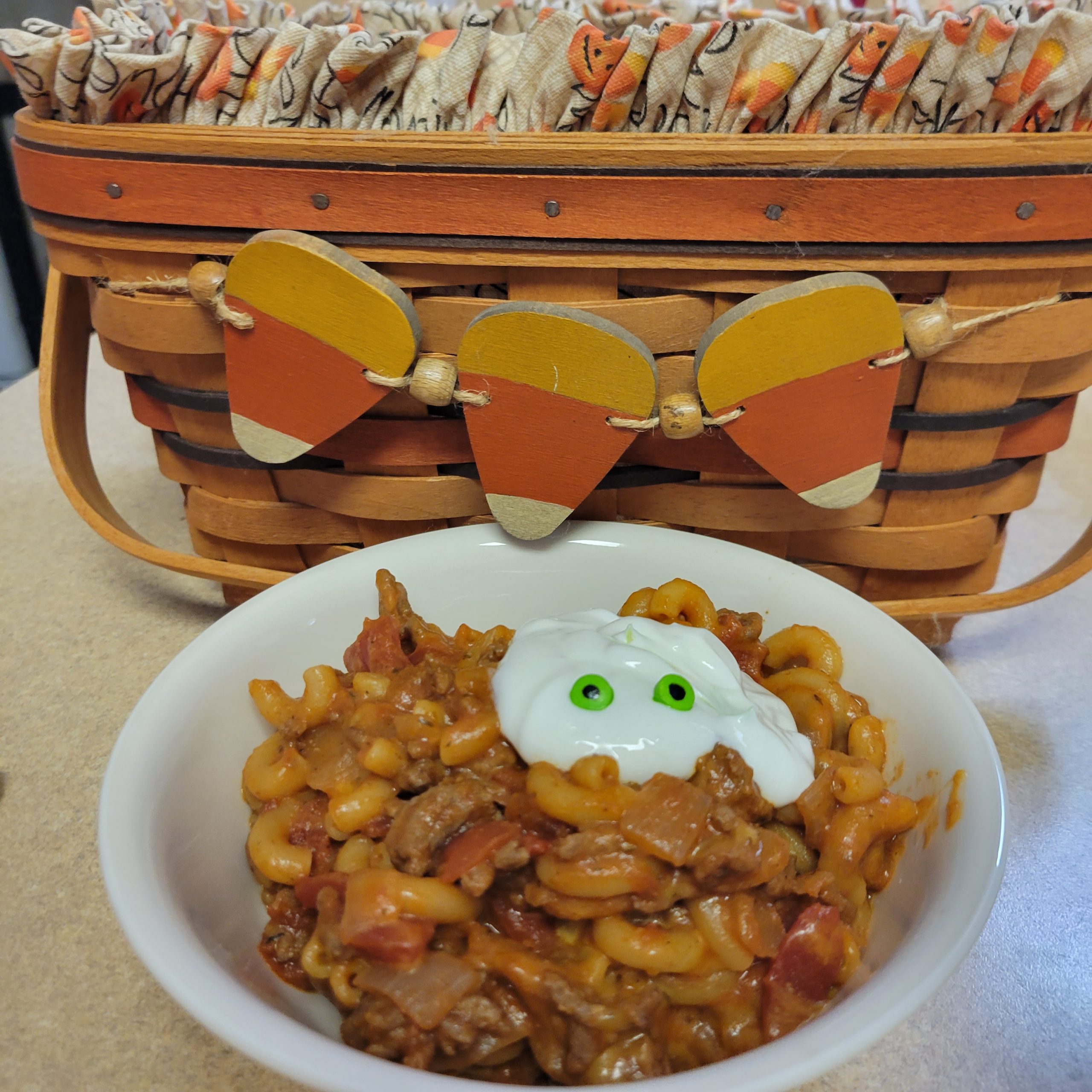 I admit it, I like to Halloweenify my food. By that I mean I like to make food that is fun and sometimes gross looking. I haven't had a Halloween party in years but I used to go all out with the food. Deviled eggs with green filling, red rum (murder) drink, Kitty litter cake, and spaghetti with eye balls. Now, I am satisfied with making ghoul-ash for dinner.  Goulash is an is a traditional soup-stew dish from medieval Hungary, prepared by shepherds. According to britannica.com, herders made this dish before they left for the grazing grounds by slow cooking meats and onions until the liquid had been absorbed. It was then dried in the sun and packed into bags made of sheep's stomachs. At mealtime, water was added to reconstitute it into a stew or soup. Paprika was added in the 16th century for flavoring. Originally a humble peasants dish, this hearty dish starting appearing in cook books and restaurants in the 1830's. Goulash became popular in North America when it was introduced by the first wave of Hungarian immigrants following the failed revolution of 1848. Later, poor Hungarians who couldn't afford the meaty stew in their home country arrived in the United States in the early 20th century found that goulash was widely known. In 1969, a Gallup poll found that goulash was one of the most popular meat dishes in the United States. This recipe is a comfort dish perfect for weeknights when everyone is busy. Everything cooks together in one pot even the pasta.  You can use ground chicken, turkey, or ground pork instead of ground beef. You can substitute any good melting cheese for the cheddar cheese. Any short pasta will work; penne, shells, cavatappi, or farfalle.  Just watch the cooking time and taste as you go to get al dente pasta. Round out the meal with a salad and garlic bread. 
Ingredients:
2 Tbsp. extra virgin olive oil
1 medium yellow onion chopped
2 cloves garlic finely chopped
1 lb ground beef
Kosher salt
Freshly ground black pepper
1 Tbsp. tomato paste
1 (15-oz) can diced tomatoes
1 (15oz) can tomato sauce
1 ¼ cup low sodium beef broth
1 tsp Italian seasoning
1 tsp paprika
1 ½ cup elbow macaroni, uncooked
1 cup shredded cheddar cheese
Directions:
In a large skillet over medium heat, heat oil. Add onion and cook stirring occasionally until softened about 7 minutes. Add garlic and cook stirring until fragrant about 1 minute more. 
Add ground beef, season with salt and pepper, and cook, breaking up meat until no longer pink, about 6 minutes. Drain fat. 
Add tomato paste and stir to coat, then pour in diced tomatoes, tomato sauce, and broth. Add Italian seasoning and paprika, then stir in macaroni. Bring to a simmer and cook stirring occasionally, until pasta is tender about 15 minutes. 
Stir in cheese until melted; season with salt and pepper, if needed. Remove from heat and serve.